In June 2015, UK-based plus size retailer Evans announced the launch of a new body positive campaign #StyleHasNoSize, which would yield a collection of empowering T-shirts and handbags. On Sept. 4, plus size blogger Stephanie Yeboah of Nerd About Town totally revamped it. The hashtag was meant to be a "slogan of the summer" and encouraged many women to take to Instagram to prove that their style truly isn't held back by their clothing size, and over 17,000 posts featuring the tag suggest it definitely resonated with the community. But it wasn't without its flaws.
As a part of the campaign, Evans staged a live photo shoot on London's Oxford Street featuring several plus size models, each wearing a plain white tee with a word from the campaign on it, the tops reading "style has no size" when placed side by side. These women walked together down one of the busiest, most well known, and arguably most fashionable streets in the world to make a point about how fashion and beauty shouldn't be limited to only straight size women. However, as many bloggers and body positive campaigners have pointed out, the message ended up feeling a little confused considering the lack of model diversity.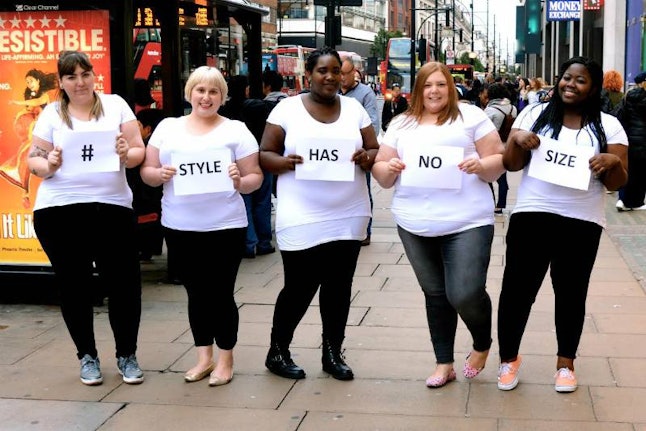 Although each woman is definitely "plus size" by modeling industry standards, they were predominantly white-presenting, cis, tall, and slim, with pretty faces and extremely similar figures. For a campaign meant to be about celebrating all shapes and sizes, the lack of differences between the women meant the well-intentioned event fell short of challenging beauty standards and bordered on problematic. Evans has yet to respond to Bustle's request for comment.
To fight back against the campaign's lack of diversity, Yeboah gathered a crew of like-minded body positive bloggers to make a statement. The message of Evans' campaign stayed the same, but the models changed to truly represent the notion that style has no size.
When I reached out to Yeboah about her project to find out why she took it upon herself to diversify the campaign, she summed up her response perfectly.
"We all thought it was important to diversify the campaign so that it sends out the right message as to the importance of being diverse and choosing the right people to convey the message they were trying to put across. Preaching diversity by using all-white models who look similar in size is incredibly contradictory to the message they are trying to portray," she tells me via email.
"It's a shame that there are still areas of plus size modeling and blogging that still adhere to the general standards of beauty; our photo is a huge middle finger up to that and it seems like loads of people agree," she adds.
I certainly have to agree with Yeboah and her project. This is what an image meant to represent diversity and inclusivity within the plus size market should look like.