The total number of infections crossed the 4.9 lakh-mark to reach 4,90,401 including 15,301 fatalities. Coronavirus India LIVE news updates: Jharkhand became the second state after West Bengal to extend the lockdown till July 31. "Considering the seriousness of the situation, the state government has decided to extend the lockdown till 31 July," Chief Minister Hemant Soren tweeted.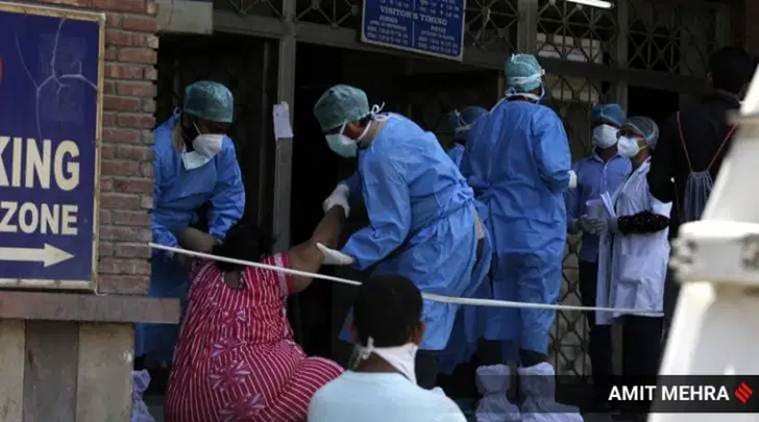 Meanwhile, in Delhi, all schools will remain shut till July 31 in view of the coronavirus situation, Deputy Chief Minister Manish Sisodia said. Delhi Health Minister Satyendar Jain, who had been fighting Covid-19 since last week, was discharged from hospital after testing negative for the virus on Friday. He had tested Covid positive last Wednesday.
Three months after they closed down following the coronavirus-induced lockdown, the malls in Gurgaon are likely to re-open next week. At a press conference on Friday, the officials said that directions to this effect would soon be issued. West Bengal Bengal Chief Minister too relaxed its night curfew to 10 pm-5 am and said that the government wants the Metro Rail services in Kolkata to resume from July 1.
With India registering 407 deaths and 17,296 coronavirus cases in the last 24 hours, the total number of infections crossed the 4.9 lakh-mark to reach 4,90,401 including 15,301 fatalities, 1,89,463 active cases, and 2,85,636 people who have been treated and discharged so far. On Thursday, the number of recoveries was 96,173 more than the number of active cases.
Globally, the infections soared to 9,588,717 on Thursday and the death toll rose to 488,842. Also, as many as 4,822,067 people have recovered across the world.
Congress leader Abhishek Singhvi tests positive for COVID-19
Congress leader and party spokesperson Abhishek Singhvi and his have wife tested have home quarantined themselves after testing positive for coronavirus five days ago. After Singhvi showed mild symptoms and tested positive, his son and other family members and staff are also being tested for Covid. Singhvi is the second Congress leader after Sanjay Jha to contract the disease. Jha has since recovered in Mumbai.
Coronavirus India LIVE news updates
Following a spurt in Covid-19 cases in Assam, a 12-hour night curfew will be imposed across the northeastern state from Friday 7 pm and a 14-day complete lockdown in Kamrup district, which includes the Guwahati city, from Sunday midnight. Out of 762 coronavirus cases recorded in Guwahati since June 15, 677 have no travel history, though many had come in contact with returnees from other states, Assam Health Minister Himanta Biswa Sarma said.
The Centre announced it will be sending a team of experts to Telangana, Maharashtra and Gujarat — three states with high positivity rates that are considered critical in the efforts against the pandemic. Sources said experts may also be sent to Tamil Nadu and West Bengal, which are also seen as requiring advice and assistance on clinical management. The Centre is already closely monitoring the Covid-19 situation in Delhi, the city with the most number of cases. Meanwhile, the Railway Board on Thursday decided to keep regular train services suspended till August 12.
Delhi Chief Minister Arvind Kejriwal Friday said that Delhi has reported 74,000 COVID-19 cases so far, but situation is under control. "We have increased COVID-19 testing in Delhi, hence, cases are rising. Delhi government has set up 3,500 beds for COVID-19 patients in hotels in last 10 days," the CM added.
As Delhi overtook Mumbai as the city with the highest case count, the Delhi government has prepared an ambitious plan —house-to-house screening in containment zones by June 30, and in the rest of the city by July 6.
Mobile app to enable people easy access to blood launched
A mobile application that would enable people to access "safe blood" easily, especially during the COVID-19 pandemic, was launched by Union Health Minister Harsh Vardhan on Thursday.
Developed by the E-Raktkosh team of Centre for Development of Advanced Computing (CDAC) under the Digital India scheme, the application will bring transparency and facilitate single-window access to blood services of the Indian Red Cross Society, officials said.
Over 75,00,000 tests conducted so far, says Health Ministry
Health Ministry on Thursday said that from limited COVID-19 tests in January, a cumulative total of 75,60,782 samples have been tested up to June 24 with 2,07,871 samples being tested on Wednesday. It also said that there are in total 1,007 diagnostic labs, of which 734 are in the government sector and 273 private.