Congratulations are in order for Nick Jonas and Priyanka Chopra! E! News has learned that the famous duo is engaged after two months of dating.
And while the newly engaged couple has been hot on the scene for a short while, it seems as though Nick knew fairly early on that his leading lady was the one.
Earlier this month, the singer shut down the Tiffany & Co. store in London to check out diamond engagement rings for his future wife.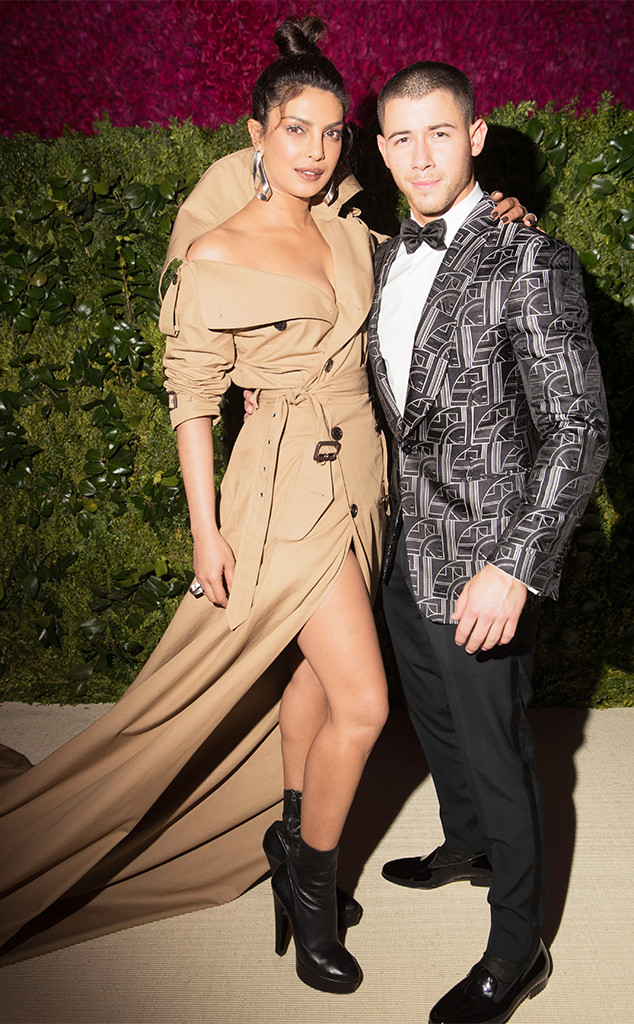 Nick Jonas & Priyanka Chopra: Romance Rewind
moveclose
Up Next
Priyanka Chopra Calls Nick Jonas One Of Her "Favorite Men"
Nick and Priyanka first sparked rumors of a romance back at the 2017 Met Gala, where they walked the red carpet together. However, fans really started to question their relationship status in May after the celebs were spotted spending a lot of quality time together in Los Angeles.
And ever since then, the two have been nearly inseparable on both coasts, in Europe and India during a trip to meet her family and to celebrate one of her close friend's weddings.
This will be the first marriage for both stars. Nick was previously linked to Miley Cyrus, Selena Gomez and was rumored to have been dating Kate Hudson back in 2015.
Here's to the future Mr. and Mrs. Jonas and to a beautiful, celebrity-filled wedding in the future!
Appearing on BBC Radio 1's Breakfast Show last January, Nick Jonas was up for a little kiss and tell.
Submitting to host Nick Grimshaw's Heart Monitor game, the singer-actor opened up about inspiring ex Miley Cyrus' rage in her 2008 hit "7 Things" (he admitted to being "kind of flattered") and an embarrassing early sexual encounter when he was a "a naïve young man" (after a paramour requested that he "come to mama" he mistakenly believed her mother was in the house).
Then came, perhaps, his most surprising confession. Asked if he thought he was the hottest one among his siblings, the oft-shirtless star responded simply, "I don't."
Photos
Nick Jonas' Hottest Pics!
The eligible women of Hollywood may beg to differ. These days, of course, the 25-year-old multiplatinum artist and Golden Globe nominee is officially off the market, having proposed to Quantico lead and onetime Miss World Priyanka Chopraduring her birthday trip to London. But even before he caught the eye of the 36-year-old triple threat and dedicated philanthropist, he was enjoying the company of a multitude of other successful, worldly, talented stars. (See: Olivia Culpo, Kate Hudson, Selena Gomez.) Even Neil Patrick Harris has copped to a crush, saying the singer was "good-looking even before I was allowed to think he was good-looking."
While it's easy to remember the New Jersey-raised star as the curly haired, youngest member of his siblings' squeaky-clean boy band, sometime in the last decade he slipped off his purity ring, buzzed his boyish mop and learned how to properly charm a woman. (Culpo once told E! News he would serenade her "all the time" during their two-year romance.) Putting on some 15 pounds of muscle for his role as an MMA fighter on DirecTV's drama Kingdom and subsequently doffing his top for a series of photo shoots didn't hurt either.
Even at the tender age of 13, Jonas sparked ardor among his contemporaries. Dating first Cyrus (the inspiration for the Jo Bro's 2013 track "Wedding Bells"), then Gomez in quick succession, led to talk of a love triangle between the trio of teenage pop stars. "We never feuded," Gomez later insisted to W Magazine. "We both liked the same guy when we were 16. It was just a Hilary Duff–Lindsay Lohan thing: 'Oh, my God, we like the same boy!'"
They were hardly alone. Jonas' first truly serious relationship came at age 18, when he romanced then-26-year-old singer Delta Goodrem. The Australian star was the woman he was presumably referencing during his 2016 appearance on The Late Late Show's Carpool Karaoke segment, when he explained why he did away with his purity ring. "I had a real relationship with an adult and I fell in love actually," he noted, "and I decided it was time for me to take it off."