The number of cases across the States continues to rise steeply, with 39 states reporting an increase in new cases from last week. California, Arizona, Texas and Florida are seeing hospital bed shortages due to the surging rise in sick patients.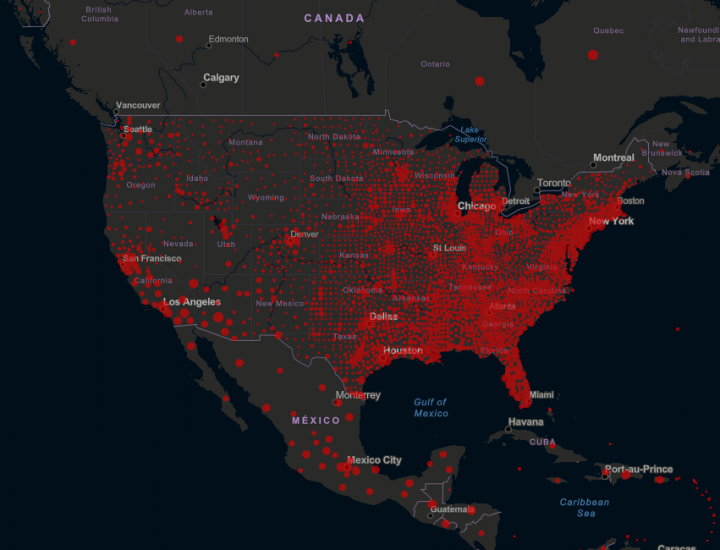 The number of confirmed cases in the US passed the 3.5 million mark on Thursday afternoon, while the death toll stands at over 138,000. 
US cases and death rates
The number of daily cases is rising (now at over 60,000 having plateaued at 20,000 in May) but the daily number of deaths has fallen from 3,000 in April to 1,000 now. But that's not the whole picture, with a number of confounding factors making it difficult to track cases directly to deaths.
The good news is that more people may be surviving because we're simply a lot better at treating people who are very sick with the virus; the bad news is that there may be long lag time between people getting tested ever earlier and finally becoming sick and dying (up to two weeks from first reporting symptoms, with a further week for the death to be reported). Also worrying is that a lot of young people are getting infected – they might not end up being badly affected by the virus, but when they spend time with older relatives, there may be a more lethal spike. 
Georgia set for mask fight
Officials in the U.S. state of Georgia are headed for a clash over masks to fight the spread of the coronavirus after the Republican governor barred mayors from requiring residents to wear them. Governor Brian Kemp issued an executive order late on Wednesday suspending local regulations requiring "face coverings, masks, face shields or any other personal protective equipment" in public.
Florida records another 13,965 cases
On Thursday evening, the Florida Department of Health reported an increase of 13,965 cases of Covid-19 in the previous 24 hours. Total deaths rose by 156 to 4,677, setting a previous daily record of 132 that was set on Tuesday.
Hydroxychloroquine ineffective against mild COVID-19 study shows
The anti-malaria drug touted by U.S. President Donald Trump as a COVID-19 treatment was ineffective for patients with a mild version of the disease in a study conducted by researchers at the University of Minnesota. About 24% of the patients given hydroxychloroquine in the study had persisting symptoms over a 14-day period, while roughly 30% of the group given a placebo were determined to have persistent symptoms over the same period.
Basically despite the wild backing of it by Trump (and it would be fascinating to find out why he came to that conclusion), hydroxychloroquine has failed to show any benefit in any trial so far. 
Vaccine from J&J
Johnson & Johnson said on Thursday it was in talks to begin late-stage studies of its experimental coronavirus vaccine in September. "We are in discussions with the National Institute of Health with the objective to start the Phase III clinical trial ahead of its original schedule, potentially in late September," J&J Chief Scientific Officer Paul Stoffels said.
Meanwhile, the drugs giant is in talks with the government of Japan and the Bill and Melinda Gates Foundation about locking up allocations of its potential vaccine as it prepares to kick off human trials, the company's Chief Financial Officer Joseph Wolk told Reuters in an interview. 
More than a hundred vaccines are under development to try and stop the Covid-19 pandemic, and drugmakers including J&J are working to ramp up supply for their vaccines in the face of unprecedented demand.
Miami mayor "very, very close" to issuing stay-at-home order
Faced with rising numbers of cases and hospitals at over 95% capacity, Miami Mayor Francis Suárez says he is "very, very close" to putting out a new stay-at-home order. Saying the situation is "dire", Suárez said the "death rate will continue to go up if we don't take any more dramatic measures."
Asked why, if things are so bad, he doesn't issue the order now, he said ""We are potentially going to be doing that soon if things are not going to dramatically improve. We are talking about somewhere in the next few days, potentially within the next week."
Younger people: take this seriously
Facebook's Zuckerberg spoke to Dr. Fauci. As well as pleading with young people to follow the guidance on Covid-19 in a bid to protect their elders, the medical expert also pointed out that: "There are many, many young people who get infected. They get sick. They feel horrible for weeks and weeks," and said he was aware of some young people suffering from something akin to chronic fatigue syndrome after having the virus.
Optimism over creating a vaccine, worries about producing enough. And fears that even once we have a vaccine, a lot of people will refuse to have it. Another important point: "There are other people who [think] we're going to get the vaccine and it's going to solve everything and things will go back to normal the next day. And that's not the case either."
"The science should not stand in the way of this"
These quotes are remarkable, and not in a good way. Having said the science should not stand in the way, the White House press secretary says the science is "on our side". Clarity of thought from the administration in a pandemic is important. 
McEnany also says, "everyone else in the Western world, our peer nations are doing it, we are the outlier here." Well, compared to many of the countries that are opening up schools, the US is definitely an outlier, in terms of cases and deaths.
U.S. coronavirus cases shatter records and rise by almost 70,000 in single day
The United States reported almost 70,000 new COVID-19 cases on Thursday, a record daily increase for the seventh time this month, according to a Reuters tally.
U.S. deaths are also rising and have recently reached the highest levels since early June, led by Arizona, California, Florida and Texas, according to the tally.
More than half of all states – 30 out of 50 – have reported record one-day increases in cases this month. Infections are rising in almost all states, based on a Reuters analysis of cases the past two week compared with the prior two weeks.
Florida reported a record increase of more than 15,000 new COVID-19 cases in 24 hours on Sunday, as the Trump administration renewed its push for schools to reopen.
Fauci implores young people to stay vigilant on coronavirus risk
The leading U.S. expert on infectious diseases, Dr. Anthony Fauci, on Thursday implored younger people to continue social distancing and other measures to curtail spread of the novel coronavirus, which has surged in some parts of the country.
"Please assume the societal responsibility of being part of the solution, not part of the problem," he said in a live interview with Facebook Inc Chief Executive Mark Zuckerberg.
Social media platforms including Facebook, which in April removed "pseudoscience" as an option for advertisers, have been criticized for allowing the spread of misinformation about the pandemic, from bogus cures to wide-ranging conspiracy theories.
New U.S. cases of COVID-19, the disease caused by the virus, have climbed to over 60,000 a day from daily totals under 20,000 in May. The median age of those infected has fallen by about 15 years as younger people, many of whom may show few symptoms of illness, are being infected, Fauci said.
US coronavirus latest: 17:45 PT / 20:45 ET on Thursday 16 July (02:45 CEST on Friday 17 July)
According to the latest figures published by Johns Hopkins University, 13,740,727 cases have been detected worldwide, with 588,149 deaths and 7,670,245 people recovered.
In the USA, there have been 3,550,334 confirmed cases and 138,201 deaths, with 1,090,645 people recovered from the virus.