Actor Arjun Rampal has been held to a continuous trial over rumours of a rocky relationship with his wife Mehr Jesia. But the actor says he prefers not to react. (Also Read: Angry Arjun Rampal Says it Wasn't Him and Mehr at Divorce Court)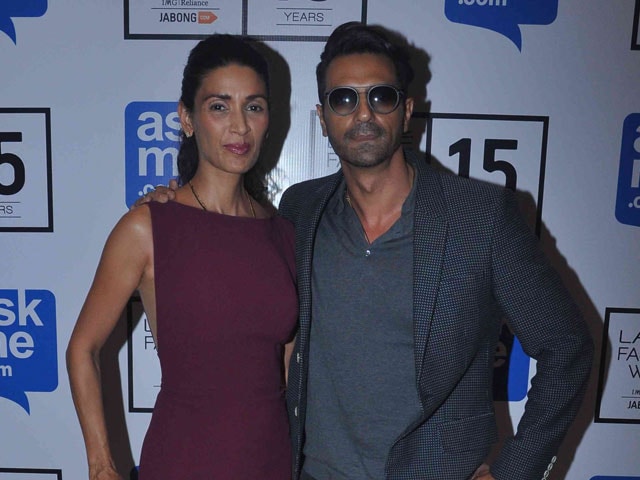 ARJUN, WHO WALKED THE RUNWAY FOR A EUROPEAN BRAND AT THE LAKME FASHION WEEK, WAS EVEN SPOTTED WALKING AROUND THE VENUE WITH MEHR. THE COUPLE POSED FOR PHOTOGRAPHS AND WERE SEATED NEXT TO EACH OTHER FOR DESIGNER MONISHA JAISING'S SHOW
The actor, who has been married to Mehr for over 15 years, had slammed the press in the past, but now seems unaffected.
"I don't have any views as I feel people have more views than me," Arjun told IANS here when asked about his views on the rumours related to his personal life.
Arjun and Mehr, who were married in 1998, have two daughters.
Arjun, who walked the runway for a European brand at the Lakme Fashion Week, was even spotted walking around the venue with Mehr. The couple posed for photographs and were seated next to each other for designer Monisha Jaising's show.
When asked if he had ever thought about launching his own fashion line, Arjun said, "Offers keep coming to me where people want (me) to do that. It can work out at some point of time, but right now my mind is not there.
My mind is more in films, so I am focussing more towards that. I am really not too much towards creating a clothing line as of now." He commended Indian designers for creating more menswear lines.
"When I went to Cannes (in 2012), I wore Rohit Bal's bandhgala. I like ethnic wear and I think Indian designers are doing really well. I feel they are doing really good cuts even in western jackets.
Also, some of the western designers are copying our designer bandhgala, so that proves. I love my Indian designers and whenever I get an opportunity, I wear their creations," said Arjun, who was last seen on the big screen in Roy.
Before stepping into Bollywood in 2001 with Pyaar Ishq Aur Mohabbat, Arjun was a hugely successful model. He said that the ramp had given him everything and if his daughters would like to be a part of this world, he would support them.
"Modelling gave me a lot in my life. I never look down upon modelling as a profession. Whatever my daughters want to do, I'm fine with it. They can act, model, (indulge in) sports, as long as they are passionate towards it. They really need to love it and it should come from within," he said.