Bhopal,Rahul Kumar: The VYAPAM scam was in headlines first, for the big names like the ex-governor Ram Naresha Yadav and current Madhya Pradesh Chief Minister Shivraj Singh Chouhan allegedly involved in it, and now, for the 42 mysterious deaths of those who were either accused or suspects in the case.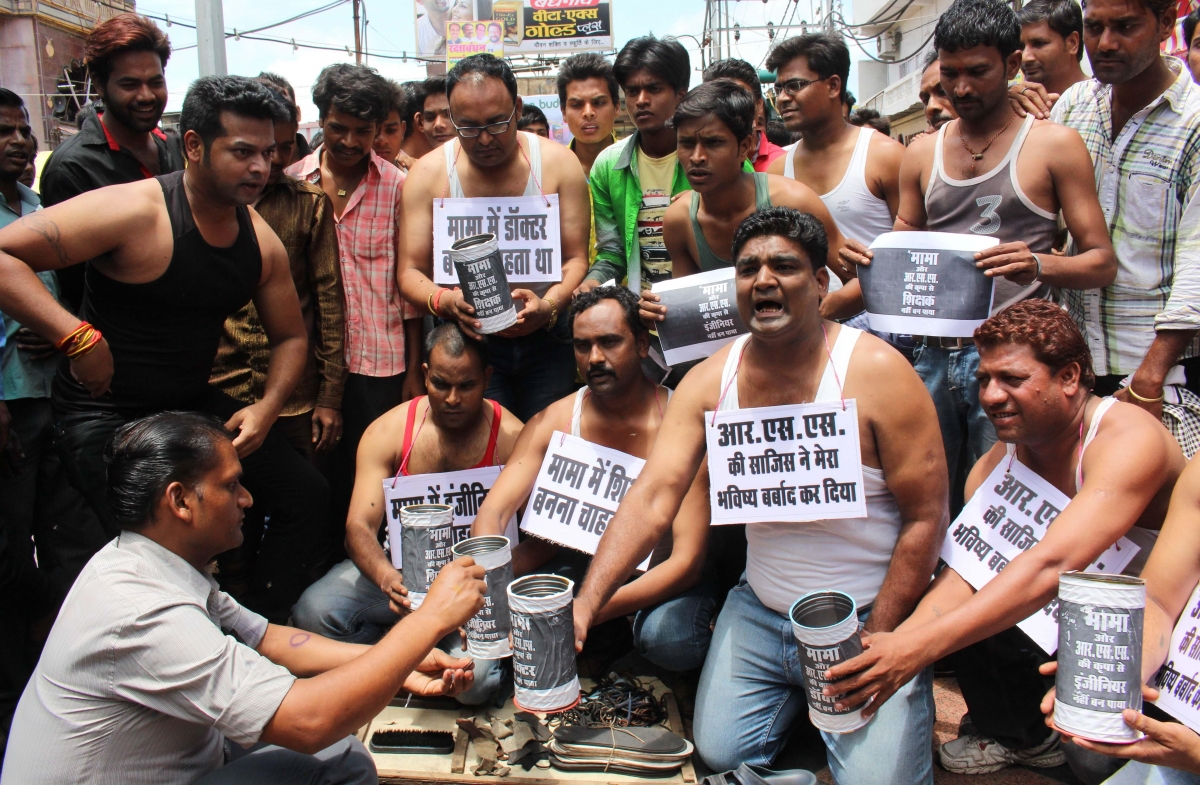 Image source: www.ibtimes.co.in
What is VYAPAM?
VYAPAM short for the Madhya Pradesh Vyavasayik Pariksha Mandal (also called Madhya Pradesh Professional Examination Board) conducts recruitment examinations for different state level posts, which are not filled through the Public Service Commission. It organises tests for posts like sub inspectors of police, assistant grade III/ steno typists and other jobs in agriculture, women and child development, jail, controller food and drugs, pollution control and in various government departments, along with the Pre Medical Entrance Test, Pre Engineering Entrance Test and other Entrace Tests for colleges run by the state government.
What is the scam about?
VYAPAM has been facing accusations of fraud since 2009, but the big revelation came in June 2013 when a racket that helped students pass their pre-medical tests was busted. This racket was leaded by a doctor and a few VYAPAM offcials were also found to be involved in it. Dr. Anand Rai who is based in Indore had filed a PIL indicating corruption in VYAPAM that prompted the MP High Court order a special investigation in July 2013. Another whistle blower is a forensic expert Prashant Pandey who is based in Delhi. He has been provided security as ordered by the Delhi High Court.
VYAPAM's Assistant Programmer CK Mishra, System Analyst Nitin Mahindra and his associate Ajay Sen, who were arrested at first, had a key role to play in the fraud. The three allegedly used to make changes in original marksheets to get their students a passing score. Many documents as well as the computer hard disks were seized from VYAPAM at the time of the arrest.
As the dots were connected, names of big businessmen as well as prominent politicians cropped up. Investigation based on the data obtained from the hard disks reveal that many candidates who appeared in the examinations had someone's backing. It involved names like the former CM Uma Bharti as well as many administrative officers. During his interrogation Nitin Mahindra told SIT that many students had been backed by the state's former education minister​ Laxmikant Sharma. Sharma was taken into custody and is still in jail. Mining industrialist and BJP supporter Sudhir Sharma, was also accused in the case and arrested in 2014.
Twist in the Tale
Digvijay Singh was given an excel sheet by digital forensic expert and whistleblower Prashant Pandey. According to Singh, the contractual teachers recruitment scam that Special Task Force was investigating was based on an excel sheet that was fabricated. The original sheet was reportedly verified by a private forensic lab. The sheet reportedly reveals names of 138 candidates who sat in the contractual teachers recruitment examination. Out of those 138, 48 names had CM, referring to Shivraj Singh Chouhan, written next to it. In the forged sheet, seven names have Uma Bharti written next to it, one has Rajbhawan and 21 others had 'Minister' written next to it. According to Digvijay Singh, the Chief Minister's involvement in the scame is why the excel sheet was fabricated.
The VYAPAM scam also dragged the name of the then Governor Ram Naresh Yadav who had to step down from his chair, after his son was found to be involved in the case. On February 18, 2015, the special investigation team sought permission from Madhya Pradesh High court to probe state Governor Ram Naresh Yadav which was subsequently granted. FIR was registered against Governor's son Shailesh Yadav as well, who, like many others, was found dead in Lucknow at Governer's residence. Even the autopsy couldn't ascertain the reason of his death.
Who is investigating the scam?
VYAPAM is being investigated by the Special Task Force under the supervision of SIT formed by the MP High Court. So far the proceedings by the STF don't seem promising, as all deaths of witnesses, suspects or accused have been categorised as natural.
Digvijay Singh has said that he would go the Supreme Court to seek the CBI probe in this matter that has already been twice rejected once by the MP state government and then the MP High Court.
Political Angle
Cases of corruption under VYAPAM scam date back to 2009 evidently. Some even consider that this dirty game began in 2004. BJP has been in power in Madhya Pradesh since 2003. It's odd that the involvement of high profile politicians has not been proved since a government run body was turned into a platform of probably the most organised corruption scandal. Suspicions become more obvious when deaths of the witnesses or suspects in the case crossed 40, while the state government called them natural.
According to a report published on Catch News, SIT chief Chandresh Bhushan has admitted on record that over 40 deaths related to Vyapam have taken place, which include 25 deaths related to those cases that the SIT is probing. He said the possibility of murder can not be ruled out in these 25 cases, and that these will be probed and a full report submitted to the High Court.
Meanwhile, ex-CM and current Home Minister of Madhya Pradesh, Babulal Gaur recently, "All the deaths are natural deaths. Whether in jail or in a rail, everyone has to die someday".
The biggest scam ever
It's the only scam in the history of India where close to 2000 accused have been taken into custody by the Special Task Force and the hunt is not over yet. These arrests mostly include students, parents and some middlemen. Several news reports estimate that what has been uncovered so far reveals only 20% of the entire saga.
Mysterious Death history:
A number of people connected to the scam and its investigation, died during the course of investigation. The opposition parties and activists alleged that several of these deaths happened under suspicious circumstances. In 2015, the Special Task Force (STF) submitted a list to High Court, naming 23 people who are believed to have died "unnatural deaths". According to the STF, most of these deaths took place before it took over the investigation in July 2013. Some media reports claimed that 40+ people associated with the scam had died under mysterious cirumstances. The state's Home Minister Babulal Gaur dismissed the allegations, and claimed that the deaths were natural.
According to the High-Court Special Investigation Team (SIT), 32 of the 'racketeers' in 25-30 age-group, died in suspicious circumstances since the investigation started in 2012. The SIT officials raised concerns that the arrested people were naming those who were already dead, in order to mislead the probe.
Recently Akshay singh(journalist ) died on 5 july 2015 due to heart attack also linked to vyapam scam and Jabalpur Medical College Dean with links to Vyapam scam accused found dead.
Know more : https://en.wikipedia.org/wiki/Vyapam_Scam