New Delhi(Reuters): Japan's SoftBank Corp, together with Bharti Enterprises and Taiwan's Foxconn, will invest about $20 billion in solar projects in India, in one of the biggest investment pledges to date in the country's renewable energy sector.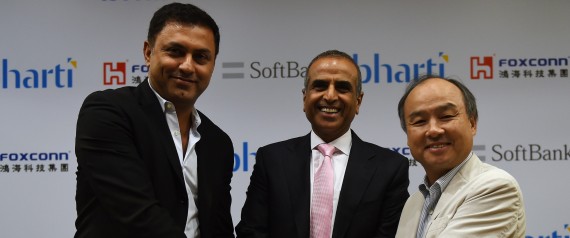 Chairman of Bharti Enterprises Sunil Bharti Mittal (C), CEO of SoftBank Masayoshi Son (R) and Chairman of SoftBank Corp Nikesh Arora (L) shake hands before the start of a press conference in New Delhi on June 22, 2015. Japan's SoftBank will team up with Taiwan's Foxconn and India's Bharti Enterprises to invest $20 billion in solar power projects in India, as the country ramps up its clean energy sector, the companies announced. AFP PHOTO/MONEY SHARMA (Photo credit should read MONEY SHARMA | MONEY SHARMA via Getty Images
SoftBank, which previously said it would invest $10 billion inn India over time, said on Monday the companies had agreed a minimum commitment of generating 20 gigawatts of energy.
SoftBank will have majority control in the newly formed company, SBG Cleantech, with Bharti and Foxconn as minority stakeholders.
"India has two times the sunshine (of) Japan," Softbank Chief Executive Masayoshi Son told reporters in a conference.
"The cost of construction of the solar park is half of Japan. Twice the sunshine, half the cost, that means four times the efficiency."
Son said the timeline for investments would depend on state and central governments and on acquiring land needed for the plants.
The rapidly falling cost of solar power, expected to reach parity with conventional energy by 2017, has ignited interest in its potential in India, as the country steps up its own efforts to encourage investment in renewable energy.
Despite more than 300 days of sunshine a year, India relies on coal for three-fifths of its energy needs, while solar supplies less than 1 percent.
Prime Minister Narendra Modi has looked to industry for help in funding what government advisers hope will be a $160 billion push into renewable energy over five years.
Modi aims to make India one of the world's largest renewable energy markets, targeting 100,000 MW of output by 2022 from just 3,000 MW currently. But analysts say India's target will be difficult to reach, given weak finances of electricity distribution companies that would buy in solar energy and the slow pace at which land for plants is made available.
On Monday, Son said Foxconn would help with planned solar equipment for the projects. The companies are looking at manufacturing equipment in India, a further boon for Modi who has sought to boost the portion of equipment made at home.
"India can become probably the largest country for solar energy," Son said.