Kolkata,Arshad Ali(Indianexpress): A day after RSS chief Mohan Bhagwat said that conversion to Christianity was the main objective behind Mother Teresa's service to the poor, the Missionaries of Charity on Tuesday said that over 90 per cent of those its 745 homes across the world and 19 in Kolkata cater to are non-Christians.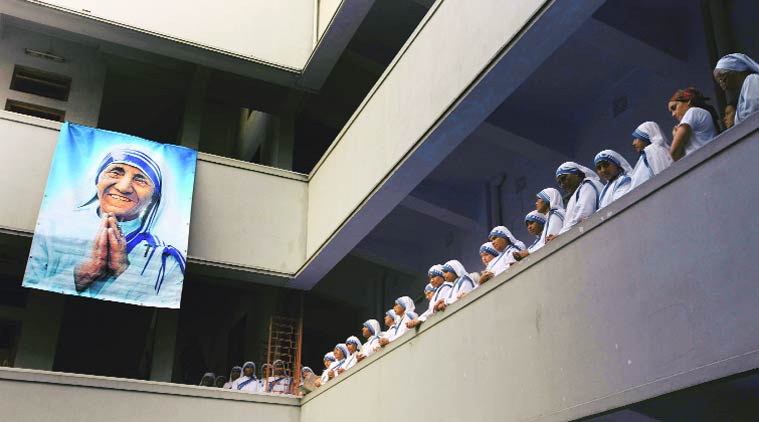 "There were 745 Mother Teresa homes across the world and 19 in Kolkata. Over 90 per cent of all those who are treated at these homes are non-Christians," spokesperson Sunita Kumar said.
Claiming that Bhagwat was misinformed, she added: "Among the Kolkata homes, Nirmal Hriday in Kalighat, Prem Dan near Park Circus railway station and Shanti Daan in Tangra are the prominent ones. When children are abandoned at hospitals and come to these homes, they are told about the faith they belong to. Only if abandoned children are found on the streets and their religion cannot be determined, they are raised as Christians."
"Mother Teresa was beyond any religion and even till today, people from all religions come to Mother House to seek blessings… I don't know what made him (Bhagwat) say this," she said.
The Archbishop of Kolkata, Thomas D'Souza, said he was in talks with several organisations so that a protest rally can be held soon against Bhagwat's remarks.
"We cannot let anyone malign Mother Teresa's image and get away with it. We will come up with a programme in a day or two," he said.
React ing to Bhagwat's remarks, he said: "The eye which has jaundice sees a yellow world. I am not surprised because it is the agenda of people like Bhagwat to spread hatred. I am sad as someone who has worked with Mother Teresa. The allegation is totally baseless. Had it been the case, all children, elderly, ailing and physically and mentally challenged people who Mother served, would have become Christians. That should be proof enough."
"After they targeted churches in Delhi they have targeted Mother Teresa with a definite motive. He has the audacity to say this about the person who is revered across the world. We strongly condemn it. It is not only an insult to Mother Teresa but to all who looked up to her," he added.
When contacted, Sister Deena at Mother House said that Sister Prema — Superior General of the Missionaries of Charity — has instructed them not to react to Bhagwat's comments.