Bollywood stars Deepika Padukone and Neha Dhupia adored the new cricket jerseys of the Indian cricket team for the One-Day International (ODI) formats. The sports manufacturing company Nike on Thursday launched the new Indian cricket kit for 50-over formats, ahead of the ICC Cricket World Cup 2015.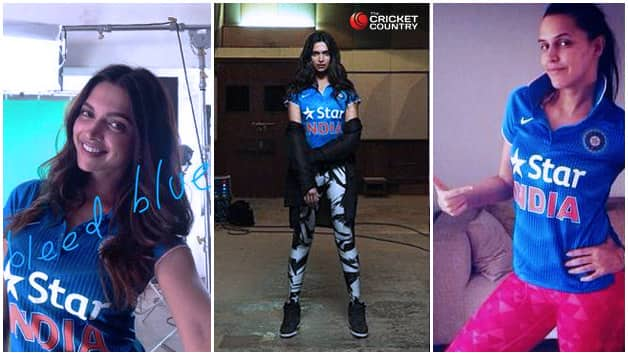 The Indian cricket team will be seen in the new uniform in the upcoming tri-series in Australia and the ICC World Cup 2015 thereafter. The jersey launch is trending on Twitter with the #BleedBlue hashtag. The jersey has attracted a lot of attention as it is going to be used by India in the ICC World Cup 2015.
Another major attraction of the jersey is that, it has been designed out of recycled plastic bottles. Thirty-three plastic bottles have been consumed in the making of every single kit. Made out of 100% polyester, the jersey is designed to give team India added comfort and breathability.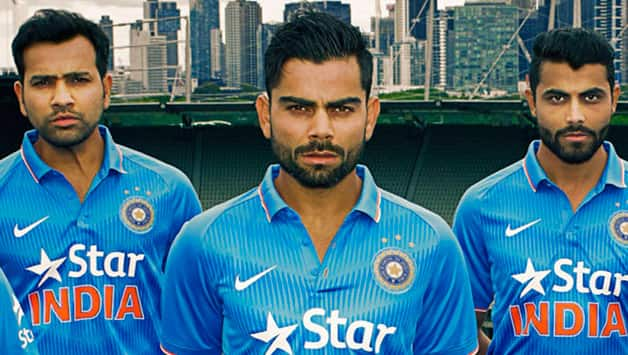 Nike, the official jersey sponsor with team India are the masterminds behind the new design. India are gearing up for the mega-event with a tri-series that involves Australia and England. The series will start on January 16, with Australia taking on England. India will play their first match of the series on January 18th against Australia. The World Cup starts on February 14.
The new lightweight kit is a mixture of high performance innovation with sustainability. Each kit — jersey and bottoms — is made out of an average of 33 recycled plastic bottles. According to PTI, Team India's uniform was designed by listening to the voice of the athletes and collecting data on the form and movement of today's players on the field, a Nike release said. Following extensive research and athlete driven insights, Nike designers created a new dynamic fit using a unique four way stretch fabric ideal for cricket, enhancing comfort for the players and allowing the body to move naturally within the kit.
"This is more than just a jersey. This is the passion of a billion hearts, the colour that unites the entire nation. We are pleased that Nike has used its global expertise to adopt innovative technologies from different sports and craft them to the specific needs of Team India players. The new kit is a perfect testimonial to Nike's dedication in delivering nothing but the best," said BCCI secretary Sanjay Patel.