New Delhi(PTI): Prime Minister Narendra Modi on Wednesday expressed grief over the bus mishap in Andhra Pradesh and condoled the loss of lives in it.
"The Prime Minister has expressed grief on the unfortunate accident in Anantapur, Andhra Pradesh. He has extended condolences to the families of those who lost their lives," a PMO statement said. Modi also wished a speedy recovery to those injured in the accident, it added. A state-run bus fell into a gorge near Penukonda town in Anantpur district this morning, killing at least 10 college students and a forest guard. At least 30 were injured.
10 college students and a forest guard were killed and 30 others injured when a state-run bus in which they were travelling fell into a gorge in Andhra Pradesh's Anantapur district on Wednesday.
The incident occurred at around 8:30 AM near Penukonda town in the district where a road was under repair. The state government has ordered an inquiry.
Over 40 persons were travelling in the Andhra Pradesh State Road Transport Corporation (APSRTC) bus which was going to Penukonda from Madakasira in the district, Anantapur District Superintendent of Police Rajsekhar Babu said.
"The deceased include nine boys and a girl student besides a forest guard," Babu, said over phone.
He said that road work was going on near the accident spot and a large area was dug up on one side where the bus rolled down."It seems the driver tried to avoid an auto rickshaw coming from opposite direction which resulted in the mishap," he added, they were probing if there was negligence on the driver's part.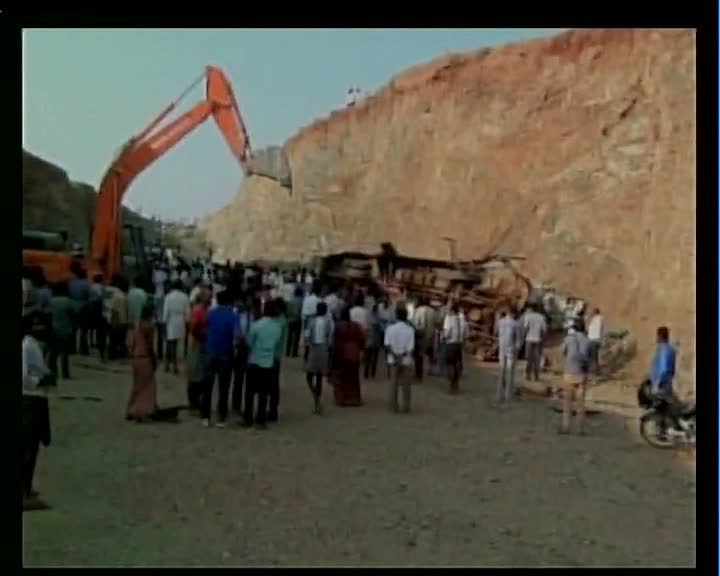 APSRTC Regional Manager G Venkateswarlu said at least 30 injured are undergoing treatment at different hospitals in Penukonda, Anantapur and Hindupur and depending on their condition, they would be shifted to Bengaluru.
Police, revenue and RTC officials were engaged in relief operations, the official added.
Meanwhile, Chief Minister N Chandrababu Naidu expressed grief over the incident.
State Home Minister N Chinna Rajappa has ordered an inquiry into the incident.
Andhra Pradesh Transport Minister Sidda Raghava Rao said relief and rescue operations were underway at the incident spot.
"I am going to the spot. I have asked officials to speed up the rescue work," he said.