According to reports, several users have stated that they are unable to access web-based services such as Pastebin, DailyMotion and Github through certain internet service providers, like BSNL and Vodafone, Hathway.
A number of users also posted about the blocks on Twitter confirming that the sites have been blocked. A screen shot being circulated on social media claimed that the government had reportedly directed 32 websites to be blocked.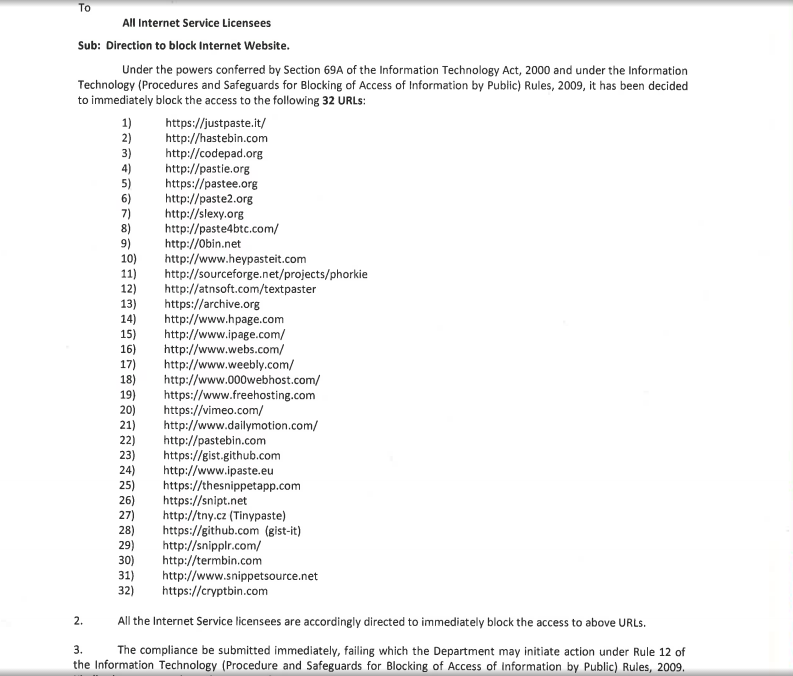 As per reports, preventing access to these websites have been carried out on the instructions of the Department of Telecom.
National Head of BJP India IT Cell tweeted, the websites that have been blocked were based on an advisory by the Anti Terrorism Squad, as they were carrying Anti India content from ISIS.
Pastebin had initially reported their service being blocked on December 19, 2014 in India. A tweet by the company had said, "If you are from India and unable to visit Pastebin, please email us."
Earlier, in 2013 also government has ordered internet service providers in India to block 39 internet sites that host and allow their users to share obscene content.
Providing specific names of the 39 websites, Department of Telecom in its June 13 order had said: "It has been decided to immediately block the access to the following urls (website links)."