Mumbai: Arif Majeed (23) from neighbouring Kalyan, who until now was believed to have been killed while fighting for militant group ISIS in Syria, was tonight arrested hours after he landed in Mumbai.
Mumbai Youth With Alleged ISIS Links Grilled by NIA and Arrested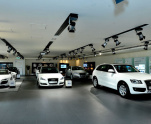 Majeed, who was grilled central security agencies along with NIA before he was taken into custody, will be produced tomorrow before a designated NIA court, official sources said.
A case has been slapped against ISIS and its operatives under Sec.125 of the IPC which deals with waging war against any Asiatic country which has friendly ties with India, entailing maximum punishment of life imprisonment.
A notification was issued by the Union Home Ministry late tonight directing NIA to register the case. Arif appeared "highly radicalised" is likely to face action, police said.
In May this year, four youths from Kalyan-Shaheen Tanki, Fahad Shaikh and Aman Tandel, besides Arif–had left India to visit holy places in the West Asia, but they disappeared thereafter and since then were suspected to have joined the Sunni extremist group.
Arif returned early this morning and was quizzed by the NIA and Maharashtra Anti Terrorism Squad (ATS), a police officer said.
Soon after his return, Arif was made to undergo a medical examination, according to a source.
His family friend Iftekhar Khan told PTI, "Arif's father Ejaz received a phone call from security agencies this morning saying his son is in Mumbai."
According to police, the four engineering students flew to Baghdad on May 23 as part of a group of 22 pilgrims to visit religious shrines in Iraq.
The next day, Arif had called his family from Baghdad and apologised for having left without informing them. Upon returning to India, other pilgrims had told police that Arif, Fahad, Aman and Shaheen had hired a taxi to Fallujah, a city west of Baghdad which had emerged as the epicentre of Iraq's deadly insurgency.
"On August 26, Shaheen Tanki called up Arif's family and told them that their son had become a 'martyr' claiming that the latter died fighting for ISIS in Syria," a family friend Ateek Khan had told reporters.
Accordingly the next day, Arif's family performed 'Janaza-e-gayabana' (prayers for the departed soul in absence of the body) in Kalyan.
Recently, Arif's father Ejaz Majeed had reportedly met the NIA and told them his son had fled from the IS-controlled areas to Turkey after fighting for the militant group for nearly three months and wants to return to India.