Brisbane: Prime Minister Narendra Modi arrived in Brisbane to attend the G-20 Summit on Friday. The Prime Minister was received by the Premier of Queensland Campbell Newman. It is the first time that an Indian Prime Minister is attending the event in 28 years.
Prime Minister Narendra Modi arrives in Australia to attend G-20 Summit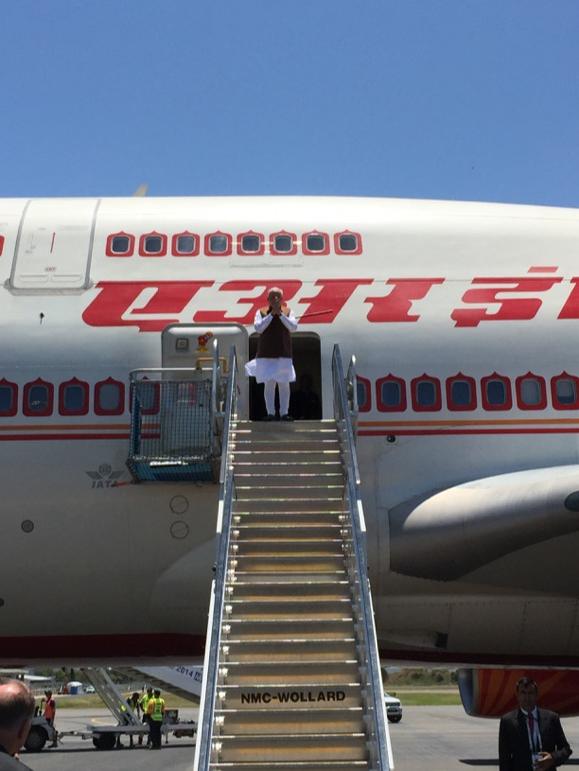 Narendra Modi also visited Queensland University of Technology and signed on the 'Agrobot'.After attending the G-20 Summit in Brisbane, Prime Minister Modi is scheduled to travel to Sydney, where he will attend a community reception and address the Indian Diaspora. The Prime Minister will then travel to Canberra and address the special joint sitting of the Australia n Parliament on November 18. He is also to address a community event in Melbourne.
Prime Minister Narendra Modi on Friday paid tribute to the county's first Prime Minister Jawaharlal Nehru on his 125th birth anniversary and recalled Nehru's contribution in India's struggle for freedom. Prime Minister Narendra Modi tweeted, "Today we mark the 125th birth anniversary of our first Prime Minister Pandit Jawaharlal Nehru. My tributes to him."
Prime Minister Narendra Modi on Friday arrived in Australia on the second leg of his three-nation tour during which he will attend the annual G20 summit and hold bilateral talks with his Australian counterpart Tony Abbott. The Prime Minister is on a 10-day visit of Myanmar, Australia and Fiji to attend key multilateral summits and undertake bilateral meetings. Before his departure from India, Modi had said the importance of global cooperation against black money will be a "key issue" he will highlight at the G20 summit. "A key issue for me would be to highlight the importance of international cooperation against black money," Modi had said in a pre-departure statement.