NEW DELHI: Prime Minister Narendra Modi expanded his team on Sunday by appointing 21 new ministers, four of them in the Cabinet and three others as ministers of state with independent charge. The exercise had the stamp of deft hand play by the Modi-Amit Shah duo as it looked to beef up administrative efficiency while taking into account political requirements.
Cabinet rejig: Narendra Modi inducts go-getters and vote-getters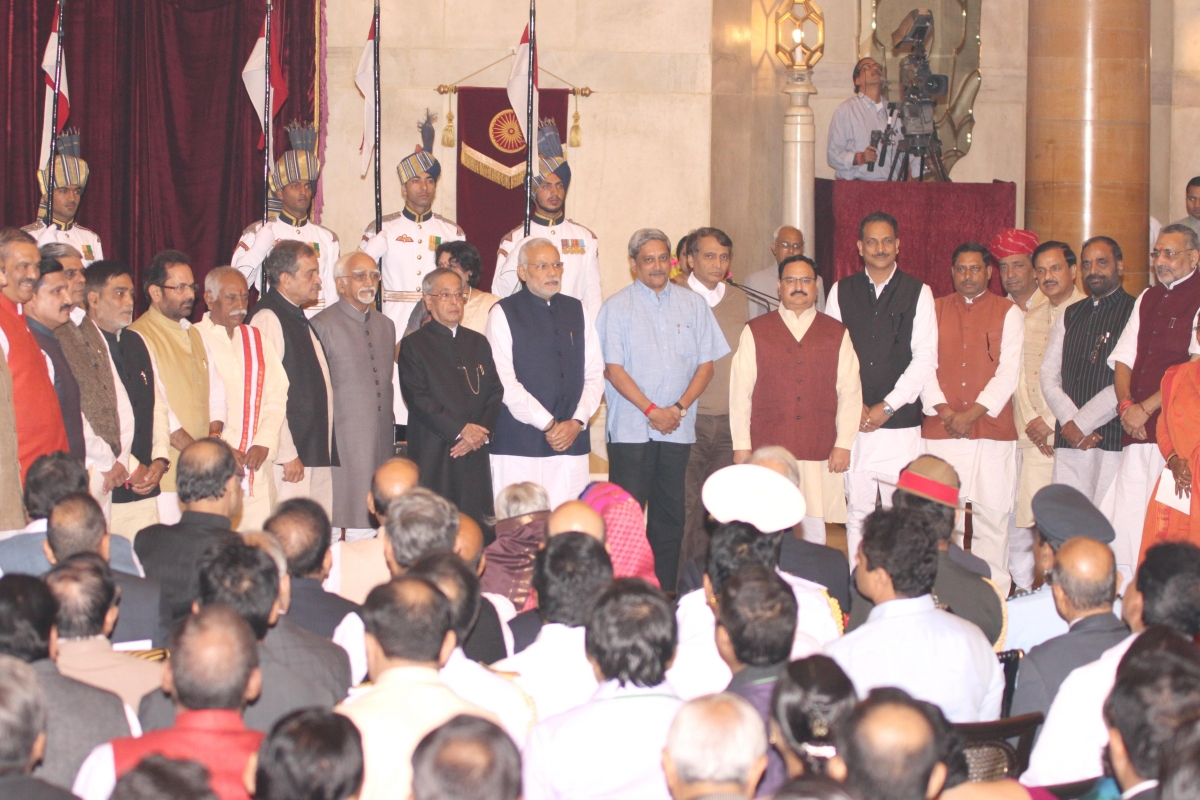 Manohar Parrikar, Suresh Prabhu, J P Nadda and Birendra Singh have been inducted into the Cabinet, while health minister Harsh Vardhan and railway minister Sadanand Gowda have been replaced and given lesser portfolios. Nadda moves into the health ministry and Suresh Prabhu, who left Shiv Sena to join the BJP just before being sworn in, replaces Gowda as railway minister. Parrikar has been given the defence portfolio, while the Haryana Jat leader, Birendra Singh, has got rural development. While Vardhan has been given science and technology, Gowda has been shifted to law and justice.
TOI was the first to report, in its front page lead of October 17 that Modi would expand his cabinet before the winter session of Parliament. In the days leading up to the swearing-in, TOI correctly predicted 20 of 21 ministerial names.
The three ministers of state with independent charge are former aviation minister RajivPratap Rudy and first-time MP from Noida Mahesh Sharma. Sharma has been given independent charge of tourism and culture, while he is also MoS civil aviation. Rudy has independent charge of the newly-created ministry of skill development, a pet project of Modi, and will assist VenkaiahNaidu in parliamentary affairs. BandaruDattatreya, the party's lone MP from Telangana, will be in charge of labour.
With this round of cabinet expansion, Modi has 66 ministers in his council. He still has headroom for at least 13 more ministers as the maximum he can induct are 79 ministers. While he may not go up to that number, there is a good possibility of a third round of expansion, albeit a modest one. The last UPA government had 78 Union ministers.
While Shiv Sena did not let its nominee Anil Desai take oath because of tensions with BJP, Y S Chaudhary from TDP was sworn in as MoS.
Modi's ministerial expansion appeared to be driven by the concern to improve the functioning of key ministries. The allocation of defence, held so far by Arun Jaitley as additional charge, is meant to free up the finance minister so that he can focus on the task of presenting—as PM recently told secretaries— a "transformational budget" and speed up economic reforms. However, he has been entrusted with another ministry—information & broadcasting—although the burden here will be lighter than defence.
Parrikar, who like Jaitley has a clean image, is expected to take forward the recent measures to speed up the long-pending modernization programme of India's armed forces and build domestic manufacturing capabilities. His engineering background and experience as two-term CM are expected to work favourably for him.
Efficiency and reputation for probity are also the reasons behind Suresh Prabhu's move to the Rail Bhavan. It comes in the wake of talk about the ministry's performance not being commensurate with the billing it has got under Modi who set ambitious targets for modernization of the rail infrastructure and upgradation of amenities.
Nadda has worked under Modi for long and is expected to be in sync with his plan to revamp the health sector. Vardhan, with his medical background, has been found to have had too much empathy for the set rhythms of the health ministry. Nadda, like other new appointees such as Parrikar and Dattatreya, has strong RSS links and score high on the ideological quotient.
Birendra Singh's appointment in the rural development ministry, which has among the largest budgetary allocations, will mean that recast of land acquisition act , MNREGA and implementation of Adarsh Gram Yojana, will now get full attention—something that was missing after the sudden demise of Gopinath Munde.
Sunday's appointments also address BJP's political needs—in fact, they cleverly blend Modi's governance objectives with BJP chief Amit Shah's political priorities. For instance, Bihar which goes to polls in less than a year and figures high on Shah's priority list has got three berths—Rudy, Ramkripal Yadav and Giriaj Singh. West Bengal, another state on the BJP chief's radar, has got its representative in Asansol MP Babul Supriyo.
Jats who solidly supported the BJP in Lok Sabha polls in Rajasthan, Western UP, Delhi and Haryana have got two representatives in the expanded ministry: Birendra Singh and Sanwar Lal Jat. With Muzaffaarnagar MP Sanjeev Balyan inducted in the first lot, the Modi government has the largest contingent of the community in recent times – something that can be of help in the coming Delhi assembly elections.