New Delhi(NDTV): The ruling BJP has distanced itself from embarrassing photographs published in newspapers this morning that show garbage being dumped on a Delhi side walk, allegedly some time before the party's state unit chief Satish Upadhyay took a broom to it as part of the Swachh Bharat Abhiyan or Clean India mission on Wednesday.
Swachh Bharat Abhiyan Drama: For This Clean-Up Drive, Trash Was Dumped, Moments Before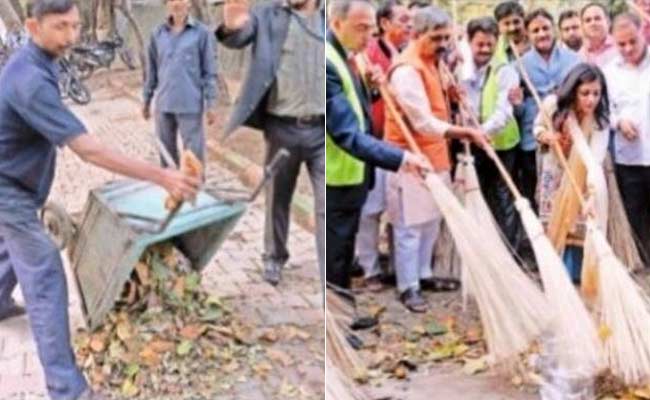 Delhi BJP chief Satish Upadhyay and ex-AAP leader Shazia Ilmi at a cleanliness drive in New Delhi
Aam Aadmi Party chief Arvind Kejriwal seemed to refer to the photographs when he told NDTV this morning, "You read in the newspapers today… Satish Upadhyay first had the streets littered and then cleaned. The BJP in Delhi has committed fraud on the PM's Swachh Bharat campaign."
Shazia Ilmi, who recently walked out of the Aam Aadmi Party, was also present for the cleanliness drive outside the India Islamic Cultural Centre (IICC) in Delhi on Wednesday.
While Mr Upadhyay refused to comment, his party said he had only gone there on the invitation of the Islamic Centre and knew nothing about garbage allegedly being dumped to stage the cleaning.
Ms Ilmi too said she was there on the Centre's invitation and had stayed "only for five minutes."
"We will investigate who did this… This is a symbolic gesture aimed at Muslim localities where the message of clean India needs to reach urgently," said M Wadood Sajid, Media Advisor to President, IICC.
The Swachh Bharat mission was launched by Prime Minister Narendra Modi on October 2, Mahatma Gandhi's birth anniversary. He had tagged several prominent celebrities and politicians challenging them to involve others in a gigantic country-wide cleaning drive.