Lok Sabha adjourned till Dec 7.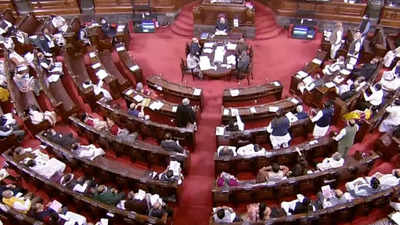 18:57 (IST) Dec 06
Lok Sabha passes the National Institute of Pharmaceutical Education and Research (Amendment) Bill, 2021.
The Bill provides for granting the status of national importance to the six institutes in Ahmedabad, Guwahati, Hajipur, Hyderabad, Kolkata and Raebareli.
16:35 (IST) Dec 06
Something similar had happened in Manipur a few days back when a Colonel and his family were gunned down. Why is this happening in North-East?
Adhir Ranjan Chowdhury, Congress MP
16:35 (IST) Dec 06
This statement [by HM Amit Shah] holds no water. It cannot relate to disturbing news emanating from Nagaland. We have been asking why fire was opened at innocent civilians and why a soldier had to lose his life
Adhir Ranjan Chowdhury, Congress MP
16:12 (IST) Dec 06
Union Home Minister Amit Shah makes statement in Rajya Sabha on deaths of civilians in an anti-insurgency operation that went awry in Nagaland.
16:11 (IST) Dec 06
What HM Amit Shah stated in Parliament regarding killing of civilians in Nagaland.
15:41 (IST) Dec 06
The government of India expresses deep regret over the unfortunate incident in Nagaland and also expresses deep sympathies to the bereaved families
Amit Shah, Union home minister
15:37 (IST) Dec 06
It has been decided that all agencies should ensure that such unfortunate incidents do not take place again in the future while taking up such drives. Govt is monitoring the incident minutely & necessary remedial measured are being taken to ensure peace in the area
Amit Shah, home minister