LIVE NOW
Bihar election results 2020 live updates: NDA ahead of Grand Alliance; slender leads in several seats
The counting of votes for 243 assembly constituencies in Bihar is under way. The closely fought elections saw incumbent Nitish Kumar, who is heading the JD(U)-BJP combine, take on the Tejashwi Yadav-led Mahagathbandhan comprising RJD, Congress and Left Parties. As per the latest trends, the NDA has gained a clear edge in the state and could be on course to retain power. Stay with TOI for live updates and constituency-wise results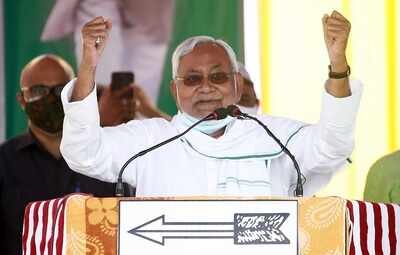 13:15 (IST) Nov 10
BJP's Sanjay Sarawagi is leading over RJD's Amarnath Gami from Darbhanga seat by a margin of 14,776 votes
13:11 (IST) Nov 10
VIP to spring a surprise?
Former Bollywood set designer Mukesh Sahni's Vikassheel Insaan Party is now leading in six out of 11 seats it contested, as per trends.
13:08 (IST) Nov 10
If the trends hold, most exit polls that had given a clear edge to Grand Alliance over the NDA would be proven wrong
13:03 (IST) Nov 10
Bihar minister and BJP leader Nand Kishore Yadav, who was initially trailing Pravin Singh of Congress, now leads by over 3,600 votes
12:59 (IST) Nov 10
Trends at 1pm: NDA stays above majority mark
The Nitish-led alliance is leading in over 125 constituencies while the MGB is ahead in 107. There are still several rounds of counting left and the election may go down to the wire.
12:55 (IST) Nov 10
NDA will again form govt under Nitish in Bihar: JD(U)
With trends giving NDA advantage over Grand Alliance, state JD(U) chief Vashishtha Narayan Singh said, "I have been saying this for a long time that the NDA will form the government under the leadership of CM Nitish Kumar. The opposition ran a misleading campaign with several allurements to woo voters."
12:49 (IST) Nov 10
The Election Commission will be addressing a press conference shortly