About a dozen homeowners in South Texas' Boca Chica Village neighborhood have not sold their properties to SpaceX to make way for a planned Starship spaceport.
SpaceX and a real-estate firm it hired have told residents they could be removed — and for far less money — through an eminent-domain process started by Cameron County.
However, one homeowner told Business Insider that she and her husband would not sell to SpaceX, and they apparently aren't alone. Meanwhile, the Institute for Justice, a libertarian nonprofit group, has discussed possible pro bono legal representation of such residents.
But people who've already sold to SpaceX fear that the county would try other ways to complicate residents' plans to keep their homes before any eminent-domain process.
SpaceX did not respond to Business Insider's requests for comment.
Click here for more BI Prime stories.
This is the third story in a Business Insider series about SpaceX in South Texas called "Last Town Before Mars." Read the previous stories here.
Celia Johnson was born in Brownsville, a midsize city in South Texas that borders Mexico. Like most families in the area, hers didn't come from money, so she found recreational escape as a kid by piling into a relative's car and driving 30 minutes east down Highway 4.
Boca Chica Boulevard, as the road is also known, winds through a rugged, wildlife-rich area famous for migratory birds, ocelots, and invasive nilgai antelope. The pavement abruptly ends in a splash of tan-white sand between a pair of dunes capped with beach grasses, opening to the roughly 7-1/2-mile-long Boca Chica Beach. A few miles to the south is the US border and the mouth of the Rio Grande; a few miles north, past a shipping inlet, is South Padre Island, a spring-break hot spot.
Save for locals who fish, cook, camp, four-wheel, or drink, the strip of sand is serene and undeveloped. Some nearby residents say Boca Chica Beach looks much like it did during the days when pirates harbored their vessels in the Laguna Madre Bay, which the beach shelters from storms.
When Johnson began taking her own kids, she'd pass through a remote neighborhood of one-story brick homes called Boca Chica Village less than 2 miles west of the beach. One day in 1992, her son spotted a "for sale" sign in the front yard of a home.
"My son said, 'Mom, this house is for sale — call the lady, call the lady!'" Johnson told Business Insider.
Johnson bought the house that year, making it an annual retreat from brutal winters in Michigan, where she spent most of her adult life, as well as a gathering point for her extended family.
As she entered retirement, though, Johnson, now in her 70s, increasingly viewed it as a low-tax retreat to spend the rest of her life. To supplement her Social Security income, she also rents out a second home she bought later.
"It's brought nothing but happiness. It's always been a backup for me," she said. "This is a house that was a dream come true when I bought it."
But now SpaceX, the rocket company founded in 2002 by the tech entrepreneur Elon Musk, wants her and all her neighbors to leave. The goal: Make way for developing a potentially world-changing spacecraft called Starship and, eventually, build a Mars spaceport.
A senior executive at SpaceX told residents that if Musk "loses his patience," the company would tell Cameron County, where Boca Chica is, that it may pack up and leave. SpaceX and Jones Lang LaSalle, a real-estate firm hired to conduct a village buyout, told homeowners that if that happens, the Cameron County Spaceport Development Corporation might use its eminent-domain authority to remove them.
Despite such intimidating circumstances, some families don't plan to sell to SpaceX.
What's more, they may not be alone if a court battle comes to pass. The Institute for Justice, a libertarian nonprofit law firm in Washington, DC, has signaled it may offer pro bono legal services to affected residents. The outfit is no stranger to property-rights cases; in 2004, its seminal Kelo v. New London suit landed in the US Supreme Court.
Renée Flaherty, an attorney with the firm, told Business Insider that while its board members had not yet approved legal representation for Boca Chica residents, the case would be "right in the wheelhouse" for the institute and "pretty likely" to be taken on if Cameron County moved to use eminent domain.
"The fact that Texas gave this spaceport corporation eminent-domain authority … why would they give them that power if they didn't plan on exercising it? They've bent over backward for SpaceX, they're not going to let them leave, and SpaceX knows that," Flaherty said.
"Texans love their property rights. If SpaceX wants to be the future of humanity — I agree that what they're doing is awesome — they need to be on a solid foundation. And abusing eminent domain should not be a part of that foundation."
SpaceX's rocket 'Neverland' in South Texas
SpaceX's plan is to use the more than 100 properties it's purchased since 2012 to develop, build, and launch Starship, a 39-story, fully reusable, Mars-capable steel rocket system.
"We love Texas and believe we are entering a new and exciting era in space exploration," James Gleeson, a SpaceX representative, told The Atlantic in a story published on Tuesday, adding that "South Texas will play an increasingly important role in our efforts to help make humanity multi-planetary."
In mid-September, the rocket company offered to buy out all homeowners at three times a base appraisal, primarily and ostensibly for safety reasons.
Residents still in the area say they've seen contractors renovating the homes, SpaceX workers sleeping in them, and a real-estate developer sizing up other properties for improvement. One company-owned house has become a kind of recreation center, with a bar, pool and picnic tables, and string lights, said one former homeowner, who requested anonymity to maintain their privacy but whose identity Business Insider verified.
"It's made me madder than anything else they've done. Like they're getting ready for a party or something. This is in the middle of our neighborhood," the person said. "It feels like we're not dead yet and they're already celebrating. It's a kick in the gut."
Johnson said the real goal in buying the village seemed to be creating a private "Neverland" for Musk, SpaceX employees, and VIPs amid a multiplanetary-spaceship operation.
"I live on the site and work in the factory and then go sleep over there in that little village over there," Musk told KRGV News during a Starship job fair in early February. (Business Insider reported on Musk's living situation in South Texas in mid-January.)
Though more than half the village has sold to SpaceX since the deal was offered to homeowners there, many residents have not committed; one family even pulled out at the last minute. Getting everyone moved out seems so important to the company that it keeps dispatching its senior finance director, Dave Finlay, to meet with villagers almost weekly. Though residents described Finlay as affable, he's apologized to them for being bound to negotiation-limiting aspects of the deal.
"Elon wants to pay more attention to this than any project, more than anything else — even if he has to give up Tesla," Johnson said Finlay told her during a visit on Tuesday, referring to the electric-car company of which Musk is CEO.
"In other words: We will get moved out of here no matter what, and he will use whatever money to remove us," Johnson said. "But not by paying us, except through an appraisal based on condemned homes."
SpaceX did not respond to any request for comment from Business Insider for this series. Tesla also did not respond to a request for comment.
Johnson continues to talk to Finlay, and she said his new idea to sway holdouts was the most interesting to her yet: Put a three-times-appraisal value toward SpaceX fully relocating residents to similar properties with brand-new yet similar homes built on them.
"He made another offer about buying some acreage from the county that's got the same waterfront view as here but is 5 miles inland and building houses equivalent to what I have now, including the square footage," Johnson said.
Johnson said that while she's seriously considering the option, she's leaning toward no.
Nothing is certain in a future where Johnson sticks to that decision, but she would not be alone.
'The houses will go to the county on Monday'
As early as 2015, SpaceX representatives told village residents in at least one private meeting that they could all stay — despite all living less than 2 miles from a planned launchpad.
To satisfy US Federal Aviation Administration safety protocols and county agreements, everyone would just have to temporarily evacuate their homes for up to 15 hours on launch days, which were originally supposed to occur once a month. SpaceX said it would put residents in a Brownsville hotel for free, according to some meeting attendees.
On September 28, 2019, about two weeks after SpaceX's buyout offers arrived, residents brought up the hotel-lodging plan with Musk himself during a rare private meeting. Walter Mitchell, who had owned a home in the village since 2005 with his wife, Patricia (the couple sold to SpaceX around early November), specifically asked the billionaire CEO about the idea.
"There are people here that want to keep their property," Mitchell said he told Musk. "I said, 'You guys said in that meeting that you would take us and put us in hotels.' I said, 'Can that work? And they can keep their property?'"
According to interviews with several meeting attendees, Musk said something to the effect of, "Well, if they don't mind frequent shuttles to a hotel frequently, we could probably do that."
But in recent months, SpaceX's actions have suggested that it's trying very hard to avoid this. Brig. Gen. Wayne Monteith, the head of the FAA's Commercial Space Transportation Office, previously told Business Insider that permanently removing residents was not something the federal government had mandated and was instead part of SpaceX's "business case."
In the distant future, that business may be too busy to keep Boca Chica habitable, at least in the current regulatory environment. Musk has said he'd like to fly a Starship and land its Super Heavy rocket booster three times a day from a launch site. Even further into the future, SpaceX aims to replace transcontinental and overseas flights with super-rapid Starship "Earth to Earth" flights; such a scheme may ultimately see 1 million or more launches a year globally, Caryn Schenewerk, SpaceX's senior counsel, said at an FAA conference in January.
An FAA representative told Business Insider on Thursday that SpaceX's safety parameters were "still under evaluation" and that its launch-permit work for Starship prototypes and beyond "is in very preliminary stages."
Whatever the rationale for pushing to clear out Boca Chica Village, many current and former homeowners said that SpaceX and Jones Lang LaSalle had tried to intimidate them into selling and that eminent domain had been the most common tool.
"I have felt like, from the very beginning, that SpaceX has been holding a gun to my head," Johnson said.
Eminent domain is the ability of a government to condemn properties for a "compelling public use," though the US Supreme Court in 2005 — in the case led by the Institute for Justice — interpreted that definition to include private "economic development" projects. Texas, along with dozens of other states, had an allergic reaction to the ruling and spent more than a decade shoring up private-property rights.
Musk has said eminent domain would be a last resort to remove residents. When asked by homeowners, Finlay has said SpaceX has no authority to condemn properties. But in the same beat, he said or implied that SpaceX could ask Cameron County for help or the rocket company would leave — and that local officials would almost certainly act to keep it.
In November, Johnson reached an impasse with a JLL representative when she said she wanted to sell only her rental house, not her main home.
"She called back and said, 'It's both or nothing.' And I said, 'It's nothing then.' And she gave me some spiel about 'I'm going to talk to you like you're my mother or aunt,'" Johnson said. "Then she said, 'We'll close the books on you. The houses will go to the county on Monday.'"
The same JLL representative brought up the legal process in a voicemail, obtained by Business Insider, that was left with Harvey Bloomer, whose family has owned a Boca Chica home for decades, on November 19, a Tuesday.
"SpaceX is riding me because they want to have all the offers in by Tuesday. And they said that if they don't hear back from people, they will assume that they are no longer interested. This worries me because that three-times value will be off the table and you won't be able to get anything close to that offer should the county step in and proceed with eminent domain," the JLL representative said in the voicemail. "That's what is in the newspapers that they're going to do. So give me a call."
JLL declined to speak on the record with Business Insider about either incident and other aspects of this story.
Finlay has also summoned the specter of eminent domain with residents, including in emails sent to the Bloomers that Business Insider obtained.
"I am very concerned that you may be unaware of highly relevant facts related to properties within a designated Space Port in the State of Texas. I would really appreciate if we could connect so that I can explain further," Finlay wrote on February 4. "My goal is to provide full transparency of a difficult situation and to work hard to facilitate the very best outcome for you and your family based on your unique needs in a challenging situation."
JLL and SpaceX have not managed to persuade the Bloomers to sell, and they may never do so. Mary Bloomer said her husband spent parts of his childhood growing up in the beachside home and wouldn't give it up — not even for millions of dollars, or if SpaceX or JLL had handled negotiations differently — since he feels the home is irreplaceable.
"It's not about the money. It comes down to this property being worth more to us than probably any amount you could offer," the Bloomers told Finlay in response to one of his messages.
Mary Bloomer says she still doesn't understand why SpaceX chose Boca Chica instead of somewhere else without a neighborhood.
"Why did they have to do this with this little village of people? They should have thought of this when they first came in," she said.
"I personally don't have anything against him," she added of Musk. "I don't want to stop their progress. I just want to keep my house."
An uncertain future awaits the last town before Mars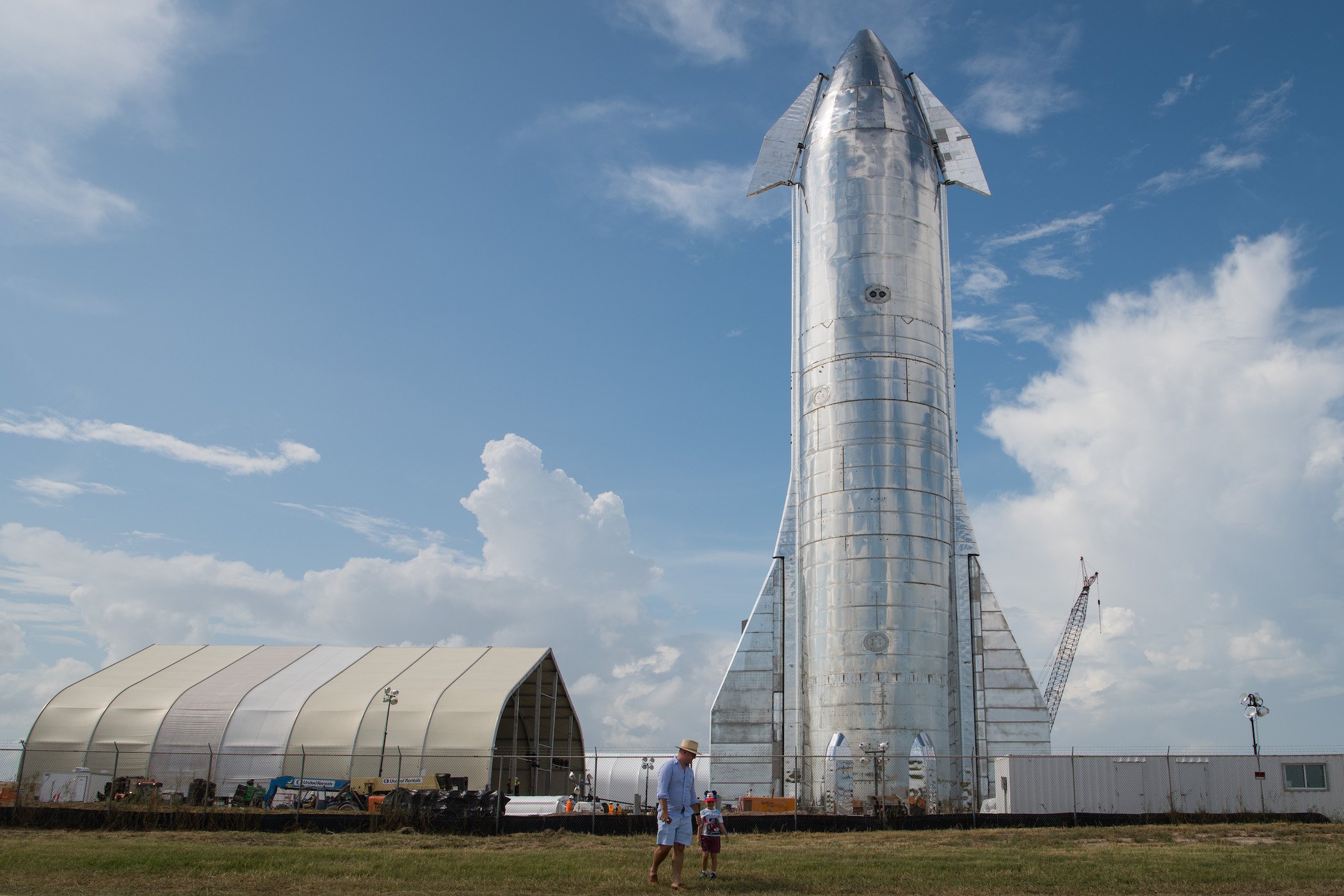 The Bloomers said that a family next door, which Business Insider could not reach for comment, is on board with going to court over an eminent-domain process should the county come knocking and the Institute for Justice, or some other outfit, be willing to represent them for free.
As many as three other Boca Chica homeowners — Johnson included — might join them in challenging Musk's space company.
But the Bloomers are also aware that nothing in life is guaranteed, and that SpaceX may find some way to settle with other holdouts.
"We might be the last ones left, and then I don't know what chance we have," Mary Bloomer said.
If the county does try to condemn homes in Boca Chica through eminent domain, it's possible only those of the residents could be removed, leaving the houses purchased by SpaceX.
"As a general rule, condemnors can pick and choose what they condemn and what they don't. This presumes the right to take exists and there is no fraud or hanky-panky of course," Clay Beard, a partner at Dawson & Sodd, LLP, who's represented private landowners in eminent domain cases for decades in Texas, told Business Insider. "Leaving some and taking others may be evidence of fraud but, again, [it's] a long road in proving it."
Yet because of eminent domain's deep unpopularity in Texas (and in general), it seems unlikely that Cameron County would pursue it as the next option.
That's one major reason Maria and Ray Pointer decided to sell to SpaceX this year. They got somewhat close to the price they sought for their property, and they worried that county officials might make their lives next to impossible to enjoy in Boca Chica.
"The county is not going to lose SpaceX. They'll find another way," Maria Pointer told Business Insider. "They've got 1,000 things they can do. It's not worth it at my age to play that card."
Flaherty said lawyers at the Institute for Justice "strongly believe the negotiations between SpaceX and property owners should be private."
Business Insider requested an interview with County Judge Eddie Treviño Jr., but his office said the judge was traveling for work and unavailable to speak until mid-February. We later requested an interview with the next-best official but did not immediately receive a response.
SpaceX, of course, does not have to stay in Texas, or even on land.
Though Musk recently explained why South Texas is ideal for launching Starship, renderings from years ago show Starship launching from an ocean platform. The Daily Breeze, a community newspaper in Torrance, California, also reported in January that SpaceX may revive a plan to manufacture Starships at the Port of Los Angeles, which would permit the company to ship them practically anywhere in the world.
What happens next is up to SpaceX and, largely, Elon Musk himself.
This story is part of a Business Insider series about SpaceX in South Texas called "Last Town Before Mars."
Do you have a story to share about the spaceflight industry? Send Dave Mosher an email at dmosher+tips@businessinsider.com or send him a Twitter direct message to @davemosher. You may also consider more secure communication options listed here.
WATCH: Why SpaceX is trying to buy out a small Texas village
LAST TOWN BEFORE MARS, PART 1: SpaceX's most vocal holdouts in South Texas are selling their homes to Elon Musk's rocket company to make way for a Mars spaceport
LAST TOWN BEFORE MARS, PART 2: SpaceX's most vocal holdouts in South Texas are selling their homes to Elon Musk's rocket company to make way for a Mars spaceport
Join the conversation about this story »


[ad_2]