Travel to Tajpur:
After spending too many days drifting off in the workplace, dreaming of a seaside escapade, it was time to make that a reality. Living in Kolkata there are quite a few options for those who yearn for the sand and surf. Tajpur is one of those destinations that not too many people venture to because it is not as developed as other places like Digha, from a touristy point-of-view. And this is exactly why we chose it as our weekend getaway.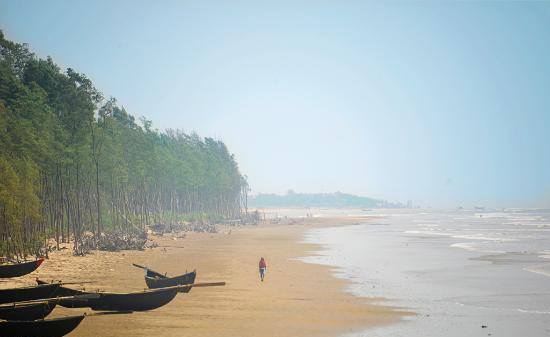 Tajpur is about a four-hour drive from Kolkata so my travelling entourage decided to book a cheap and reliable AC taxi in Kolkata. Such a long drive would require the best comfort and no hassle of looking for routes so an expert chauffeur service was the ideal recommendation. We wanted to make full use of our weekend time so an early morning start was planned. It also gives time for me to unleash my curiosity on the way without having to worry about reaching the destination late. We crossed the Haldi river in the first half of the journey, a good place to take some pictures if you are a photography enthusiast. Once we crossed the town of Contai, we started seeing signs of the fishing economy – vast stretches of paddy fields and spots where fish was being dried. With so much time in our hands, a stop at the local market was made and I explored some of the crafts – Contai is famous for its brassware and unique grass mats.
Overview and daily activities:
The main attraction in Tajpur is – you guessed it – the soft sandy beach. Lined by swaying palm in sections, this crescent-shaped wonderland just took away all the city blues and filled me with a sense of contentment and serenity. The crashing waves brought with them snips of driftwood and sea plants and as I looked carefully, crabs were moving along on the wet sand. These crustaceans can make the beach look a shimmering red from a distance. What everyone loves about Tajpur is that it is not very crowded. The waters are relatively warm too so you can always walk into the shallow depths and frolic in the sea.
Tajpur is a wonderful place to wander around aimlessly. There are some smart lodges available – I noticed some cute cottages with straw entrances. The town is perfect for travellers looking for some 'alone' time and it is ideal for large groups looking to bond in a beautiful surrounding. With a book in my hand, I decided to explore the nearby grove of trees and hopefully find a spot to just sit and relax. The trees provided some shade from what was becoming a rather warm day.
Evening times in Tajpur are perfect for a stroll down the shore. The light of the setting sun creates dramatic natural portraits which would make very pretty screen savers. Another fascinating aspect of a Tajpur trip is the local culture. The fishing communities of West Bengal are a hard-working lot. They provide the backbone of the local economy and their job begins from dawn and carries on till dusk. I observed the boats being anchored on the nearby stretch and watched the fishermen haul out their catch of the day. Tajpur is now home to many fish farms, an intriguing sight for those who like to know where their delicious fish comes from.
No trip is complete without sampling some of the local cuisines. Bengali food has an eternal homely charm to it and Tajpur does not disappoint. The highlight would be the fish and prawn dishes – encompassing the freshness of the catch and the rustic flavours that this neck of the woods is known for.
There are many other nearby attractions which should be visited in a Tajpur trip. Mandarmani is a few kilometres north of Tajpur. It is famous for its tranquil seaside scenery and very low waves. On a weekend trip, you can dedicate the Sunday afternoon for some sightseeing in the radius of the beach town. The aforementioned Digha is worth a look. This more well-known beach has many restaurants around it so we decided to have a leisurely and late lunch there before heading back for another peaceful evening on Tajpur beach.
How to reach Tajpur:
When going on trips like these, it is always best to make good travelling arrangements so you can just focus on the fun and let the logistics take care of themselves. We chose Savaari because of its expertise in ferrying around travellers. For large groups, it is best to hire an Innova in Kolkata with a trusted driver, assuring ample leg space for all and no fears of getting lost on the way. Bengal's countryside is home to many cultural and natural attractions – an ancient land with its many hidden secrets. Tajpur is one of these gems and a place that keeps calling you back.
Distance and time taken:
It takes around 4 hours to reach Tajpur from Kolkata by car. You can cover the 172.9 km distance via NH16 and NH116B.