Mimi Xu alias DJ Misty Rabbit was born on 7th July 1990 in Beijing, China. The daughter of an acoustic architect who worked with opera houses to optimize sound, Xu grew up listening to experimental music and studying piano. ("That was a really amazing opportunity," she says of her musical upbringing, "but at the time, I wanted to go play with my friends on the playground rather than go to a concrete music concert.") Today she employs her eclectic tastes and vast repertoire to bring parties, films and runway shows to life.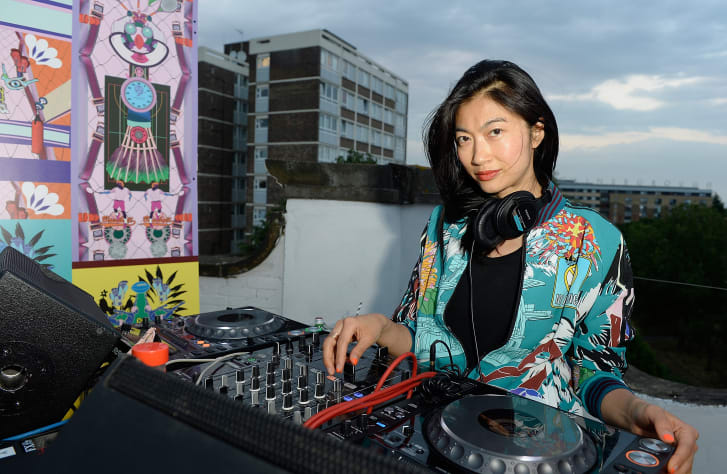 Given the splendor of the clothes, the drama of the sets and the beauty of the models, runway music is rarely the focus of your average fashion show. Not that this is a bad thing. If you don't notice it, it's because someone is doing their job right.
Usually, this credit goes to the show's music director. Somewhere between a stylist, a DJ and a conductor, this person makes sure the music enhances the show instead of distracting from it. They're the ones who choose the tracks that give you goosebumps at the finale, or move you to Shazam a track for later. They make sure the music just seems to fit.
One of the most renowned music directors in the business is Mimi Xu (aka DJ Misty Rabbit). Since 2007, she's coordinated show soundtracks for luxury heavy-hitters (Mary Katrantzou, Roksanda, Acne), high street brands (Topshop, H&M), and new talent (Xander Zhou, Wes Gordon, Ostwald Helgason) at each of the major fashion capitals.
After a whirlwind week in New York for fashion week, where she supervised soundtracks for Yigal Azrouël, Brandon Maxwell (Lady Gaga's best friend and stylist) and Zimmermann by day and hit designer after-parties by night, she's back in London do the same for her home team. This season it means directing the likes of Emilia Wickstead and Pringle of Scotland.
In the lead-up to London Fashion Week, Xu divulged the secret to the perfect playlist, and gave us a sample of what she's listening to this season.
When or reporter asked a question over telephone
How do you stay inspired?
I don't think you can be great if you just do fashion music. You need to do work outside fashion that's much more refined than doing fashion music, and I think that's one thing I always remind myself. Your inspiration will come from outside of fashion and then you can bring it back into fashion, but that's not everything.