His onscreen roles of Ram and Bikram have made girls go weak in the knees. And he's currently one of the most energetic, hyperactive fun and talented actors onscreen who is rumoured to be dating Bollywood's reigning Queen, Deepika Padukone.
Yes, that's right! It's none other than Ranveer Singh, who looks absolutely adorable in this childhood picture of the actor.
Can you recognize these Bollywood kids?
Fast asleep peacefully in her mother, Poonam Singh's arms, Sonakshi looks super-cute in this family portrait along with her father actor Shatrughan Sinha, brothers Luv and Khush. And don't miss her baby pout!
Any guess who this light-eyed chubby girl is? She is none other than the 'Aashiqui 2' actress Shraddha Kapoor. Shraddha, who has just wrapped up shooting for 'Haider' and is working on 'The Villain', was a pretty baby with adorable features.
Here is almost a decade old picture of the 'Bodyguard' pair, Salman Khan and Kareen Kapoor. Teenage Kareena Kapoor with a young lanky Salman Khan. This adorable picture was clicked when Kareena had accompanied her elder sister Karisma Kapoor on the movie sets.
Sonam Kapoor seems to be getting nostalgic as she posted a childhood picture of herself.
Here we get you Bollywood dancing king Shahid Kapoor's rare childhood picture on his 33rd birthday. Fondly called Sasha in the industry, Shahid's features have not changed much. He still have those twinkling eyes.
Bollywood's 'Dabangg' girl Sonakshi Sinha, who is known for her chubby cheeks and voluptuous figure, shared a piece of her childhood in the form of her old picture with her fans on Instagram. Though Sonakshi has lost a lot of weight now but must say her cheeks are still the same. She also wrote: "Some things just dont change #cheeks #BlastFromThePast found these on set.. Hehehe." Sonakshi Sinha is working very hard to get herself in perfect shape.
Highway girl Alia Bhatt, who is gearing up for her second release Highway, was always daddy's li'l girl. The doting father also tweeted a pic of his youngest one when she was a child. We must say she was super cute then as well. "Treasures from the past!," he tweeted.
New Mom Ayesha Takia Azmi posted a series of pictures from her childhood album. Ayesha was a chubby little princess, who is seen only in track pants when she was 3 years old, flaunted her long silky tresses even then.
Diva Jacqueline Fernandez was super cute in her childhood. She had front fringes and loved horse riding.
Abhishek Bachchan was always a lookalike of his famous dad, megastar Amitabh Bachchan.
You click on every pic of Aishwarya's one-year-old daughter – now you know where has Aaradhya got her pretty features from.
We came across a picture of a sweet and chubby kid and you will be surprised to know that it is none other than Alia Bhatt. Director Mahesh Bhatt tweeted a picture of his beautiful daughter Alia Bhatt and wrote: "Memory land!Not in our wildest dream did we imagine that this 'Sumo wrestler' would transform herself into ALIA BHATT." You Bet Mr Bhatt we couldn't have guessed it either.
Bipasha Basu has always been the bikini babe. The actress looks too cute posing in the two-piece when she was young. This image was posted last year on Twitter by Bipasha Basu).
Dimpled beauty Deepika can be instantly recognised by her famous father Prakash Padukone. She has a charm on her face. Seen here with mother Ujjala, younger sister Anisha and father Prakash Padukone.
Can't you already see the aura of a star in those eyes? The cute little kid is none other than Former Miss Asia-Pacific and actress Dia Mirza. Actress-cum-producer Dia Mirza tweeted this picture of hers with her mother on Daughter's Day: "I just got the most beautiful bunch of flowers and the nicest message from Ma :)"
Esha Deol, who tied the knot with businessman Bharat Takhtani last year, posted a fresh pic of her younger sister Ahana and herself with parents Dharmendra and Hema Malini. The daughters are seen enjoying a ride on their parents' back. (This image was posted on Twitter by Esha Deol )
From this picture nobody could have guessed who he was, until you saw him standing next to his famous father Rakesh Roshan. Yes, he is the Greek God of Bollywood – Hrithik Roshan.
Bengali tigress Kajol's smile is still the same. Aww Kajol hugs younger sister Tanishaa.
Priyanka Chopra, who lost her father Dr Ashok Chopra last year to cancer, had also shared a picture of hers with her dad and wrote: "Daddy's lil girl… Always n forever.."
Priyanka's features are still the same.
This chubby youngster in Raj Kapoor's lap is none other than the most eligible bachelor of Bollywood – Ranbir Kapoor.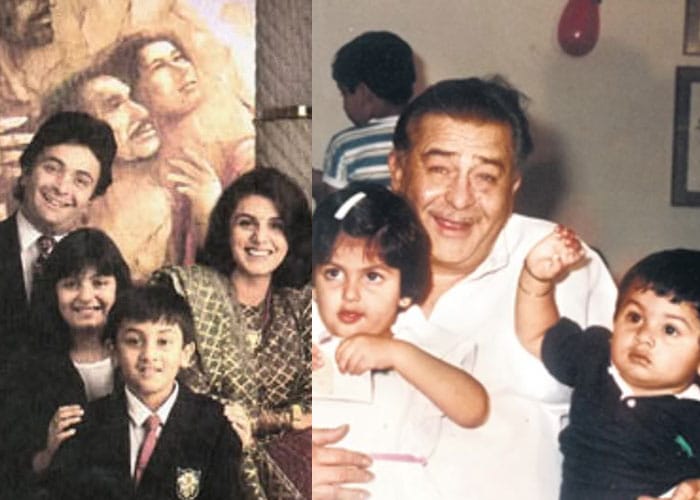 Dabangg Salman Khan always loved being shirtless. We love!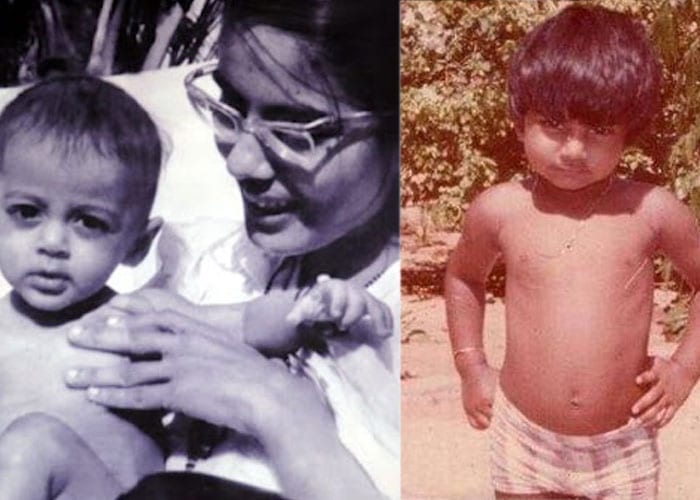 Sridevi, who made her comeback on the silver screen after a gap of almost sixteen years with English Vinglish, tweeted a picture of hers when she worked as a child actor. The actress looks cute ans here's presenting a few pics of our superstars from their bachpan. (This image was posted on Twitter by Sridevi Boney Kapoor)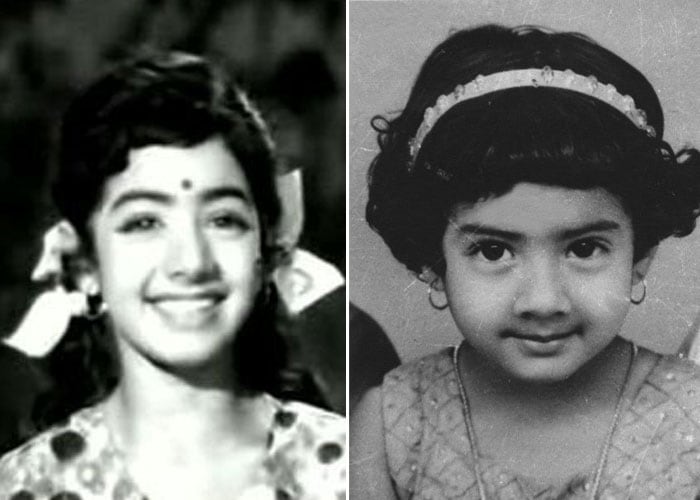 Do you recognise this toddler? This is none other than our very own Shah Rukh Khan when he was a few months old.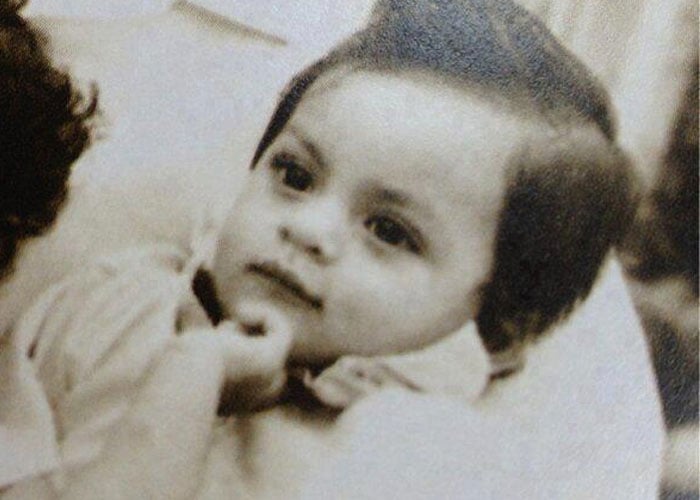 (Input source: Indian Express)