P.V. Nandhidhaa shocked second seed Alina Bovil of Russia in the 11th round of the World junior chess championship here on Friday and is now one of the four players in the joint lead with eight points.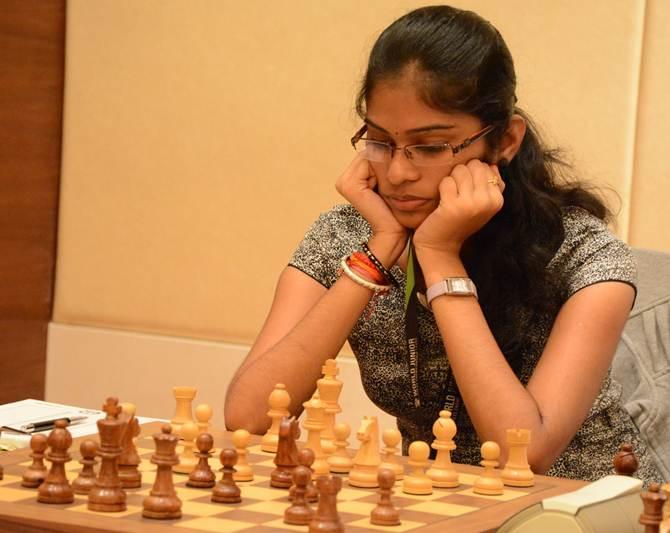 Important results (11th round): Jeffery Xiong (USA) 9 drew with Vladislav Artemiev (Rus) 8; Xu Yinglun (Chn) 7.5 drew with Parham Maghsoodloo (IRI) 7.5; Grzegorz Nasuta (Pol) 8 bt Bozidar Ivekovic (Cro) 7; Paulo Bersamina (Phi) 7.5 bt Rasmus Svane (Ger) 6.5; Aravindh Chithambaram 7.5 bt Christoph Menezes (Aut) 6.5; Shahin Lorparizangeneh (IRI) 6.5 drew with Masoud Mosadeghpour (IRI) 6.5; R. Pragnananda 6 lost to Cristobal Villagra Henriquez (Chi) 7; S.L. Narayanan 7 bt Patrik Grandadam (Sui) 6.
G. Akash 6.5 drew with Karthikeyan Murali 6.5; Shardul Gagare 7 bt N.R. Visakh 6; Srijit Paul 7 bt Tran Tuan Minh (Vie) 6; Irakli Beradze (Geo) 6 lost to Xu Yi (Chn) 7; Dhulipalla Bala Chandra Prasad 6.5 drew with Dennis Wagner (Ger) 6.
Girls: Paula Rodriguez Rueda (Col) 8 bt Janelle Mae Frayna (Phi) 8; P.V. Nandhidhaa 8 bt Alina Bovil (Rus) 7; Dinara Saduakassova (Kaz) 8 bt R. Vaishali 7; Michelle Catherina 7.5 bt Nataliya Buksa (Ukr) 7.
Dinara Dordzhieva (Rus) 7.5 bt Gulrukhbegim Tokhirjonova (Uzb) 6.5; P. Bala Kannamma 6.5 drew with Teodora Injac (Srb) 6.5.