Jeffrey Xiong moved into sole lead, taking full advantage of some unwise moves from Aravindh Chithambaram to post a crucial win at the end of the eighth round at the KIIT University campus here on Monday. He took his tally to 6.5 points with only five rounds remaining.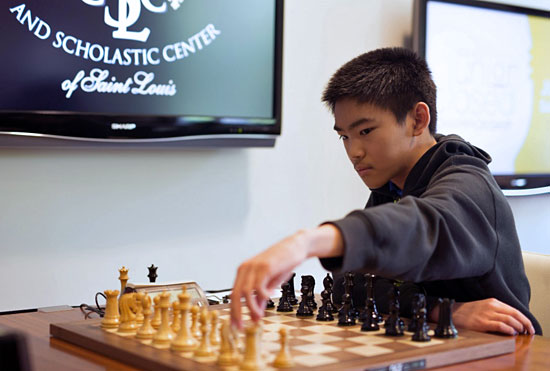 "I wouldn't say I was as lucky in this game as I was against Murali Karthikeyan, but Aravindh certainly made things easier for me in what was a sharp game that could have gone either way," he said after winning in 43 moves from the white side of a Sicilian Rossolimo.
He is followed half-a-point behind by four players — Karthikeyan Murali of the host, Xu Yinglun of China, Parham Maghsoodloo of Iran and Poland's Grzegorz Nasuta.
In the girls' championship, there is no change at the top with Dinara Dordzhieva of Russia and Janelle Mae Frayna of Philippines sharing the lead with 6.5 points each.
Half-a-point behind them are P.V. Nandhidhaa, the Tamil Nadu girl who is having a fine tournament, and top seed Dinara Saduakassova of Kazakhstan.
There was more joy for the Indian girls on the Independence Day, with M. Mahalakshmi shocking seventh seed Anna Styazhkina of Russia and Srija Seshadri celebrating her 19th birthday with a victory over sixth seed Oliwia Kiolbasa of Poland.
Tuesday is a rest day.
Important results:
Eighth round: Grzegorz Nasuta (Pol) 6 drew with Xu Yinglun (Chn) 6; Jeffrey Xiong (USA) 6.5 bt Aravindh Chithambaram 5; Parham Maghsoodloo (Ira) 6 bt S.L. Narayanan 5; Rasmus Svane (Ger) 5.5 drew with Christoph Menezes (Aut) 5.5; Masoud Mosadeghpour (Ira) 5 lost to Karthikeyan Murali 6; Seyed Khalil Mousavi (Ira) 4.5 lost to Vladislav Artemiev (Rus) 5.5; Bozidar Ivekovic (Cro) 5.5 bt Kirill Alekseenko (Rus) 4.5; Xu Yi (Chn) 5 drew with Shadul Gagare 5; Stefan Beukema (Bel) 5.5 bt R. Pragnananda 4.5; Rajdeep Sarkar 4.5 drew with Dennis Wagner (Ger) 4.5; Cristobal Henriquez Villagara (Chi) 5 bt Mikhail Belous (Ukr) 4; Calin Gheorghiu (Rom) 4 lost to Shahin Lorparizangeneh (Ira) 5; Tran Tuan Minh (Vie) 4.5 drew with Patrik Grandadam (Swi) 4.5.
Girls: P.V. Nandhidhaa 6 drew with Dinara Dordzhieva (Rus) 6.5; Janelle Mae Frayna (Phi) 6.5 drew with Nataliya Buksa (Ukr) 5.5; Dinara Saduakassova (Kaz) 6 bt Saina Salonika 5; K. Priyanka 5 Alina Bivol (Rus) 5; Michelle Catherina 5.5 drew with Gu Tianlu (Chn) 4.5; Paula Rodriguez Rueda 5.5 bt Mobina Alinasab (Ira) 4.5; Teodora Injac (Srb) 5 drew with R. Vaishali 5; M. Mahalakshmi 5.5 bt Anna Styazhkina (Rus) 4; Pratyusha Bodda 4 lost to Harshita Guddanti 5; Gulrukhbegim Tokhirjonova (Uzb) 5 bt Karina Ivanova (Rus) 4.