New Delhi, Aug 4 – The government on Thursday described as misleading media reports that Union Home Minister Rajnath Singh's address to a Saarc ministerial meet in Islamabad had been blacked out.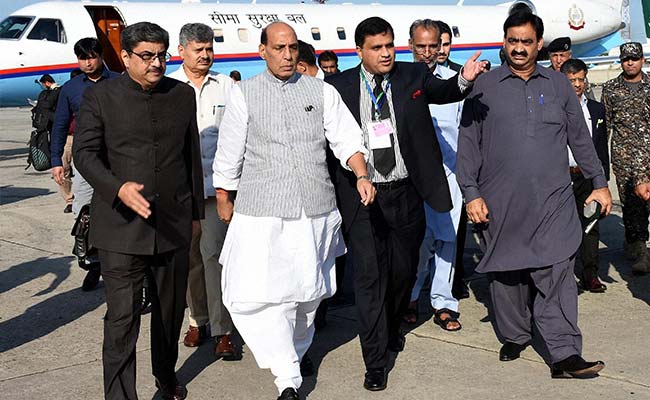 External Affairs Ministry spokesperson Vikas Swarup said media reports of a 'blackout' of our Home Ministers statement are misleading.
He said: It is the standard Saarc practice that the opening statement by the host country is public and open to the media while the rest of the proceedings are in camera, which allows for a full and frank discussion of issues.
Rajnath Singh, who was in Islamabad on a two-day visit, spoke after his Pakistani counterpart Chaudhry Nisar Ali Khan at the South Asian Association for Regional Cooperation (Saarc) ministerial meet in Islamabad.
Only the speech of Pakistan Prime Minister Nawaz Sharif was directly telecast.
Singh returned home on Thursday.
–IANS
The Home Minister was attending a session of SAARC, which brings together eight South Asian countries, and he used his address to further India's complaint of Pakistan inciting the recent unrest in Kashmir which has left at least 50 people in dead in clashes that began with last month's shooting of 22-year-old terrorist Burhan Wani by security forces.
"In no circumstances should terrorists be eulogised as martyrs" the Home Minister said, challenging Pakistan for lionizing Wani and calling protest marches against his killing. Pakistani Prime Minister Nawaz Sharif has repeatedly expressed his regret about Wani's death.
Later, his Pakistani counterpart Nisar Ali Khan said: "We have seen brute force against unarmed civilians. Shouldn't suppress freedom struggle in the name of fight against terror."
Sources in Delhi said "a blackout" of the speech is a misleading description and that conventionally, speeches at SAARC summits are not filmed, except for the opening remarks. But tension was a consistent theme. Mr Singh and Mr Khan did not shake hands, and neither of them attended a lunch for the SAARC visitors.
Meanwhile, the home minister also briefed PM Narendra Modi on his Pakistan visit.
Mr Singh's visit – the first by an Indian leader after Pakistani terrorists attacked the air force base in Pathankot, killing seven military personnel – was important, Delhi had said, because it was for a regional multi-lateral summit and not bilateral talks with Pakistan at a time of highly strained relations. As Mr Singh landed in Islamabad, the Pakistani Prime Minister baited India with new provocative statements about "a freedom movement in Kashmir."
Then, anti-India protests were allowed in Islamabad and other cities, featuring terrorists like Hizbul Mujahideen's Syed Salahuddin and Hafiz Saeed, founder of the Lashkar-e-Taiba, who masterminded the deadly 26/11 attack on Mumbai in which 166 people were killed.