New Delhi, July 5 – The follwing is the list of new ministers in Prime Minister Narendra Modi's government: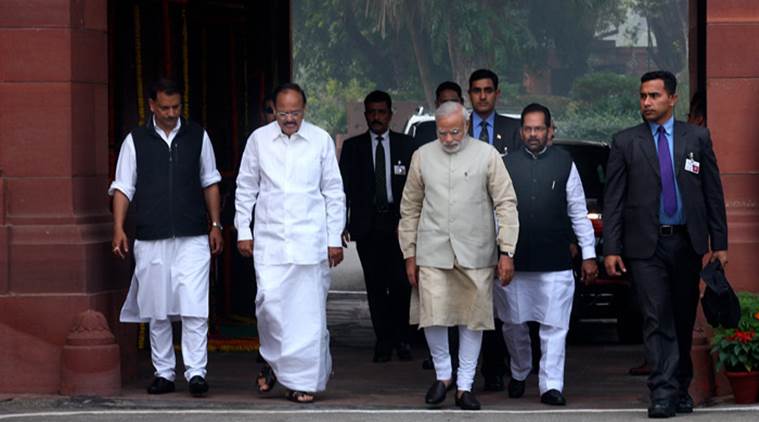 Minister of State for Environment Prakash Javadekar elevated to cabinet.
The 19 new Ministers of State:
Faggan Singh Kulaste
S.S. Ahluwalia
Ramesh Chandappa Jigajinagi
Vijay Goel
Ramdas Athavale
Rajen Gohain
Anil Madhav Dave
Purushottam Rupala
M.J. Akbar
Arjun Ram Meghwal
Jaswant Sinh Bhabhor
Mahendra Nath Pandey
Ajay Tamta
Krishna Raj
Mansukh Bhai Mandavia
Anupriya Patel
C.R. Chaudhary
P.P. Chaudhary
Subhas Ramrao Bhamre
There are currently 64 Union ministers, including the Prime Minister, and there can be a maximum of 82 of them under a constitutional bar.
Nineteen new faces are set to be inducted in the Union Council of Ministers Tuesday when Prime Minister Narendra Modi goes in for an expansion of his team. It is expected he will reach out to OBCs and Dalits and provide representation to key states going to assembly polls in 2017 like Uttar Pradesh and Gujarat.
It is learnt that those likely to be inducted are P P Chaudhary, Subhash Ramrao Bhamre, M J Akbar, Arjun Ram Meghwal, Anil Madhav Dave, Ramesh Jigajinagi, Parshottam Rupala, Jasvantsinh Bhabhor, Mahendra Nath Pandey, Faggan Kulaste, Vijay Goel, Anupriya Patel, Mansukh Mandaviya, S S Ahluwalia, Rajen Gohain, C R Chaudhary, Ajay Tamta, Ramdas Athawale and Krishna Raj.
–IANS