Sivasagar, Prangan Duarah: Yoga is not only as a physical exercise where people twist, turn, stretch, and breathe in the most complex ways, it is the 5000-year-old Indian body of knowledge. The word yoga derived from the Sanskrit word "Yuj", which means the union of the individual consciousness or soul with the Universal Consciousness or Spirit. One of the beauties of the physical practice of yoga is that the poses support and sustain you no matter how old or young, or fit or frail, you come to your mat. Yoga is a very valuable gift from ancient Indian to the world. An international day for yoga was declared by the United Nations General Assembly (UNGA) on December 11, 2014, which was suggested by Indian Prime Minister Narendra Modi. The idea of celebrating this day on 21st June was suggested by the Indian Prime Minister Narendra Modi in his UN Address, as it is the longest day of the year in the Northern Hemisphere and shares special significance in many parts of the world. But Nepal and a few other SAARC countries have started to celebrate World Yoga day before 36 years. Now you must be thinking why they are stretching so much in promoting Yoga. Well, Yoga is very important in this mechanical polluted world because I can help you to make your daily life healthy, peaceful, and joyous. And the best part is that you don't need to spend money on that. Think just five to ten minutes a day can transform your life! Let's see what the benefits of Yoga are in Daily life;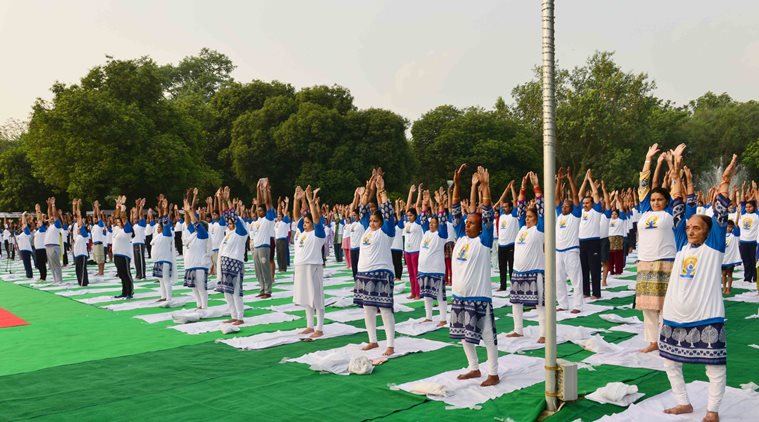 Physical Fitness
The practices of yoga strengthen the body and create a feeling of well-being. The Yoga enhances muscle strength, coordination, flexibility, and help to control cholesterol level and reduce weight.
Mental peace and stress relief
A few minutes of yoga during the day can be a perfect and on of the easiest way to get relief from the stress and getting inner peace. Mental clarity and self-understanding can be gain through Yoga.
Controlling diseases and improve immune
In this modern world, with the increasing number of technologies the numbers of the name of diseases are also increasing. Yoga can help to heal these. Yoga is also self- diagnosis, healing prevention and maintenance. Our system is a seamless blend of the body, mind and spirit. Yoga strengthens muscles and organs; breathing techniques and meditation release stress and improve immunity.
Increase energy and will power.
A few minutes of yoga every day provides the secret to feeling fresh and energetic even after a long day. it helps to improve willpower also.
Better life
A mind that is relaxed, happy and contented is better able to deal with sensitive relationship a matter which leads to a healthy life. Yoga helps to make you peace loving by relaxing your mind, and making you strong.
The benefits of Yoga are numerous in our daily life. Remember it's the simplest way of making your life healthy as well as happy. So , keep practicing yoga.