Kabul(PTI): Prime Minister Narendra Modi and Afghan President Ashraf Ghani on Saturday jointly inaugurated a landmark dam, a Rs 1,700 crore showpiece infrastructure project by India in strategically important Herat province, reflecting India's strong commitment to reconstruction of the war-ravaged country.
The Afghan-India Friendship Dam, earlier known as Salma Dam, on river Chist-e-Sharif in western Herat neighbouring Iran, will irrigate 75,000 hectares of land and generate 42 MW of power.
View image on Twitter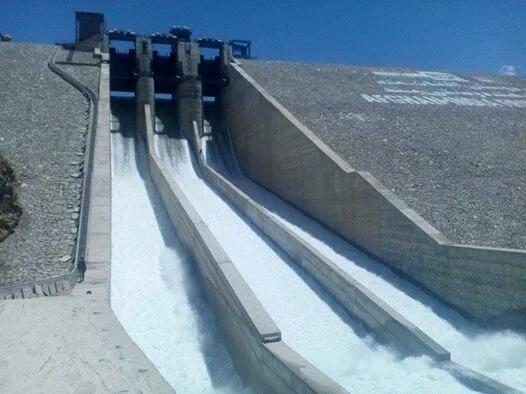 View image on Twitter
Follow
Vikas Swarup ✔ @MEAIndia
The symbol of an enduring partnership. The sluice gates open at the India-Afghanistan Friendship Dam
2:01 PM – 4 Jun 2016
102 102 Retweets 135 135 likes
View image on Twitter
View image on Twitter
Follow
ANI ✔ @ANI_news
This dam has not been built by bricks & mortar,but by faith of our friendship & valour of Afghans & Indians: PM Modi
1:47 PM – 4 Jun 2016
39 39 Retweets 55 55 likes
Touted as a "landmark" infrastructure project, the dam located 165 km east of Herat town, is expected to significantly boost the agricultural economy of the province.
The project has been executed and implemented by WAPCOS Ltd, a government of India undertaking under ministry of Water Resources, River Development and Ganga Rejuvenation.
In his address at the inauguration ceremony, Ghani welcomed Modi to his "second home", Afghanistan, and said a "long standing dream" of the country has been realised after 30 years with help from India.
View image on TwitterView image on Twitter
Follow
Ashraf Ghani ✔ @ashrafghani
Most welcome to my dearest friend, @narendramodi to his second home AFG. Look forward to a great conversation.
1:20 PM – 4 Jun 2016
288 288 Retweets 385 385 likes
"Today, we come together to make eternal India-Afghan ties and friendship. This Dam will chart a new course of cooperation and Prosperity," said Ghani adding "Our people identify India with roads, dams and over 200 small development projects."
"Contrary to those who spread chaos and destruction, we two countries have taken the joint decision to build and grow," said Ghani.
The Herat province lies on the ancient trade routes of the Middle East, Central and South Asia. Roads from Herat to Iran, Turkmenistan, and other parts of Afghanistan are considered strategically important.
All equipment and material required for the dam were transported from India to Bander-e-Abbas port of Iran via sea route and then along 1200 km by road from there to Islam Kila border post at Iran-Afghanistan border and then further 300 km by road from the border post to the site.
Over 1,500 Indian and Afghan engineers were involved in construction of the dam for several years in difficult condition.
Afghanistan is Modi's first stop as part of his five- nation tour which will also take him to Qatar, Switzerland, the US and Mexico.
Modi had visited Kabul on December 25 last year during which he had inaugurated a swanky Parliament complex that was built by India at a cost of USD 90 million.
India has a strategic partnership with Afghanistan and is implementing projects worth USD 2 billion to help rebuild the country's infrastructure.
India has been supporting an Afghan-led, Afghan-owned, broad-based and inclusive process of peace and reconciliation, and advocating the need for a sustained and long-term commitment to Afghanistan by the international community.
Earlier, Modi was welcomed by a group of children at Governor's Office in Herat.
with agencies