NEW DELHI: Voting for 61 seats in Assam and 31 seats in West Bengal began on Monday morning, which will seal the fate of 688 candidates for 92 seats.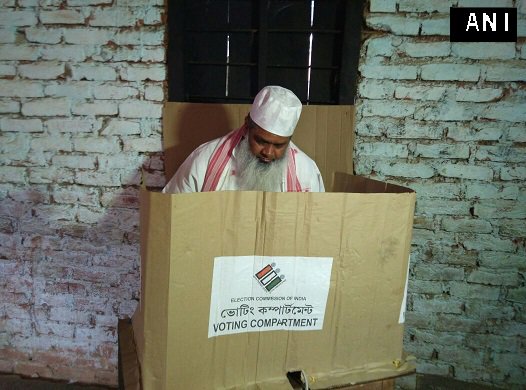 In Assam, 525 candidates are in the fray for 61 constituencies, the second and final phase of polling. Polling was held for 65 seats on April four.
The ruling Congress, led by Chief Minister Tarun Gogoi who is hoping to return for a fourth term, is locked in a keen triangular contest with BJP-AGP-BPF alliance and AIUDF with the issue of infiltration from Bangladesh hitting the spotlight.
Congress is contesting in 57 seats, opposition AIUDF in 47, BJP in 35 while its allies–the Bodo Peoples' Front in 10 and the Asom Gana Parishad in 19. The CPI(M) is contesting in nine seats, the CPI in five, and Independents in 214.
Hojai(Assam): All India United Democratic Front (AIUDF) chief Badruddin Ajmal casts his vote in the final phase. pic.twitter.com/SlDzGQUtUB

— ANI (@ANI_news) 11 April 2016
In West Bengal, 163 candidates, including 21 women, are in the fray in the 31 constituencies of West Midnapore, Bankura and Burdwan districts. The Assembly strength is 294. Around 70 lakh people are eligible to cast their votes.
The hustings will witness a triangular contest among the ruling Trinamool Congress, Left Front-Congress combine, and BJP. All of them have fielded candidates in all the 31 seats.
Reports of violence coming from Sonamukhi in Bankura. The allegations are mainly levelled against TMC MLA Deepali Saha.
In one hour, more than 140 complaints have been registered to the Election Commission. It is to be seen if the EC reacts promptly to all allegations of omissions and commissions.
08:10 AM
07:53 AM
Meanwhile in Assam, AIUDUF chief has cast his vote. On Sunday, in a series of tweets, Ajmal blamed Congress for the division of 'secular vote' in the state and said that he has done his best to stich up an alliance.
07:47 AM
Left worker attacked. Screengrab courtesy Zee 24 Ghanta
07:39 AM
Snapshots of voting from Assam and West Bengal
07:38 AM
PM Modi urges voters to cast their vote.
07:37 AM
Already news of sporadic violence has started to come from West Bengal. In Jamuria, CPIM agent has been attacked and TMC has been blamed for the incident.
However the ruling party has denied the allegations and have blamed the infighting of Left for the incidence.