Kollam(PTI): The Indian Navy and the IAF have deployed six helicopters and one Dornier aircraft to help in rescue operations at the Kerala temple where a fire has left over 100 dead.
The IAF has deployed four choppers including Mi17 and Advanced Light Helicopter (ALH).
The Indian Navy is deploying one Dornier and two ALH with medical teams from the southern naval command.
It has also deputed three Naval ships — INS Kabra, Kalpeni and INS Sukanya with medical stores to Kollam coast to give medical assistance to the injured.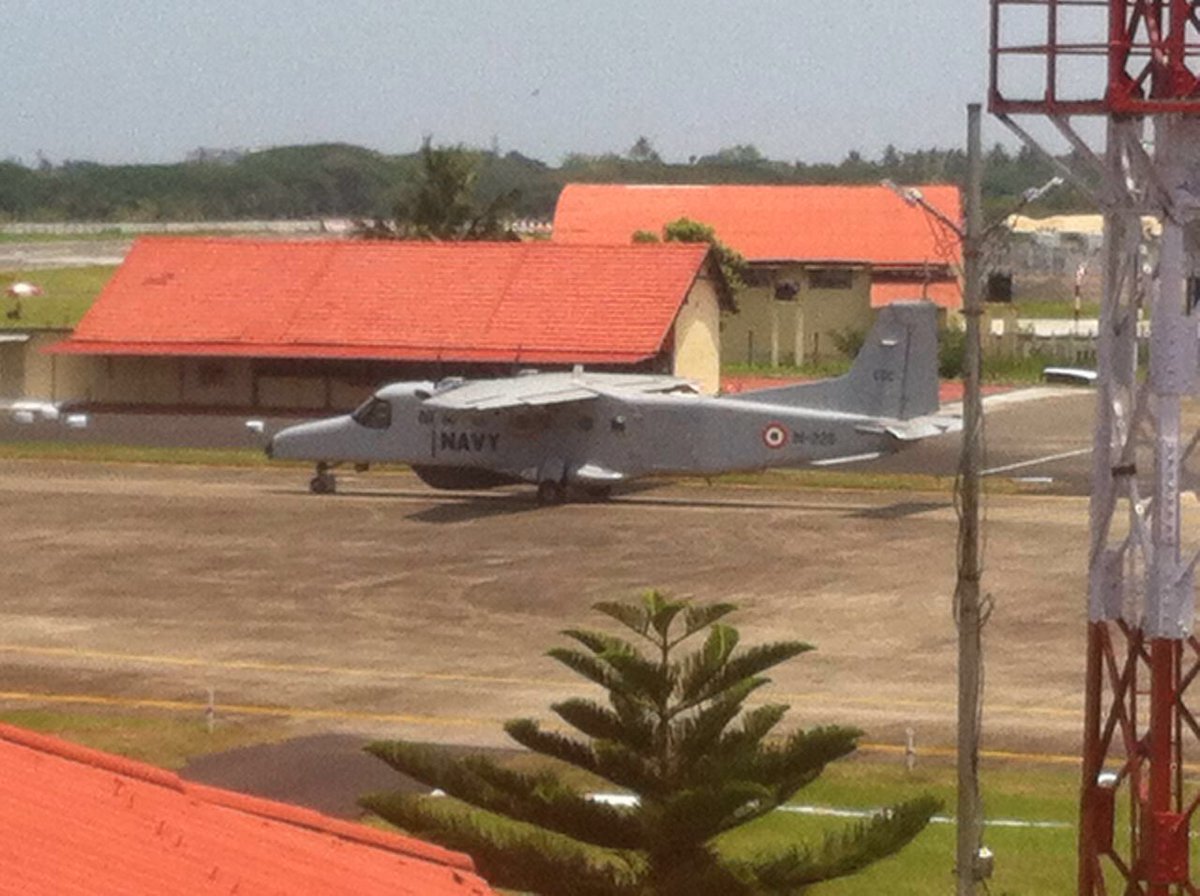 (Pics of Dornier involved in Kerala temple fire rescue. – Image by – @SpokespersonMoD)
They will be deployed in consultation with local administrative authorities, a Navy spokesperson said.
Surgical teams have also been put on standby at the Naval command hospital in Kochi.
Also read: Kerala temple fire: Situation at mishap site unprecedented and alarming, says CM Oommen Chandy
One additional dornier and two chetaks are also being pressed into service,.
In two ships Kabra and Kalpeni, Medical stores are being sailed to Kollam in the two ships Kabra and Kalpeni.
As the temple festival was on, fireworks display had commenced at the temple precincts since midnight and hundreds of people had gathered to watch the show.
Puttingal temple fire tragedy: PM Narendra Modi received upon arrival by Kerala CM Oommen Chandy at #Kollam pic.twitter.com/NtXMnfFTeP

— ANI (@ANI_news) 10 April 2016
As the fireworks and pyrotechnics display was coming to a close at 3 AM, an explosion is suspected to have occurred at the storeroom 'Kambapuram' filled with crackers and pyrotechnics materials, police said.
A massive effort was launched to rescue the people from the inferno and shift the injured people to hospitals, with the Navy and the Air Force pressing into service six helicopters and one Dornier aircraft.
Speaking to media, Chief Minister Oommen Chandy said ,"We have ordered a judicial enquiry on the temple tragedy, will get the report within 6 months."
The District Collector A Shainamol said "no permission for any kind of fireworks" was given.
She said the temple authorities had asked for permission to conduct competitive fireworks which was denied. For normal fireworks, no permission was sought and hence there was no question of granting it, the DC said.
Prime Minister Narendra Modi said, "Fire at temple in Kollam is heart-rending & shocking beyond words. My thoughts are with families of the deceased & prayers with the injured."
Injured people have been rushed to Trivandrum Medical College in Thiruvananthapuram. Some with minor injuries have been admitted to different hospitals at Meeyapuram and Kottiyam.