England have restricted to New Zealand to 153 for 8. It was a good comeback for England as the Kiwis looked set for a score in the range of 180 but Eoin Morgan's bowlers have done quite a marvelous job here. Ben Stokes was particularly good in the match ending with the figures of 3 for 26. New Zealand were going great until the wicket of Colin Munro, who remained the top-scorer for his team with 46 off 32 balls.
WICKET! Another key wicket for England. Liam Plunkett has dismissed Colin Munro. Bowled wide of the off-stump, Munro chased it and slashed hard, ball went high straight to third man! Colin Munro c Ali b Plunkett 46 (32b 7×4 1×6). New Zealand 107/3 in 13.2 over.
WICKET! Kane Willamson gone. Moeen Ali is the bowler. Tossed up, Kane attempted to hit over the long-on but a huge top edge sent the ball high up in the air. Moeen ran back and took a good catch. Kane Williamson c & b Ali 32 (28b 3×4 1×6). New Zealand 91/2 in 10.3 overs.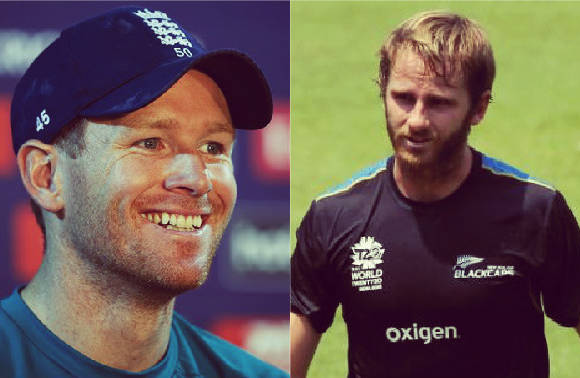 10 overs: New Zealand are in a strong position right now. They have scored nearly at 9-run per over so far without losing too many wickets. From here, they can accelerate at will. New Zealand 89 for 1. Colin Munro 36 (22b 6×4 1×6), Kane Williamson 31 (26b 3×4 1×6), Ben Stokes 2-0-20-0, Adil Rashid 2-0-16-0.
POWERPLAY: Despite the loss of Martin Guptill, the powerplay belongs to New Zealand, thanks to Colin Munro, who has scored 19 off 12 balls. New Zealand are 52 for 1 after 6 overs.
WICKET! Big blow to New Zealand. Martin Guptill is out. Martil Guptill c Buttler b Willey 15 (12b 3×4 0x6). New Zealand 17 for 1 in 2.1 overs.
New Zealand have once again started aggressively collecting 11 runs from the first over. Guptill hit both the FOURs in the over.
England lead Head-to-Head battle
Here we go. New Zealand openers Martin Guptill and Kane Williamson are ready. David Willey has the ball.
TEAMS
England: JJ Roy, AD Hales, JE Root, JC Buttler, EJG Morgan, BA Stokes, MM Ali, CJ Jordan, DJ Willey, AU Rashid, LE Plunkett.
New Zealand: MJ Guptill, KS Williamson, C Munro, LRPL Taylor, CJ Anderson, GD Elliott, L Ronchi, MJ Santner, MJ McClenaghan, IS Sodhi, AF Milne
England captain Eoin Mortan has won the toss and he decided to bowl first against New Zealand.
PREVIEW
A supremely confident New Zealand will rely on spinners Mitchell Santner and Ish Sodhi, who have wreaked havoc in the tournament so far, when they clash against England in what promises to be a thrilling first semi-final of the ICC World Twenty20.
On paper, New Zealand are favourites against 2010 champions, who have not exactly been consistent en route their entry into the last four.
Yet to win a global tournament, a New Zealand victory would also be a fitting tribute to late Martin Crowe from some of the cricketers in this current squad like Martin Guptill, Ross Taylor and Grant Elliott, all of whom shared a close bond with the former national skipper.
In Kane Williamson, New Zealand have found an astute skipper, ready to adapt to the conditions and change according to the demands of the situation. That has been the hallmark of New Zealand's performance in this tournament and their all-win record in the group league stage is a testimony to that.
For England, the binding factor has been Joe Root's inspirational innings of 83 that helped them chase down a mammoth 230-run target against South Africa. Not to forget Jos Buttler's whirlwind half-century against Sri Lanka and brilliant death bowling by Chris Jordan and Ben Stokes.
The unlikely heroes in New Zealand's campaign has been unheralded left-arm spinner Santner and leg-break bowler Sodhi, who have been the architects of 'Beige Brigade's' success in the tournament so far.
While Santner has snared nine wickets in 15 completed overs giving away only 86 runs, Sodhi has been close on heels with eight scalps in 15.4 overs conceding 78 runs.
The leg-spinner has a shade better economy rate of 4.97 compared to left-arm spinner's 5.73.
All-rounder Grant Elliott and left-arm fast bowler Mitchell McLenaghan with three and four wickets, respectively have played the role of supporting cast to perfection as the Black Caps have bowled out the opposition in three out of the four matches.
What has been more praiseworthy for New Zealand is the fact that their wins have come at four different venues.
A rank turner at Nagpur, where they beat India by 47 runs, an eight-run win against Australia on another sluggish Dharamsala pitch followed by a 22-run victory over Pakistan on even-paced wicket at Mohali before rounding off with a resounding 75-run win against Bangladesh at Kolkata.
Call it intriguing or interesting but Williamson and coach Mike Hesson have used 13 players out of their 15-man squad in the four matches so far. And the ones who have been warming the benches are none other than their two premier fast bowlers – Trent Boult and Tim Southee.
This is where Williamson has shown flexibility in his leadership while not trying to tread the beaten path.
As his team plays at another new venue – their fifth in five matches in the tournament – one would like to see as to what tricks are up Williamson's sleeve in the upcoming match at the Feroz Shah Kotla ground, which is known to help slow bowlers.
Senior off-spinner Nathan McCullum has played two out of the four matches. He has fared decently with three wickets at an average of 4.20.
England have three capable left-handers in their line-up in Ben Stokes, Eoin Morgan and Moeen Ali, which may prompt Williamson to think about playing McCullum.
The only aspect that could bother New Zealand is their not so impressive batting so far having crossed 150-run mark in only one occasion – that too against an out-of-sorts Pakistan side. Guptill is the only batsman, who has totaled over 100 runs (125) in the tournament till now.
For a young England team, the tournament has gone off well so far now that they have been able to survive till the business end of the mega-event. The advantage for them is familiarity with the conditions, having already played two matches at Kotla.
The primary concern for the team has been their inconsistency, an area identified by team's best batsman Root during a media interaction a few days back.
Their batting clicked in first two matches against the West Indies and South Africa while it nearly fell apart against Afghanistan and were good in patches against Sri Lanka. It was because of Buttler's individual brilliance that saw them post a competitive total on a tricky pitch.
The pace attack of David Willey, Chris Jordan and Stokes were taken apart by Chris Gayle in the first game and then by Hashim Amla and Quinton de Kock in the next encounter.
Against Afghans, spinners Adil Rasheed and Moeen did the job while Jordan and Stokes were brilliant at the death against the Lankans.
The batting will largely depend on Root, but on their day, Alex Hales, Stokes, Buttler and skipper Morgan with his oodles of experience in franchise cricket, can prove to be a handful.
"They are the form team — haven't lost a game yet. We played in a warm-up game and beat them, so we will take confidence from that, and obviously we beat them in our English summer. We know if we can play to our capabilities like we did against Sri Lanka, then no matter who we face – albeit New Zealand in the semi-final – we will give any team a good run," said English all-rounder Stokes.
Squads
New Zealand: Kane Williamson (captain), Martin Guptill, Colin Munro, Ross Taylor, Corey Anderson, Grant Elliott, Luke Ronchi (wk), Mitchell Santner, Ish Sodhi, Mitchell McLenaghan, Nathan McCullum, Trent Boult, Tim Southee, Henry Nicholls, Adam Milne
England: Eoin Morgan (captain), Alex Hales, Jason Roy, Joe Root, Eoin Morgan, Jos Buttler (wk), Moeen Ali, Adil Rasheed, Chris Jordan, David Willey, Liam Plunkett, James Vince, Reece Topley, Liam Dawson, Sam Billings.