Ahmedabad: Gun then, foot now. Porbandar BJP MP Vitthal Radadiya is back in the news.
A purported video clip showing Radadiya kicking an elderly man at a religious event on Friday has gone viral on social media, in the latest controversy involving the Saurashtra strongman who had earlier been caught on camera waving a gun and vandalising a toll booth.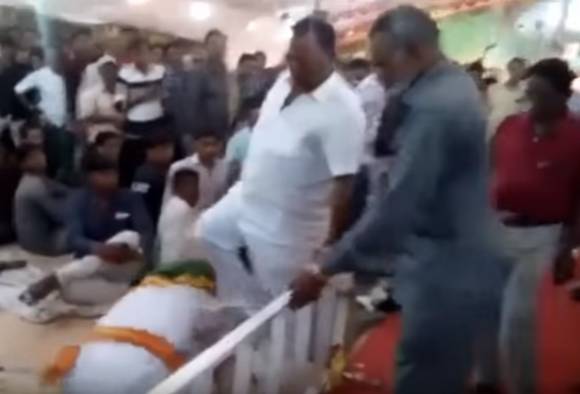 Friday's incident happened in Dhoraji, a town in Rajkot district where the MP was the chief guest at a bhajan programme to raise funds for a gaushala (cow shed).
The purported video clip shows the MP, dressed in his trademark white, sitting on the stage. Suddenly, he moves towards the barricade and starts kicking the elderly man for no apparent reason. The man, who appears to be a fakir, falls at the MP's feet but Radadiya goes on kicking him, according to the video.
Hemang Vasavda, a Rajkot-based doctor known to the MP, said the man wasn't causing any disturbance.
Asked why he had misbehaved with that person, the MP told reporters "his presence was causing obstruction, he needed to be removed from where he was sitting".
Radadiya couldn't be reached despite repeated attempts by this correspondent to contact him.
Radadiya's son Jayesh is BJP MLA from Jetpur and a minister of state for tourism in the Gujarat government.
Radadiya, a farmer leader, is no stranger to controversies. Seven years ago, he had thrashed an engineer of the Gujarat Electricity Board in Jetpur town, near Rajkot, following an argument over power cuts. In 2012, Radadiya was caught on camera holding a gun and vandalising the toll booth in Karanj near Vadodara after being asked to produce an identity proof.
A BJP leader distanced the party from Friday's incident. "It was a private, personal function where the alleged incident took place. The BJP has nothing to do with it and we have nothing to say about it," party leader Raju Dhruv said.
Radadiya, a leader of Gujarat's Patel community, has been trying to mediate between the state government and Patidar leaders who have been agitating for reservation benefits.
Radadiya, who also supports reservation for his community, recently met jailed agitation spearhead Hardik Patel.