NEW DELHI: Prime Minister Narendra Modi shared his thoughts on a number of themes and issues in the 18th edition of 'Mann Ki Baat' programme of All India Radio on Sunday.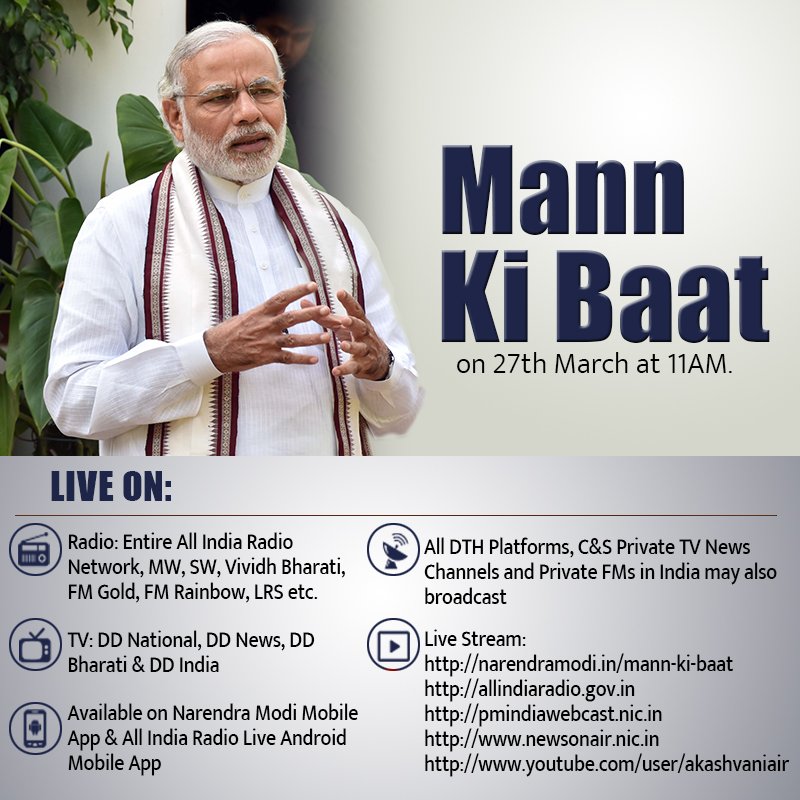 Extending greetings and congratulating the Indian cricket team for their recent wins in the World T20, PM Modi went on to encourage the youth to take up the sport of football too. "India is going to host under-17 FIFA World Cup in 2017. It is an opportunity for us to instil our youth with passion of football. I believe that FIFA Under-17 World Cup is a big chance for us to present brand of India on global level," he said. He added that he would like every youth of the country to become an ambassador of the 2017 FIFA Under- 17 World Cup.
Looking forward to meeting you all tomorrow. Do tune in. #MannKiBaat pic.twitter.com/XBzwad2bCt

— Narendra Modi (@narendramodi) 26 March 2016
PM Modi also urged students to use their vacation to learn some new skills and also travel the country to learn about India's diversity. "Travel teaches us a lot. What we can't learn in our homes, classrooms or among friends, sometimes we get to learn during travelling. India's youth is now curious and adventurous enough to travel, they want to go to a new place, they want to see something new," he said. He added that there is a great potential of employment generation through tourism. He also lauded Coal India Limited for creating an eco-friendly mine tourism destination in Nagpur.
Speaking about the 'Kisan suvidha app', PM Modi said farmers could avail of information on seeds, prices as well as connect with agriculture experts through the app. "This is a very important time for farmers. All of us have to think about one thing and that is water conservation," he said.
He also urged people to get regular health check ups and spoke about diabetes and tuberculosis keeping in mind the upcoming World Health Day on April 7.
The Election Commission had given a nod to the Prime Minister's radio broadcast on Sunday with instructions that it should adhere to the Model Code of Conduct in force due to assembly polls in five states. West Bengal, Tamil Nadu, Assam, Kerala and Puducherry are going to polls beginning from April 4.
You can listen to the broadcast here:
With agency inputs