New Delhi: Johan Cruyff, one of soccer's greatest players and most influential and visionary coaches, died aged 68 on Thursday, after a battle with lung cancer. His death was announced on his website.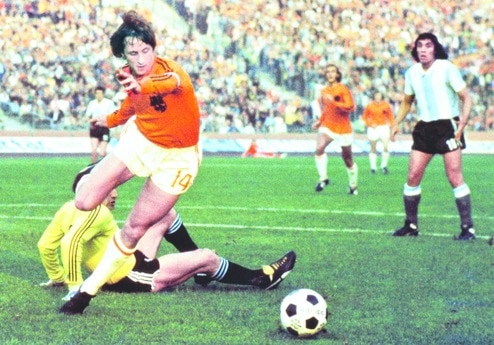 Cruyff was the genius behind 'total football'. A colossus of the game, he dominated European and world football in the 1970s and was seen by many as the natural successor to Pele.
As tributes started pouring in from a shocked football fraternity, legend Bobby Charlton described him as '"unique" and said "he loved the game, he loved sport and he loved life". Former French captain Marcel Desailly, who along with Charlton is a Laureus legend, said: "We have lost a true legend of football".
All about Johan Cruyff:
♦ Johan Cruyff began playing on the streets of Amsterdam and started his career with local side Ajax where he went on to win eight Dutch league titles. He also won three successive European Cups between 1971 and 1973.
♦ He made his international debut in September 1966, scoring in a 2-2 European qualifier against Hungary. He was also the first Dutch player to be sent off in an international. From 1970, he always wore the number 14 jersey.
♦ Cruyff scored 33 goals in 48 caps for the Dutch national team.
♦ Cruyff scored more goals as captain of the Dutch national team than any other player (23).
♦ Between 1970 and 1974, Holland lost only one of the 29 matches in which Cruyff featured, which was the World Cup final vs West Germany in 1974.
♦ He moved to Barcelona in 1973, for what was then a world record transfer fee of around $2 million.
♦ He won the second of his three Ballon d'Or (now the European Player of the Year) awards in 1973 and in 1974 helped Barcelona win their first league title in nearly 15 years. He also endeared himself to locals by choosing a Catalan name for his son Jordi (born 1974) at a time when Spanish was the country's only official language under the rule of general Francisco Franco.
♦ He captained Holland at the 1974 World Cup, at the height of his playing career, and led the Dutch to the final. Despite winning Holland an early penalty, which Johan Neeskens converted, Cruyff and Holland were left disappointed as they lost 1-2 to West Germany. But he was named player of the tournament, famed for close control and dazzling trickery with the ball including the famous "Cruyff Turn" – the movement in which the player with the ball plays it behind their own leg before swerving away.
♦ He retired from international football in 1977, the year before the Dutch again reached and lost the World Cup final in Argentina to the hosts. He had scored 33 goals in 48 matches.
♦ In 1979 he moved to the Los Angeles Aztecs in the North American Soccer League and then joined the Washington Diplomats in 1980. The club folded later that year and Cruyff returned to Europe where he played for Spanish second division side Levante and then Ajax (where he won two more league titles) and Feyenoord (another title). He retired in May 1984, aged 37.
♦ He then entered management, coaching Ajax to European Cup Winners' Cup success in 1987.
♦ He returned to Barcelona as manager in 1988, where he oversaw the rise of a 'Dream Team' – a host of talented players including future manager Pep Guardiola that won four straight titles between 1991 and 1994. Until Guardiola, he was the club's most successful coach. He was sacked by Barcelona in 1995 but remained influential at the club for the rest of his life.
♦ In 1999, he was voted European Player of the Century.