Brussels: The Islamic State group has issued an updated communique taking credit for the Brussels attacks and threatening other countries taking part in the anti-IS coalition.
The statement promises "dark days" for countries allied against the Islamic State, threatening that "what is coming is worse and more bitter."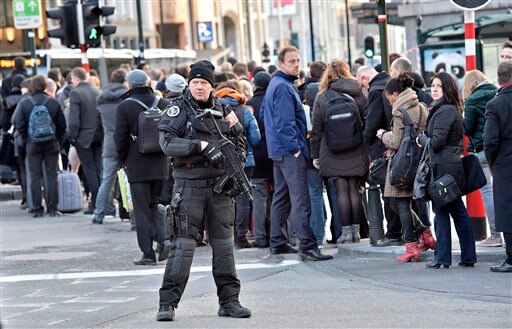 The communique was published in Arabic and French, and an English translation was provide by the SITE Intelligence Group, which monitors jihadi websites.
IS also released photos purportedly showing its fighters in Syria giving out candy to children to celebrate the Brussels attacks, according to SITE.
A Belgian security official says the death toll has risen to 34 in attacks on the Brussels airport and a subway station.
The official did not specify how many people were killed and wounded at each site. The official spoke on condition of anonymity because precise numbers were expected to be announced early Wednesday.
Earlier, the government had reported 20 dead at the Maelbeek metro station, in the heart of the European Union's capital, and 11 dead at the airport, and scores of injured.
The Islamic State group claimed responsibility for the attacks.
President Barack Obama has ordered that all American flags in the U.S. be flown at half-staff through Saturday out of respect for victims of the Brussels attack.
Obama said in a proclamation issued hours after Tuesday's attacks that "the American people stand with the people of Brussels. We will do whatever it takes, working with nations and peoples around the world, to bring the perpetrators of these attacks to justice, and to go after terrorists who threaten our people."
German police say three Kosovars who are suspected of possible links to an extremist network have been arrested on a highway in the south of the country.
The state criminal police office in Bavaria confirmed a report by broadcaster Bayerischer Rundfunk that the three were arrested early Tuesday on the Munich-Salzburg highway, news agency dpa reported.
According to the report, they were in a Belgian-registered car. However, the criminal police office said that there are no indications at this point of any link with Tuesday's attacks in Brussels.
Police in the Belgian capital are calling on people who may have filmed images from the attacks on the city airport and subway to help assist with their investigation.
Brussels police called in a statement late Tuesday for help from "anyone who has amateur film where the attackers may be in view and could help move their investigation forward."