New Delhi: Several JNU students accused of participating in an Afzal Guru commemoration walked into chief proctor A.P. Dimri's office in ones and twos at 4pm on Friday to submit their replies to showcause notices.
Just then, the phones began to buzz. Text messages and alerts began to pour in that two students, Umar Khalid and Anirban Bhattacharya, have been granted bail.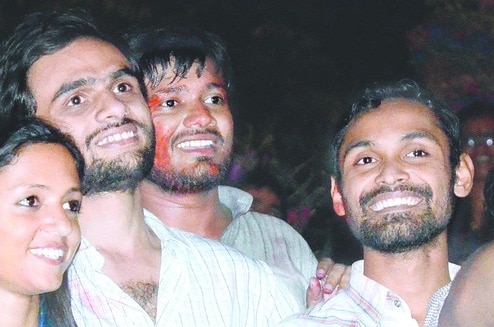 Outside the office, slogans of "Azadi" and "Lal Salaam" rose as loudspeakers arranged for the screening of a film starring Anupam Kher blared patriotic songs.
At 4.05pm, former JNU students' union president V. Lenin Kumar and Aisa leader Mohit Pandey rushed to the protest site with a tambourine – the most popular political instrument on campus – yelling, " Lal Salaam! Bail mil gaya".
Around 50 students seated on the stairs sprang to their feet. Some danced, some cried, others went and bought Holi colours. The sloganeering grew louder as more students joined in and marched and played Holi in advance.
The soundtrack of the day was Dub Sharma's Azadi remix, a popular electronic dance number sampled from Kanhaiya's speech after his release, which played from every portable speaker on campus.
Khalid and Bhattacharya, who have been granted interim bail for six months on personal bond and surety of Rs 25,000 each, appeared at 11pm after around 1,500 students took out a rally through the campus.
"My defence was that I am not a practising Muslim. But I was thinking 'what if I were a practising Muslim'? 'What if I came from Azamgarh, wore a skull cap and had a beard?' I felt like a reluctant fundamentalist," Khalid said.
"If I was a traitor by virtue of my birth, Ban (Anirban) was a traitor thrice over. For betraying his nation, religion and caste," said Khalid, who had read in jail Manisha Sethi's Kafkaland – a documentation of false terror cases in India.
They recounted police stories. "In court, the police said they have to probe our relationship with Maqbool Bhat and Afzal Guru (who had been hanged). Delhi police believe in the transcendental nature of souls. I was born after Bhat was dead," he said.
"The cops," said Bhattacharya, "would tell me 'we understand why Khalidbhai has done all this, but why you Bhattacharya saab?'"
Both targeted TV channels for a media trial. "You expect the police to probe the case and the media to report it. It was the opposite," said Khalid whose family had to seek police protection. "The prejudice was so high, it was overwhelming."
Khalid's 11-year-old sister Sara, was present on Friday, raising slogans.
"Lenin said that crises break most but make some. You thought you could kill our movement by arresting us. Now we have a greater responsibility to stand up for those actually from Azamgarh. You will find us at the vanguard of every movement," Khalid said.
Both have refused to reply to showcause notices from the JNU, served on them in prison, and face "rustication" from campus for a semester or two after returning.
JNUSU president Kanhaiya announced that instead of Holika, an effigy of Manuvad would be burnt on Holi.
On Friday, students who burnt the Manusmriti earlier this month received notices to explain themselves from the administration.