Dehradun: After urging Uttarakhand Governor K.K. Paul to dismiss the incumbent Harish Rawat-led Congress Government, Twenty six BJP MLAs, along with nine rebel Congress MLAs, left for Delhi in a 72-seater charted flight.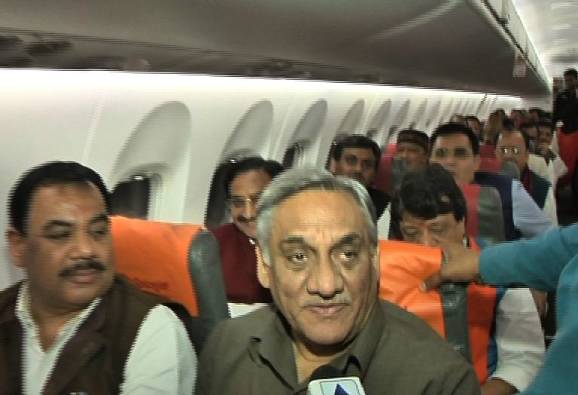 However, it was not immediately clear as to whom they would be meeting in the national capital.
BJP leader Ajay Bhatt said that they would stake a claim to form a government after the Governor dismisses the present government.
"We have 35 MLAs and Congress has 32 MLAs. When the voting took place, our 26 and 9 Congress MLAs voted , while three were absent. Out of the three, one of our MLAs was arrested, so we have clear majority…We have not staked a claim yet. Let this government be dismissed first," he said.
When asked what they would do from now on, he said, "We will go to Delhi."
Echoing similar views, BJP leader Shyam Jaju said, "We have requested the Governor to immediately dismiss the government. We have 35 MLAs, 9 from Congress and 26 from BJP."
In the 70-member Uttarakhand Assembly, the ruling Congress has 36 MLAs, while it has support of three Independents, two Bahujan Samaj Party (BSP) and one Uttarakhand Kranti Dal MLAs.
If the BJP claim is to be believed: after nine rebel MLAs break away from the Congress, the ruling party will be reduced to 27; and if they join the BJP in its quest, their number will reach 35 – BJP 26 and nine Congress rebels.
Besides 26, BJP has two more MLAs – Ganesh Joshi, who has been arrested by police in connection with the attack on a police horse and Bhim Lal Arya, who was suspended.