New Delhi: JNU student leader Kanhaiya Kumar on Friday addressed a press conference and made an emotive speech, saying that students of JNU were like sons and daughters of countrymen and were not terrorists.
He said that Afzal Guru wasn't his idol, but Rohith Vemula was his idol. He said that united India was not patented by someone. He said Kashmir was a part of India.
He said he was not a leader but a student. He urged countrymen to have faith on JNU and that the money spent on them was not going to waste. He said no one in JNU was anti-national.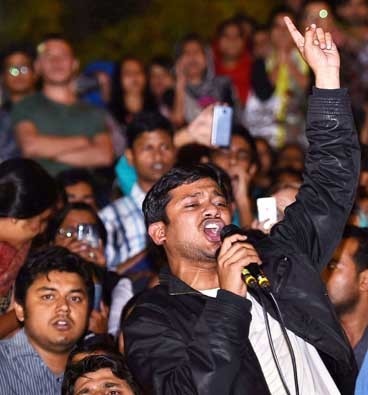 Here are the main points of his speech:
Afzal Guru is not my idol, RohithVemula is my idol.
I'm not a politician, I am just a student, JNU students have chosen me as their representative:
We are like your own sons and daughters, we are not terrorists
JNU has never supported something that is extra-constitutional
JNU student union has full faith in the constitution
#KanhaiyaKumar says sacrifice of jawans, farmers and Rohith Vemula will not go waste
#KanhaiyaKumar assures the nation that no #JNU student is anti-national
#KanhaiyaKumar says #JNU is fighting in present for future
Kanhaiya Kumar on Thursday night exploded on the collective consciousness of India, sending an electrifying spark down the nation's spine and making fingers fly across keypads with one question: Did you watch the speech?
Freed from Tihar jail this evening, the JNU student leader delivered a speech whose underlying theme was freedom itself: " Bharat se nahin, mere bhaiyon, Bharat mein azadi chahte hain (we don't want freedom from India, my brothers, we want freedom in India)."
It is an idea of India that the Narendra Modi government will find difficult to crush with a sedition law. It is an idea of India that was embraced tonight by an unstoppable force on the planet: a generation in full flow in the very flower of its youth.
" Awaz do, hum ek hain, (Shout out aloud that we are one)," Kanhaiya told the cheering hordes on the campus.
Prime Minister Modi and HRD minister Smriti Irani found mention in Kanhaiya's speech, delivered in so fluid a manner and with nary a trace of rancour that it appeared he was born for the podium.
The speech also had another far more potent narrative: the young man did not shy away from addressing the biggest criticism against the students – that they were insulting the soldiers who are risking their lives on the borders.
" Ek BJP ke saansad ne kaha ki sipahi shaheed hote hain seema par…. Main poochhna chahta hun, kya woh unka bhai hai? Khet mein jo kisan hai woh uska beta hai. Aap uske liye kya karte hain? Woh mera bhai hai, mere pita hain (one MP had said soldiers are being martyred on the borders…. I want to ask, 'Is the soldier his brother?' The soldier is the son of the farmer who toils in the fields. What are you doing for the farmer? The soldier is my brother and the farmer is my father)," Kanhaiya said.
He said something that should send a shiver down the spine of any government or party in a country with millions of youngsters: "We will not forget."
" Halaki hum Bharatiya log bhoolte jaldi hain, lekin is baar ka tamasha itna bada hua, ki bhool nahin paye. (We Indians forget easily, but this time the show was so big a farce that no one could forget the slogans)," Kanhaiya told the huge audience that included JNU students, faculty members, their relatives and students from other institutions.
Over to the boy who delivered a masterly performance with a killer smile. Excerpts from the speech:
Modiji Mann ki Baat karte hain, par sunte nahin hain. (Mr Modi delivers his Mann Ki Baat but doesn't listen).
Meri ichchha hui TV mein ghus jaoon aur unse kahoon ki thoda Hitler ki baat bhi kar lo (I felt like getting inside the TV and telling Modi to talk about Hitler too). Kanhaiya was referring to the Prime Minister's speech in Parliament today during which Modi referred to Soviet leaders Khrushchev and Stalin.
The PM has tweeted ' Satyamev Jayate'. Although I have huge differences with his ideology, I want to say 'Yes, Satyamev Jayate.
To Smriti Irani, I would like to say: 'We are not your child. We are JNUites'.
We have no grudges against the ABVP as we are truly democratic people. We truly believe in the Indian Constitution.
I do not hate the ABVP. I won't hunt them. Why? Because they are not worth the hunt.
I want to thank everyone who supported me…. special thanks to all the big leaders sitting in Parliament who claim to have the power to decide what is right and wrong.
We will fight the government. They will set the cyber cell on us, doctor videos to trap us. They will even count the condoms in our dustbins. ( A BJP legislator had claimed that 3,000 used condoms, 2,000 liquor bottles, 10,000 butts of cigarettes, 50,000 big and small pieces of bones from non-vegetarian food had been found on the JNU campus.)
Bandh karna chahte hain tamam awazon ko, chahe seema pe khada ho, chahe khet mein, chahe JNU mein (they want to snuff out all the voices, whether they are on the borders of the country, whether in the farm fields, whether in JNU).
Hum Bharat se azadi nahin, Bharat mein azadi chahte hain; Bhukmari se azadi, bhrashtachar se azadi… RSS se azadi, Manuvad se azadi, jativad se azadi, hum le ke rahenge azadi (freedom from starvation, freedom from corruption… freedom from the RSS, freedom from caste, freedom from communal thought, we will get our freedom).
I was given two bowls in the jail, one blue and one red, both on one plate. It symbolised India