In little more than eight years, Adele has come from nowhere to establish herself as one of the world's biggest entertainment brands, right up there with Grand Theft Auto, Star Wars, FIFA 2016, and Call of Duty. The proof was in the prizes on Wednesday night, when she walked away with a record-equalling four BRIT Awards. Her success is a remarkable achievement – all the more impressive given that she is operating in a market that has roughly halved in size over the past decade.
It is a feat for which she has been been lauded, applauded and awarded across the globe. And called a "freak", by Tim Ingham, the respected music journalist who runs the website Music Business Worldwide. She is not normal, he told me. At least, in terms of her achievements: "Breaking album sales records in 2016 is in and of itself a miracle." That is a sentiment echoed by a high-ranking music exec who preferred not to be named. He called Adele "an anomaly", "label-proof", and a beacon "of hope for the industry".
For a beleaguered and besieged music business Adele is living proof that money can still be made in an industry dominated and decimated by streaming and freeness. The bad news, according to Ingham, is that Adele is "the artist you cannot manufacture". She's a one-off. Which was apparent from the start.
Jump media player
Media player help
Out of media player. Press enter to return or tab to continue.
Media captionAdele won four awards at the 2016 Brit Awards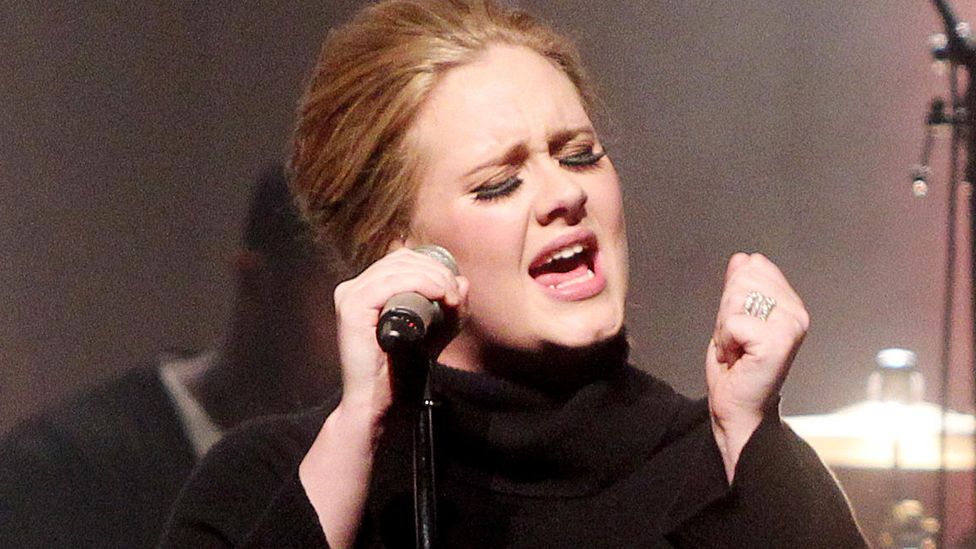 There is a slightly irritating but quite enlightening lo-fi video you can watch of Adele Adkins online. It was recorded in the back of an Airstream caravan as part of Pete Townshend's In The Attic series of webcasts, which were usually made around the time of a Who show. This particular edition was filmed in late May 2007, just before Adele got famous.
She had turned 19 a couple of weeks earlier and was still working on her first album (eventually released in January 2008 and called 19 after her age). Townshend's partner, the musician Rachel Fuller, plays the Chat Show Host. She and Adele sit side-by-side in the foreground on faux Louis XIV chairs, Townshend and songwriter Mikey Cuthbert are squeezed in at the back.
The interview aims at a Tiswas/TFI Friday informality and irreverence. It misses. But it is telling, nevertheless. We learn a lot. There are the basics: Adele was born in Tottenham, North London. Around the age of 10 she moved to South London (Brixton, then West Norwood). She didn't enjoy school until she was 14 years old. That was when she accepted an offer to attend the selective, state-sponsored Brit School for Performing Arts & Technology in Croydon. There she thrived. Her dad – of whom more later – bought her the Simon & Patrick guitar she plays in the video, an instrument she says she'd only taken up 18 months earlier. By then she'd cracked playing the sax, having given up the flute at 13 because she'd started smoking.
Image caption Adele in 2007 – an assured stage presence from the start of her career
There's plenty more bio-type info to pick over, but that's not what makes this homespun tape an ace in Adele's archive pack. It's her performance as an ingenue interviewee and singer. In both guises she is conspicuously composed and self-assured. So much so she makes her hosts look like the wannabes. It is apparent even at this very early stage of her career that Adele knew what she was about.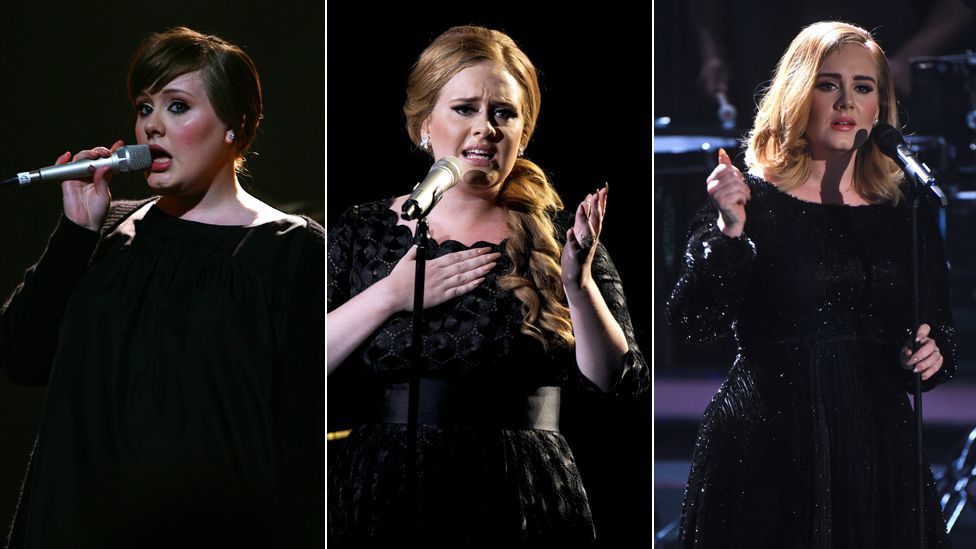 She is neither star-struck by Townshend's presence nor impressed by Fuller's overbearing style. She goes along with the banter enough to ensure she doesn't appear rude or arrogant, but makes it obvious she thinks the conversation is a bit silly. She comes across as an independently minded, matter-of-fact alpha-female who is comfortable in her own skin.
She has since been variously described as fun, gobby, bolshie, and loud – a big personality who (and this comes up less frequently) is not one to suffer fools. I have heard that a lot. Not publicly though. "Off the record" was a standard refrain used by industry-types when speaking to me about her. They were worried about upsetting the singer, which is not surprising. She is a powerful individual who can make people nervous. My guess is that has always been the case. Adele Adkins is a force to be reckoned with. As is her voice.
Image copyright Getty Images
Image caption Adele performing at the 2016 Grammy awards
Notwithstanding the technical mishaps of her recent Grammy performance where she described her singing as "pitchy", there is no doubt she is blessed with a remarkable voice. Hearing it live is something else. I remember being in the O2 Arena in London one afternoon back in 2012. I was on my own save for seven or eight events staff preparing tables for that night's Brit Awards. I was standing at the end of the runway stage when Adele walked on from the wings with three or four backing singers, tapped a microphone, signalled to the sound desk, and let rip with Rolling in the Deep.
Her voice filled the arena, its natural ampage sufficiently voluminous to make the great hall feel like an intimate nightclub – a sensation heightened by the raw emotion she conveyed in the song. She had already demonstrated this ability to the thousands gathered in the same venue a year earlier for the 2011 Brit Awards where she gave a career-defining, reputation-sealing, sceptic-crushing performance that was witnessed by millions watching live on television and subsequently hundreds of millions catching up online.
She sang track 11 – Someone Like You – from her then recently released album, 21. Some of the other acts that night had been unbelievable, wowing the audience with their fancy routines and stunning stage sets. Not Adele. She was not unbelievable at all. She was much better than that. She was totally believable. Many an eye welled as she sang her painful lament with heartrending candour.
From a production point of view, it was a pared down piece of showbiz perfection. The attention to detail was forensic, the presentation as slick as a diplomat's dinner party. Adele, for her part, gave a masterclass in the art of method acting. She has the emotional dexterity of a leading lady, shifting seamlessly between time and place, drawing on past experiences, conjuring up the associated feelings, and then unbelievably believably reliving them in the present.
Image copyright Alamy
Image caption Performing at the 2012 Brit awards
But for her to do so, the scene has to be appropriately set. There is no place for the spectacular pyrotechnics on which other performers rely. Simplicity is all – no distractions, no safety net. She is playing the solo artist in every sense, vulnerable but defiant.
Hence we see her standing apart on a bare stage in the cavernous O2. The scale of the physical space mattered. There she was, alone and exposed like a Bronte heroine in the landscape. Away to her right was a grand piano at which a silent man in a dark suit and a pair of shades sat. A single spotlight framed Adele, making her earrings sparkle and golden hair glow. The mood of sombre isolation was accentuated by her black dress. The look was minimalistic and monochromatic, the message clear: This is special, it is for you, pay attention.
It worked. When she finished the room erupted in vigorous applause. Adele stepped away from the microphone and looked at her feet. Emotions were running high, hers included. That was down to the lyrics, which hark back to the end of a relationship with a man 10 years her senior who – she had recently discovered – had become engaged to someone else. As her mezzo-contralto voice had sung out the words she had started to picture her ex-lover watching the telly and laughing at her inability to get over him.
There are many artists – Nina Simone comes to mind – who can communicate love and loss with staggering authenticity in songs written by others. Not so much Adele. With the exception of her version of Bob Dylan's Make You Feel My Love, she is much, much better when performing her own songs, where her investment in the narrative is palpable and persuasive.
Image caption Nothing distracts from the vocal performance on stage
Her approach to writing typically involves her hand taking direct instruction from her broken heart – sometimes in the form of a "drunk diary" – and then, more often than not, being honed with an established lyricist such as Eg White, Paul Epworth, or Ryan Tedder. The idea is to make them as "personal as possible", according to Dan Wilson, co-writer of Someone Like You.
Frank honesty is her trademark, her shtick. It's her default public persona on stage and off – the whole what-you-see-is-what-you-get thing, complete with cackles, vulgarities, and informal chattiness. It's charming, in the same way as being polite to your friend's parents is charming. In reality there is absolutely nothing easygoing or flippant about the way Adele controls her public image. Her "brand" is micro-managed with the same meticulous professionalism she brings to her music. In the fame game you have a choice – manipulate or be manipulated. She has chosen the former.
Adele in her own words
Image copyright Alamy
"When Twitter first came out, I was drunk-tweeting and nearly put my foot in quite a few times. So my management decided that you have to go through two people, and then it has to be signed off by someone." (BBC, 2015)
"I don't make music for eyes, I make music for ears." (Rolling Stone, 2011)
"I get so nervous on stage I can't help but talk. I try. I try telling my brain: stop sending words to the mouth. But I get nervous and turn into my grandma." (Observer, 2011)
"I love a bit of drama. That's a bad thing. I can flip really quickly." (US Vogue, 2012)
When stories started to leak out about her in the press a few years ago, her suspicious mind turned towards members of her inner circle. She devised a mischievous plan to test the loyalty of her subjects and flush out the treacherous. She instigated a series of private tete a tetes with individuals in her court into which she would drop a juicy piece of bespoke insider information. With the trap thus laid, she would sit back and wait to see which, if any, of her planted tidbits found their way into the public domain. If and when they did – and they did – the culprit(s) would be swiftly excommunicated ("I get rid of them"), a process she described as "quite fun".
It did the trick. The leaks dried up. The frighteners had been put on. But the message hadn't reached Wales, where her estranged father Mark Evans was living. He gave chapter and verse to the Sun in 2011, with further quotes appearing in the Daily Mail. He told how he met Adele's mother, Penny Adkins, in a North London pub in 1987 when he was in his mid-20s and she was a teenage art student. They moved in together, she soon fell pregnant, and Adele Laurie Blue Adkins was born on 5 May 1988.
He didn't hang around. He went back to Wales, worked as a plumber and became an alcoholic. Penny moved to South London with their daughter and worked as a masseuse, furniture maker and office administrator. He speculated that Adele's music was "rooted in the very dark places she went through as a young girl", citing his departure and the death of his father, to whom he said his daughter was very close. He hoped that after years of separation from Adele they could patch things up. Adele's response to her dad's tabloid tales was unequivocal: "He's f***ing blown it. He'll never hear from me again… If I ever see him I will spit in his face."
Her father said it was he who imbued his daughter with a love of music. She talks about her mother listening to Jeff Buckley and taking her to gigs – The Beautiful South when she was three years old, The Cure a couple of years later. By the age of 10 she was making her own choices, with The Spice Girls her No 1: "It was a huge moment in my life when they came out. It was girl power. It was five ordinary girls who did so well and just got out. I was like, I want to get out."
Jump media player
Media player help
Out of media player. Press enter to return or tab to continue.
Media captionAdele gives a tour round her favourite pub in 2008.
She did. She left her comprehensive school in Balham, where she said there was a depressing lack of ambition, and went to the Brit School – Amy Winehouse's alma mater. She met her best friend Laura Dockrill (now an author and performance poet), about whom she wrote the song My Same (they had a big falling-out, then made up. Adele says she likes to create drama).
Her guitarist Ben Thomas went there too, watching Adele get in to trouble for sleeping in and turning up late. But she was there promptly for at least one morning assembly where she sang a song that impressed Stuart Worden, now the headmaster, so much he asked if he could have a copy. "Well…" she said. "You'll have to buy it."
That's the thing about the Brit School. It teaches its students (Mr Worden calls them artists) the business behind the show, which has benefited Adele. She likes a good deal. Like the time back then when she went into a record shop and bought two albums for £5, one by Ella Fitzgerald, the other by Etta James. She didn't actually know who they were, she just wanted to look cool. But she listened to them. Eventually. And was inspired (she frequently name-checks Etta James as an influence). She wrote some songs and a friend posted them on MySpace. It was the summer of 2006.