Indian captain MS Dhoni
"It would've been good to win the toss. We wanted to see the kind of start and then set a target. It was kind of 55-45 with the toss. Rather than hitting the big shots straight down, it was important to cut and use such shots since they were bowling short of length. Batting fearlessly is Hardik's strength and that's why we want to give him more matches, he's a good fielder too and a useful third seamer. I'll be able to sit tomorrow (about the back)."
Ashish Nehra
"It was a 140-150 track but with the way Rohit and Hardik batted, they gave us some extra runs. There was something for the bowlers later also if one bowled in the right areas. Once I bowled my first over we were sure that we wouldn't let them score much. I don't mind the kind of pitch we got in Pune, honestly, and the one today was not an up and down pitch. I was upset with myself now with Hardik when I threw my cap."
Bangladesh captain Mashrafe Mortaza
"Last 15 years I've seen that fans always support us. We were in the game till the 14th over but after that Rohit took the game away from us. We bowled a lot of slower ones later and the ball was not gripping."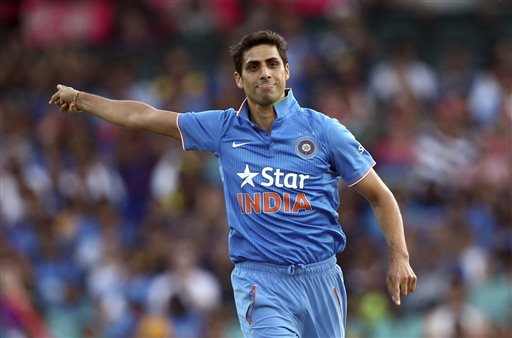 ROHIT SHARMA is the Man of the Match.
"It's important for me to start afresh and not look back too much. This is a perfect platform for us before the World Cup. It was unusual to see this kind of wicket in this part of the world. It was always important for one batter to bat as long as possible and I told myself I had to do that. I was focusing on my basics on this kind of the pitch, use the pace of the bowlers. It was a good wicket and the ball was carrying."
Quite a convincing victory for India to the open the Asia Cup T20 against the hosts Bangladesh. India looked like struggling at the beginning of the match as they lost early wickets down but thanks to Rohit Sharma's 83 and Hardik Pandya's cameo down the order, Men in Blue went well past 150 (166 for 6). Then there was some sizzling swing bowling from Ashish Nehra. He was well supported by Jasprit Bumrah from the other end. They together made sure that Bangladesh don't get a good start. Other Indian bowlers too chipped in and ensured that Bangladesh never recovered from the early losses.
Bangladesh innings
IT"S ALL OVER! India won the match by a comfortable margin of 45 runs. Ashish Nehra got 3 wickets for 23 runs as India restricted Bangladesh to 121 for 7. Earlier, Rohit Sharma scored 83 runs to help India post 166 for 6.
19 overs: Not a very assuring over by Jasprit Bumrah, who is considered India's best bet in the death overs. However, India have already won this match. Bangladesh 117/7 (50 runs required from 6 balls).
18 overs: Just six runs off it and Bangladesh are virtually out of this match. Bangladesh 108/7 (59 runs required from 12 balls).
17 overs: Brilliant over by Nehra. He missed on the hat-trick. Took two wickets for just 6 runs. Bangladesh 102/7 (65 runs required from 18 balls0.
WICKET! Another wicket for Nehra. Two in two for him. He is on hat-trick now. Bangladesh captain Mashrafe Mortaza out of DUCK. Mortaza drove a fullish delivery uppishly towards point. Jadeja took a smarth, swift catch. Mashrafe Mortaza c Jadeja b Nehra 0 (1b 0x4 0x6).
WICKET! Ashish Nehra came back to take another wicket. Got Mahmudullah, who hit straight to Rohit Sharma in the deep. Mahmudullah c Sharma b Nehra 7 (6b 1×4 0x6).
16 overs: Mushfiqur Rahim is showing that as long as he is there, Bangladesh is not out of this match. Clever batting there. Two good boundaries to take 11 from Jadeja's over. His partner Mahmudullah is also an experience batter. But it's a long way to go. Bangladesh 96/5 (71 runs required from 24 balls).
15 overs: Just 3 runs and a wicket from the over. Pandya needs to take confidence from this over. If can be as effective with his bowling as he is with the bat, he has the potential to become a top-class all-rounder. Bangladesh 85/5 (82 runs required from 30 balls).
It's started drizzling here. At the boundary, groundsmen are ready with the covers.
WICKET! Bangladesh lose their most important wicket. Sabbir Rahman was batting well. Hardik Pandya gets him. Bowled short, Sabbir stayed back and tried to pull with all his power, got a top edge that went very high. Dhoni settled below it and took it easily. Sabbir Rahman c †Dhoni b Pandya 44 (32b 2×4 2×6).
14 overs: A good over by Ravichandran Ashwin. Just 6 off it. Bangladesh 82/4 (85 runs required from 36 balls).
13 overs: It was a timely wicket for India. Shakib Al Hasan is a good batsman and removing him out of the way early is going to help India. Bangladesh 76/4 (91 runs required from 42 balls).
WICKET! Oh, it was suicide. Shakib Al Hasan turned the ball towards mid-wicket and started running. But Sabbir Rahman didn't see any run there and said no. Suresh Raina was alert as always and didn't take much time to send the ball back to Dhoni. Shakib Al Hasan run out 3 (8b 0x4 0x6).
12 overs: Another good over for Bangladesh. Sabbir Rahman launched Ashwin high for a SIX in the over en route to collecting 10 runs from the over. Bangladesh 71/3 (96 runs required from 48 balls).
11 overs: Not good. Hardik bowled short and it is a sin on this pitch where run-scoring opportunities are not many. He was hit for a SIX and gave away 10 runs. Bangladesh 61/3 (106 runs required from 54 balls).
10 overs: Good over by Ashwin. Indian bowlers have done well to keep the opposition batsmen in check. Now, they are under pressure to play shots. The better side will prevail in this battle. Bangladesh still not out of the match. Remember, India were 47 for 3 at this stage. Bangladesh 51/3 (116 runs required from 60 balls).
WICKET! Ravichandran Ashwin gets a wicket here. Tossed on middle-leg, Imrul Kayes swept it hard but ended up top-edging it. The ball went high towards Yuvraj at fine leg. Yuvi took an easy catch. Imrul Kayes c Yuvraj Singh b Ashwin 14 (24b 1×4 0x6).
9 overs: Another OK over for India but if they keep going like this, Bangladesh will soon be out of the match. But India shouldn't forget that they were also struggling in the first 10 overs. So wickets are very important here, for both the teams. Bangladesh 48/2 (119 runs required from 11 overs).
8 overs: They will target Ashwin. He is India's main bowler. Sabbir Rahman reverse-swept him to create pressure but Ashwin came back well and gave just 6 runs despite a first-ball boundary. Bangladesh 42/2 (125 runs required from 12 overs).
7 overs: Six balls, five singles. Bangladeshi batsmen are not looking for boundaries only. They are happy to collect singles if not a boundary. India should not allow easy runs. Bangladesh 36/2 (131 runs required from 13 overs).
6 overs: Just 4 runs off the over. Bumrah kept a tight line, giving no room to play shots. With that powerplay ended. Bangladesh 31/2 (136 runs required from 14 overs). India were also 31 for 2 after 6 overs.
5 overs: Bangladeshi batsmen are also struggling here. It is not an easy pitch to hit big shots. You have to be clever to score runs here. At the moment, both the teams can win this match. Indian need to maintain the pressure. Bangladesh 27/2 (140 runs required from 15 overs).
4 overs: Another successful over for India. Bumrah and Nehra are bowling well in tandem. Bangladesh 19 for 2 (148 runs required from 16 overs).
WICKET! After Nehra, Jasprit Bumrah provides a wicket too. Soumya Sarkar is caught behind! Banged short around middle and the ball rose on Sarkar who tried to defend with a horizontal bat and the extra bounce took the glove. Soumya Sarkar c Dhoni b Bumrah 11 (14b 1×4 0x6).
3 overs: Ashish Nehra is bowling very well here. Bangladesh 15 for 1 (152 runs required from 17 overs).
WICKET! Ashish Nehra strikes in the third over. He has bowled well so far and it was a just reward for his hard work. Mohammad Mithun out! Stumps are cleaned. Slightly short on off, Mithun targeted the leg side with a swipe but did not connect. Mohammad Mithun b Nehra 1 (3b 0x4 0x6).
2 overs: Jasprit Bumrah was on the shorter side to start with and paid the price. But he quickly corrected his line and bowled up. There is help in the pitch and it can be exploited only if you bowl up. 6 runs off the over. Ban 9 for 0.
1 over: Excellent over it was. Ashish Nehra moved the ball well from the good length and Soumya Sarkar looked completely incapable of playing it. Bangladesh 3 for 0.
Mohammad Mithun and Soumya Sarkar open the innings for Bangladesh. Ashish Nehra opens for India.
Players are in. Will India be able to defend this target?
Indian innings
India have posted a very good total of 166 for the loss of 6 wickets. Considering the way pitch has played so far in the match, Indian bowlers should not allow Bangladesh overcome this target. Rohit Sharma (83) batted really well in the match scoring half of the runs. But Hardik Pandya (31 off just 18 balls) needs to be praised lavishly. For it was his cameo down the order that ensured India cash the last five overs.
SIX! MS Dhoni pulled Taskin Ahmed over square leg into the stands.
MS Dhoni collects TWO.
WICKET! Hardik Pandya hit it straight down the long-on fielder's throat.
NO run.
WICKET! Rohit Sharma departs after scoring 83 runs. A very good innings in times of need. A brilliant catch in the deep by Soumya Sarkar. Rohit Sharma c Soumya Sarkar b Al-Amin Hossain 83 (55b 7×4 3×6).
Last over begins: Single off the first ball.
19 overs: Hardik Pandya tried hard but Mustafizur proved to be more clever than him. He foxed Hardik with a good mix of slow and wide yorkers. Just 8 from the over. India 157 for 4.
18 overs: Hardik Pandya is proving to be a great find for India. With him down the order, a lot of pressure is eased on MS Dhoni. He created two boundaries off the over as India got 13 from it. India 149 for 4.
17 overs: Rohit and Hardik literally took apart Mustafizur Rahman in the over. First Hardik hit him for FOUR then Rohit managed a SIX and then Hardik again belted a SIX off the last ball. 21 runs came off the over. Best of the innings. India 136 for 4.
16 overs: Rohit Sharma is batting really well at the moment. For India to put up a competitive total, it is important that he stays till the end. He smashed Mortaza for SIX, FOUR, FOUR on the last three balls. 18 off the over. India 115 for 4.
Hardik Pandya sent in before MS Dhoni.
15 overs: It was going according to the script but Yuvraj's wicket spoiled it. 7 runs came off it. India 97 for 4.
WICKET! Yuvraj Singh out. It was a well-connected shot but went straight into the hands of deep mid-wicket. Unlucky. Yuvraj Singh c Soumya Sarkar b Shakib Al Hasan 15 (16b 1×4 0x6).
14 overs: Yuvraj played a brilliant off-drive to collect a FOUR in the over. Without taking any risk, India got 9 runs from the over. India 90 for 3.
13 overs: Just five runs from the over but Rohit and Yuvraj need to keep going like this for another couple of overs. Last five overs they can target. India 81 for 3.
12 overs: Another good over. Runs are coming and Rohit is leading the charge with Yuvraj playing a good supporting role. India 76 for 3.
YUVRAJ SINGH has completed his 1000 runs in Twenty20 internationals.
11 overs: Rohit Sharma looked to play some aggressive shots in the over bowled by Taskin Ahmed. He missed, was dropped but then he succeeded. Last three balls of the over fetched him – Four, Six, Four. Best over so far. India 66 for 3.
10 overs: Yuvraj Singh has a chance to prove himself here. He used to be a match-winner for India and had bailed out from many difficult situations. India 47 for 3. Rohit Sharma 18 (22b 1×4 0x6), Yuvraj Singh 3 (3b 0x4 0x6).
9 overs: India are clearly under pressure. Rohit Sharma is doing well so far. He is there since the beginning and needs to take the responsibility of taking India to a good score where bowlers can try and get India win. India 47 for 3.
8 overs: India in deep trouble now. They have lost three main batsmen inside the 8 overs and score reads just 43. Who will revive India?
WICKET! Another Indian batsman bites the dust! Suresh Raina becomes the third batsman to get out. Mahmudullah provides Bangladesh a big wicket in his first over. Bowled pretty slow from round the wicket, Raina jumped out of the crease, tried to drive down the ground but got nowhere close to the ball that came in instead of turning away and snuck through the bat-pad gap. Clean Bowled! Suresh Raina b Mahmudullah 13 (13b 2×4 0x6).
7 overs: Suresh Raina is batting cleverly. That is the requirement here. He is not looking for big shots only. Again 8 runs came from the over but without a boundary. India 39 for 2.
6 overs: A lot of struggle for the Indian batsmen in the powerplay. More misses than hits. But they need to hang on. It was a good over nonetheless. 8 runs came off it. Raina collected two boundaries. India 31 for 2.
5 overs: Mashrafe Mortaza took the biggest Indian wicket in his first over. Virat Kohli showed a lot of impatience there. India 23 for 2.
WICKET! Virat Kohli is out. Big blow to India. Captain Mashrafe Mortaza gets the prized wicket. Kohli tried to clear the mid-off fielder but mistimed it. Easy catch for Mahmudullah. Virat Kohli c Mahmudullah b Mashrafe Mortaza 8 (12b 1×4 0x6).
4 overs: Virat Kohli struggled there. He is coming from a three-week break and Mustafizur Rahman is a difficult bowler to attack. He tried a couple of times to come down the track but failed to score. India 19 for 1.
Mustafizur Rahman comes into attack.
3 overs: Hopefully Indian batsmen have learnt from the mistake that they committed against Sri Lanka in the first T20. Should show some caution and wait for the pitch to ease out a bit. India 15 for 1.
2 overs: Successful over by Al-Amin. India still have a lot of batting to come but they need to be cautious against the new ball which is doing a lot right now. India 9 for 1.
WICKET! India lose first wicket in the second over. Shikhar Dhawan is clean bowled by Al-Amin Hossain. Beautiful ball. Swung in unlike the first two balls but from similar length and went through the wide gap between Dhawan's bat and pad as he looked to drive down the ground. Shikhar Dhawan b Al-Amin Hossain 2 (6m 4b 0x4 0x6).
Amin bowls the second over. No Mustafizur, no Mortaza.
1 over: As predicted, the pitch is assisting the pace bowlers. Taskin Ahmed has bowled short. A waste on this pitch. But there was a lot of movement. India 2 for 0.
Rohit Sharma has come out and is followed by Shikhar Dhawan. The field is set. Taskin Ahmed has the ball. Bangladesh will look to unsettle the Indian top-order with pace.
Bangladesh XI: Imrul Kayes, Soumya Sarkar, Sabbir Rahman, Mahmudullah, Shakib Al Hasan, Mushfiqur Rahim, Mashrafe Mortaza, Mohammad Mithun, Al-Amin Hossain, Mustafizur Rahman, Taskin Ahmed.
India XI: Rohit Sharma, Shikhar Dhawan, Virat Kohli, Suresh Raina, Hardik Pandya, MS Dhoni, Yuvraj Singh, Ravindra Jadeja, Ravichandran Ashwin, Ashish Nehra, Jasprit Bumrah.
One change in Indian team. Virat Kohli has come in place of Ajinkya Rahane.
TOSS: Bangladesh captain Mashrafe Mortaza has won the toss. He is has opted to bowl first.
SUSPENSE is over. MS Dhoni is playing. He has arrived for the toss.
Here is the first look of the pitch. It looks green. Seems like there will be a lot of help for medium-pacers.
MS Dhoni's back is a concern for India. Will he play this match? It is not yet clear but he was seen inspecting the pitch a while ago. BCCI tweeted a pic. Dhoni did not play football with the team before the match.
It rained early in the day and more rain has been forecast for the evening. Finger crossed!
Welcome to the live coverage of the India vs Bangladesh T20 match. It is the first main round match of the Asia Cup.
PREVIEW
With two back to back T20 series wins and Virat Kohli coming back after being rested, India look like a force to reckon with as they kick-off their Asia Cup campaign against hosts Bangladesh at the Sher-e-Bangla National Stadium here on Wednesday.
The only concern that India will have will be regarding captain Mahendra Singh Dhoni who skipped practice on Monday due to a muscle spasm. Wicketkeeper-batsman Parthiv Patel has been flown in as his backup.
For the first time, the Asia Cup will not be played as a 50-over competition, but will instead be a 20-over affair.
India and Sri Lanka are the two most successful teams in the tournament, having won the title five times each and Dhoni and his men would look to extend that trophy haul.
What would boost India's confidence is that they beat Australia 3-0 and then Sri Lanka 2-1 in the previous two T20 competitions.
They would look to continue the momentum when they meet Bangladesh, but the hosts have taken giant strides in international cricket in the last year and a half and would not give up easily.
In fact, the last time India visited Bangladesh, they suffered an unexpected defeat to the hosts in a One-Day International series.
Team director Ravi Shastri does not want to dwell on that series loss and instead wants the Indian players to focus on the current tournament.
"That happened long back. I don't remember it. I only remember things of the recent past," the former India captain told reporters here on Monday.
The tournament will also be a dress rehearsal before the World T20 in India next month and Dhoni had earlier said he would try and give all 15 members in the squad some valuable match practice.
"I will try to give everybody a game because it is something as important as playing with a settled team," Dhoni had said on Sunday in his pre-departure media conference in Kolkata.
"It is important for everybody to have games under their belt."
India looks a settled unit in every department. Openers Shikhar Dhawan and Rohit Sharma have been amongst the runs while Virat Kohli has been in great form. The finishers too including Suresh Raina and Dhoni have batted well in the last few games.
The bowling line-up, with Ravichandran Ashwin, Ashish Nehra and Jasprit Bumrah have combined well too so far and are sure to give the Bangladesh batsmen a tough time when they clash here.
The hosts have built a formidable side in the last few months and have been ably led by skipper Mashrafe Mortaza. They have impressed with both bat and ball and have been able to nurture talents like pacer Mustafizur Rahman who have already started creating ripples in world cricket.
Bangladesh have a mix of experience and youth with veterans Shakib Al Hasan and Mushfiqur Rahim still going strong.
India will be wary of the fact that Bangladesh have match winners in their side and as Dhoni mentioned they would be keen on negating the threat from the 'big-hitters.'
But with the unpredictability of the format Bangladesh would be hoping to pull off a surprise in front of their vociferous home fans.