10 overs: Yuvraj Singh has a chance to prove himself here. He used to be a match-winner for India and had bailed out from many difficult situations. India 47 for 3. Rohit Sharma 18 (22b 1×4 0x6), Yuvraj Singh 3 (3b 0x4 0x6).
9 overs: India are clearly under pressure. Rohit Sharma is doing well so far. He is there since the beginning and needs to take the responsibility of taking India to a good score where bowlers can try and get India win. India 47 for 3.
8 overs: India in deep trouble now. They have lost three main batsmen inside the 8 overs and score reads just 43. Who will revive India?
WICKET! Another Indian batsman bites the dust! Suresh Raina becomes the third batsman to get out. Mahmudullah provides Bangladesh a big wicket in his first over. Bowled pretty slow from round the wicket, Raina jumped out of the crease, tried to drive down the ground but got nowhere close to the ball that came in instead of turning away and snuck through the bat-pad gap. Clean Bowled! Suresh Raina b Mahmudullah 13 (13b 2×4 0x6).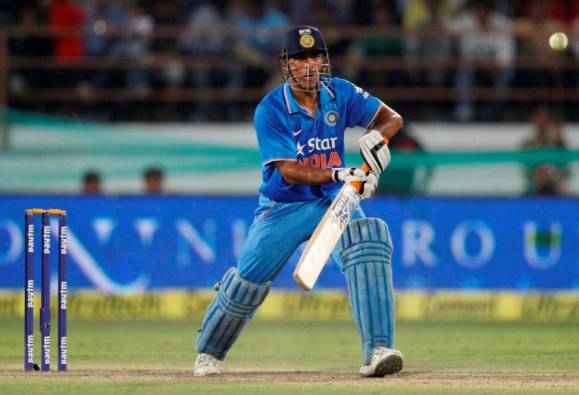 7 overs: Suresh Raina is batting cleverly. That is the requirement here. He is not looking for big shots only. Again 8 runs came from the over but without a boundary. India 39 for 2.
6 overs: A lot of struggle for the Indian batsmen in the powerplay. More misses than hits. But they need to hang on. It was a good over nonetheless. 8 runs came off it. Raina collected two boundaries. India 31 for 2.
5 overs: Mashrafe Mortaza took the biggest wicket in his first over. Virat Kohli showed a lot of impatience there. India 23 for 2.
WICKET! Virat Kohli is out. Big blow to India. Captain Mashrafe Mortaza gets the prized wicket. Kohli tried to clear the mid-off fielder but mistimed it. Easy catch for Mahmudullah. Virat Kohli c Mahmudullah b Mashrafe Mortaza 8 (12b 1×4 0x6).
4 overs: Virat Kohli struggled there. He is coming from a three-week break and Mustafizur Rahman is a difficult bowler to attack. He tried a couple of times to come down the track but failed to score. India 19 for 1.
Mustafizur Rahman comes into attack.
3 overs: Hopefully Indian batsmen have learnt from the mistake that they committed against Sri Lanka in the first T20. Should show some caution and wait for the pitch to ease out a bit. India 15 for 1.
2 overs: Successful over by Al-Amin. India still have a lot of batting to come but they need to be cautious against the new ball which is doing a lot right now. India 9 for 1.
WICKET! India lose first wicket in the second over. Shikhar Dhawan is clean bowled by Al-Amin Hossain. Beautiful ball. Swung in unlike the first two balls but from similar length and went through the wide gap between Dhawan's bat and pad as he looked to drive down the ground. Shikhar Dhawan b Al-Amin Hossain 2 (6m 4b 0x4 0x6).
Amin bowls the second over. No Mustafizur, no Mortaza.
1 over: As predicted, the pitch is assisting the pace bowlers. Taskin Ahmed has bowled short. A waste on this pitch. But there was a lot of movement. India 2 for 0.
Rohit Sharma has come out and is followed by Shikhar Dhawan. The field is set. Taskin Ahmed has the ball. Bangladesh will look to unsettle the Indian top-order with pace.
Bangladesh XI: Imrul Kayes, Soumya Sarkar, Sabbir Rahman, Mahmudullah, Shakib Al Hasan, Mushfiqur Rahim, Mashrafe Mortaza, Mohammad Mithun, Al-Amin Hossain, Mustafizur Rahman, Taskin Ahmed.
India XI: Rohit Sharma, Shikhar Dhawan, Virat Kohli, Suresh Raina, Hardik Pandya, MS Dhoni, Yuvraj Singh, Ravindra Jadeja, Ravichandran Ashwin, Ashish Nehra, Jasprit Bumrah.
One change in Indian team. Virat Kohli has come in place of Ajinkya Rahane.
TOSS: Bangladesh captain Mashrafe Mortaza has won the toss. He is has opted to bowl first.
SUSPENSE is over. MS Dhoni is playing. He has arrived for the toss.
Here is the first look of the pitch. It looks green. Seems like there will be a lot of help for medium-pacers.
MS Dhoni's back is a concern for India. Will he play this match? It is not yet clear but he was seen inspecting the pitch a while ago. BCCI tweeted a pic. Dhoni did not play football with the team before the match.
It rained early in the day and more rain has been forecast for the evening. Finger crossed!
Welcome to the live coverage of the India vs Bangladesh T20 match. It is the first main round match of the Asia Cup.
PREVIEW
With two back to back T20 series wins and Virat Kohli coming back after being rested, India look like a force to reckon with as they kick-off their Asia Cup campaign against hosts Bangladesh at the Sher-e-Bangla National Stadium here on Wednesday.
The only concern that India will have will be regarding captain Mahendra Singh Dhoni who skipped practice on Monday due to a muscle spasm. Wicketkeeper-batsman Parthiv Patel has been flown in as his backup.
For the first time, the Asia Cup will not be played as a 50-over competition, but will instead be a 20-over affair.
India and Sri Lanka are the two most successful teams in the tournament, having won the title five times each and Dhoni and his men would look to extend that trophy haul.
What would boost India's confidence is that they beat Australia 3-0 and then Sri Lanka 2-1 in the previous two T20 competitions.
They would look to continue the momentum when they meet Bangladesh, but the hosts have taken giant strides in international cricket in the last year and a half and would not give up easily.
In fact, the last time India visited Bangladesh, they suffered an unexpected defeat to the hosts in a One-Day International series.
Team director Ravi Shastri does not want to dwell on that series loss and instead wants the Indian players to focus on the current tournament.
"That happened long back. I don't remember it. I only remember things of the recent past," the former India captain told reporters here on Monday.
The tournament will also be a dress rehearsal before the World T20 in India next month and Dhoni had earlier said he would try and give all 15 members in the squad some valuable match practice.
"I will try to give everybody a game because it is something as important as playing with a settled team," Dhoni had said on Sunday in his pre-departure media conference in Kolkata.
"It is important for everybody to have games under their belt."
India looks a settled unit in every department. Openers Shikhar Dhawan and Rohit Sharma have been amongst the runs while Virat Kohli has been in great form. The finishers too including Suresh Raina and Dhoni have batted well in the last few games.
The bowling line-up, with Ravichandran Ashwin, Ashish Nehra and Jasprit Bumrah have combined well too so far and are sure to give the Bangladesh batsmen a tough time when they clash here.
The hosts have built a formidable side in the last few months and have been ably led by skipper Mashrafe Mortaza. They have impressed with both bat and ball and have been able to nurture talents like pacer Mustafizur Rahman who have already started creating ripples in world cricket.
Bangladesh have a mix of experience and youth with veterans Shakib Al Hasan and Mushfiqur Rahim still going strong.
India will be wary of the fact that Bangladesh have match winners in their side and as Dhoni mentioned they would be keen on negating the threat from the 'big-hitters.'
But with the unpredictability of the format Bangladesh would be hoping to pull off a surprise in front of their vociferous home fans.