Ranchi: Thisara Perera, on Friday night, was so engrossed with his plans to bowl in the death overs that he did not realise about achieving a hat-trick when he dismissed Yuvraj Singh in the last ball of the 19th over.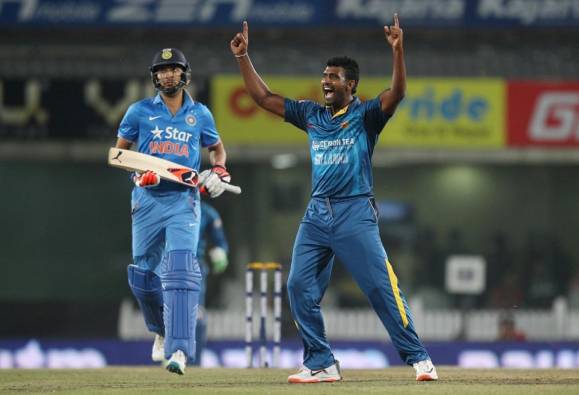 "Believe me, I did not know about that. I was too busy thinking about how to bowl at the death. That was more important for me. When teammates came and congratulated me, I realised I got a hat-trick," said the Sri Lankan all-rounder, who had earlier achieved a similar feat in an ODI against Pakistan.
Perera, who conceded 27 runs in the first three overs, had a sensational final over. He first had Hardik Pandya dismissed in the fourth ball and then sent back Suresh Raina to the pavilion in the very next delivery. In the last ball of the over, he had Yuvraj Singh caught at long-on.
The Sri Lankan defeat, according to Perera, was not because of one particular reason. "You don't lose a match because of one reason. India batted well and took the score to almost 200. And then we lost the momentum. In fact, they took away the match in the first six overs. We did not play the way we played in the first match at Pune," he said.
"Only thing is that our bowlers did a good job in the last couple of overs."
The Sri Lankan defended his captain's decision to bowl first after winning the toss saying they felt it was a wise decision. "We thought dew factor could play role at the latter stage of the match… So we wanted to bowl first," Perera said.
When Perera was asked to make comment on the state of wicket in Ranchi, he took no time to say it was a batting wicket. "The wicket was like glass… It was very slow. But when we came out to bat, (Ravichandran) Ashwin bowled extremely well. I was impressed by the way he kept the pressure on us," he said.