London: A Pakistani-Australian woman from Birmingham who joined Islamic State (IS) has been jailed for six years for "encouraging terrorism" on Social Media.
Tareena Shakil – whose father is Pakistani and mother is of Australian extraction – fled her home in Birmingham in October 2014 and, accompanied by her 14-month-old son travelled to the Syrian city of Raqqa, the de-facto capital of the Islamic State terror group.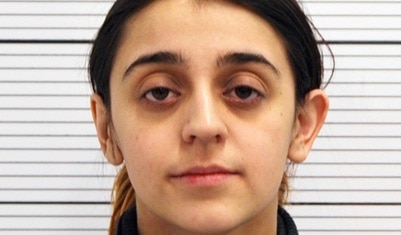 The 26-year-old had told her family she was going on holiday to Turkey before slipping across the border.
Last week she became the first British woman to stand trial accused of joining IS in Syria.
The judge at Birmingham Crown Court said Shakil had told "lie after lie".
He also lambasted Shakil for showing her baby son with weapons and wearing a balaclava on her Twitter page.
"The most abhorrent photographs were those taken of your son wearing a balaclava with an ISIS logo. Specifically the photograph of your son, no more than a toddler, standing next to an AK47 under a title which translated from the Arabic means 'Father of the British Jihadi'.
"You were well aware that the future to which you had subjected your son was very likely to be indoctrination and thereafter life as a terrorist fighter."
As Shakil's family looked on, he added: "You told your father you wanted to die as a martyr … no doubt because of your mindset you were embraced by ISIS …
"Your role [in Raqqa] would not be to fight but to be a wife and mother to produce the next generation of fighters."
Shakil had denied joining IS and encouraging terrorism on Facebook and Twitter.
"You told lie after lie to the police and in court between February and November 2015," the judge told her.
"Including that you were kidnapped, were not responsible for any tweets and any incriminating photographs were staged against your will.
"You pleaded not guilty and told more lies to the jury which they have understandably rejected."
The judge said it was "far from clear" exactly what Shakil had done in Raqqa.
She claimed she spent two and a half months in a house for unmarried women before deciding she had "made a mistake" and escaping across the Turkish border.
Shakil was arrested by counter terrorism officers when she flew back to London.
Her father Mohammed Shakil reacted angrily outside court shouting that he hoped no other woman would come back "to face this kind of b*******".
On Saturday, Mr Shakil described Tareena as "the perfect daughter" and said it was a "mistake" for her to travel to Syria.
Speaking from his home in Staffordshire, he said: "It was a mistake, that's right.
"[She is] the perfect daughter, the daughter who never went out nightclubbing and never went out doing this or going there, who kept herself busy in studies, and who wanted to be somebody in life and have an important role. That's who she wanted to be: a somebody, not a nobody."
During her trial the jury were shown tweets, messages and photographs from Shakil, including images of the black flag of Isis and passages calling on people to take up arms, and stating her wish to become a martyr.
Shakil, formerly of Burton-upon-Trent, told jurors she returned to the UK in February last year after realising she had "made a mistake", and was arrested at Heathrow airport.
Her father told ITV News Central: "The only evidence against her in all this was her own phone that she brought with her. If she was that much of a mastermind and she left her phone behind, no one could have even said she was there.
"I did everything, fought tooth and nail to get my daughter back in the first place and helped her get back. If my daughter today is sitting in prison, I should be sitting with her. I should be the 'mastermind' behind her, because I helped my daughter to get her back [to the UK] and she listened to this fool."
When asked if he ever felt his daughter was a terrorist, Mohammed Shakil told the programme: "Not for one millisecond, no. My daughter is god-fearing. If there was one element in her and I did think she was a threat to national security, I swear to God I would disown her.
"She would be no daughter of mine."
He added that the family planned to appeal against Tareena's conviction.