Matthew Hayden, among the most dominating of openers in any era and a member of the all-conquering Australia team of the early 2000s, recently spoke to The Telegraph.
Hayden, now 44, is modest about his achievements. However, his statistics alone say so much: An excellent average of 50.73 in Test matches, a superb 43.80 in ODIs and an amazing 51.33 in T20Is.
Let's not forget Hayden's 40 hundreds, in Tests (30) and in ODIs.
In more recent years, Hayden has been on the microphone doing commentary, both in Australia and in India.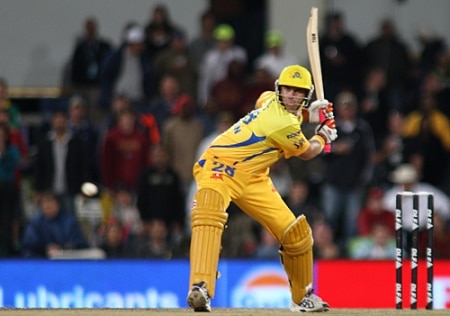 Ecxerpts…
While the T20 format has encouraged a certain style of batting, has it not taken away much of the classical manner of getting runs?
Today, batsmen improvise a lot more and draw on the creative sense within. The likes of AB de Villiers, David Warner, Shikhar Dhawan, Kevin Pietersen and Glenn Maxwell are in one school of thinking. Others could be slotted in a different school… The latter school would include Rohit Sharma and Usman Khawaja… Their class is such that even if they don't improvise that much, they can still dominate.
But overall…
The landscape of batting has changed, but class still prevails. Can you substitute class with anything? Not in my book.
Where would you place Virat Kohli?
Kohli's a class act, isn't he? In the generation gone by, you had the likes of Rahul Dravid and (Vangipurappu Venkata Sai) Laxman… Now, you have the Kohlis and Sharmas.
The T20 format is loaded in favour of batsmen. Surely, one-sided contests can't enthuse you?
For a good contest, you can neither have flat wickets nor wickets such as the one in Nagpur, during the India-South Africa Test series. Clearly, the mandate for any curator has to be to prepare a wicket for proper cricket. I have no issues with, for example, wickets which seam a bit. The scoring rate could come down, but one would like a reasonably fair contest.
It's about the quality of batting, then?
World-class batsmen should have no issues with a challenging wicket. Equally, I wouldn't like to see a Test match ending in three days. I do expect wickets in India to turn, but not turn square from the beginning. I accept that conditions in the 10 Test-playing nations would differ. You cannot hope for uniformity… Cannot have extremes, too. Like the Perth wicket, last November. It was unbelievably flat, with Australia getting 559 for nine when the declaration came and New Zealand doing better – 624, in their first innings. I'm looking forward to the Test series in New Zealand, which begins Friday.
Yet, the D/N Test in Adelaide, immediately after Perth, was very different…
Absolutely. It got over in three days, yet was a success. The ball did do a bit, but the batsmen didn't come up with a good enough response… It is, after all, about adapting. The response from fans, though, was excellent with nobody moaning about a three-day finish… Reactions were different when the Nagpur Test also finished in three days. Comparing Adelaide and Nagpur would be ridiculous. The markers would have to be different.
The twilight period was most challenging, wasn't it?
Well, the batsmen were caught with their pants down… Because the nature of wickets has changed, the classical way of batting in Test matches – assessing the conditions and wearing the opposition down – has undergone a change. Or, let's say, it has been challenged.
You've mentioned the India-South Africa Test series… Captain Hashim Amla failed (average of just 16.85), despite his stature… Why?
I wouldn't rate that series at all. In my view, India got nothing out of it. A series win on wickets which turned massively… Even India's batsmen struggled, with Ajinkya Rahane being the lone one to average above 50.00. The rest were in the 30s and 20s.
But that 3-0 success helped India on the way back to No.1 in the rankings…
I care about quality cricket, not so much about the rankings. The wickets crippled world-class batsmen like AB, Amla, Sharma, Kohli… Surely, Ravichandran Ashwin didn't need such wickets to help him. He was, then, in the form of his life.
Would you favour four-day Tests?
I'd be cautious, because I love Test cricket. That said, one also has to be mindful about the number of people who come and watch this format… I won't forget the 2008-09 Test in Mohali, where Sachin (Tendulkar) became the highest run-getter in Test cricket, yet there was hardly anybody in the stands to cheer. One wouldn't want that to happen… So, right now, I'd go for five-day Tests. But with the timings altered to attract more fans… I'd certainly like more D/N Tests.
[Sachin, it may be recalled, went past Brian Lara's tally of 11,953 during his innings of 88 in the first innings. That was on October 17, 2008.]
Mike Brearley, for one, would like to review the three and four-day finishes… The percentage of Tests, in other words…
I'd also like to have a look at the figures.
To get back to the T20 format, its impact commercially appears to be more pronounced…
I'll talk of the recent Big Bash League (BBL)… It was an enormous success, drawing very handsome crowds. The women's BBL was also a huge success… For many, the T20 format is magic and cricket has become Australia's favourite sport in summer… Yes, the commercial success is enormous. As a format, it would get better if the imbalance between bat and ball gets addressed.
T20 was supposed to be for the young in age. But the series in Australia saw quite a few 30-plus players making a comeback. Your take?
The IPL and the BBL have created more opportunities for certain players. There's a place for veterans within the game – even I've played in the IPL and in the BBL – and experience shines when under pressure… Look at Shane Watson and Yuvraj Singh.
Finally, across formats, which batsmen would you actually pay to watch?
I'd (alphabetically) pick six…
USMAN KHAWAJA: Pure class… The culture coach Darren Lehmann encourages has helped. Darren's all for hard cricket, yet fun cricket… Khawaja's ability to just relax and be himself has done wonders. He's in the Sharma mould.
VIRAT KOHLI: Under pressure, Kohli has the ability to lift his game… Has a good set of skills, both against the quicker bowlers and the spinners. Smart footwork, too. Kohli's figures do much of the talking.
ROHIT SHARMA: To be honest, Sharma takes me back to the time I was a boy and admired watching David Gower… Gower, of course, was a left-hander. I understand there's scepticism regarding Sharma in India, but I've found him wonderful to watch.
AB de VILLIERS: Wow… AB's improvisation is brilliant. I mean, his adaptability and class are there for all to see.
DAVID WARNER: Has an enormous ability to shift gears… Warner's changed his game and now has the technique of a proper top-order batsman.
KANE WILLIAMSON: A class batsman, with a technique normally not seen in modern-day batters… He plays deep in his crease and is definitely one to watch out for in the years to come. He's a master where temperament is concerned. Williamson's lovely to watch.