New Delhi: The Rajya Sabha will on Tuesday take up the Juvenile Justice (Care and Protection of Children) Bill, 2015 for consideration and passage.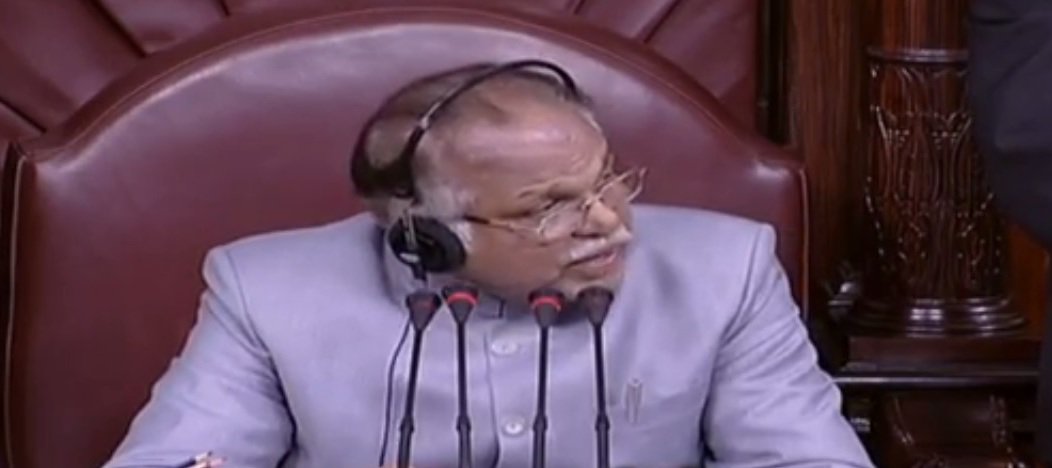 Parents of the December 2012 gangrape victim on Tuesday keenly watched deliberations in Rajya Sabha as Women and Child and Development Minister Maneka Gandhi piloted the Juvenile Justice Bill.
The parents of the victim, known as Nirbhaya, watched the proceedings from the visitor's gallery. Mahila Congress leader Shobha Oza and former chief of Delhi Commission for Women Barkha Singh were seen accompanying them in the gallery.
Nirbhaya's parents have been protesting the release of the juvenile gangrape convict on Sunday.
After several adjournments, Rajya Sabha resumed at 2 PM to take up the Juvenile Justice (Care and Protection of Children) Bill, 2015.
Government has assured parents of the December 16 gang rape victim that Juvenile Justice Bill which will allow juveniles between 16-18 years to be tried as adults in heinous crime will be passed.
The amendments to Juvenile Justice Act will allow children between 16-18 years to be tried as adults in heinous crime cases.
19:10 PM
19:00 PM
18:35 PM
Is a child a child because he is 16 or because he has been nurtured like that? Is pverty only reason why some children turn criminal? Then how does Sweden, with no poor people has a high number of rape cases?
17:52 PM
Congress leader Anand Sharma said, "If we isolate ourselves from emotions for a moment, House needs to think if only changing law will work in the nation. We need to realise our responsibilities too. There is a need for social awareness and intervention. The need of the hour is a thought revolution, where the mindset of the masses need to be reached out to."
17:30 PM
DMK's Kanimozhi in Rajya Sabha said that there is no hurry in passing the Bill.
"It would be really good if Government sends this (Juvenile Justice bill) to a select committee. And we can have more discussions, more considerations and then pass this Bill. There is really no hurry in doing it. We have to give it enough consideration before passing," Kanimozhi said.
16:40 PM
Satish Mishra, BSP leader in Rajya Sabha, made the discussion on Juvenile Justice Bill political by saying, "People with polluted mindsets like Minister VK Singh should also be sent to reform homes."
Replying to this, Union Minister Mukhtar Abbas Naqvi said, "We take strong objection to Mishra ji's remark on VK Singh ji, it should be expunged."
16:35 PM
15:11 PM
Businesswoman and Rajya Sabha MP Anu Aga
We need to find humane ways to prevent such acts, lowering of age of criminals is not the solution.

We should not give knee-jerk reactions and instead send this juvenile justice bill to select committee.
14:54 PM
Congress leader GN Azad in Rajya Sabha
​* I want to thank Nirbhaya's mother for taking up the fight to amend the Juvenile Justice Bill.
Nirbhaya's mother is not fighting for justice only for her daughter,but to ensure that such crime dsnt happen again.

Improving lighting on streets and increase police patrolling will help in prevention of such crimes.

There should be a separate enclosure for juvenile criminals in jail.

We can't be kept them with hardened criminals.

Juvenile Justice Bill needs to be broadened.
14:08 PM
WCD Minister Maneka Gandhi explain the deatils of the amended Juvenile Justice Bill.
14:08 PM
Juvenile Justice Bill does not mean a 16-year-old will go to jail immediately: Maneka Gandhi
13:40 PM
Nirbhaya's parents reach Parliament as discussion on Juvenile Justice Bill begins in Rajya Sabha.
13:37 PM
I don't know if it will be passed, but according to me it shouldn't be passed: Ram Jethmalani on juvenile justice bill
13:29 PM
We want Juvenile Justice Bill to be passed today, he assured us it will be: Nirbhaya's mother after meeting Rahul Gandhi
13:29 PM
Juvenile justice bill should be sent to select committee: Renuka Chowdhury, Congress
13:28 PM
2012 gang rape victim Nirbhaya's mother after meeting Congress vice president Rahul Gandhi at his residence in Delhi
12:41 PM
Rajya Sabha adjourned till 1 pm as uproar continues over #DDCA issue
12:41 PM
Nirbhaya's parents reach Rahul Gandhi's residence.
12:12 PM
Rajya Sabha adjourned till 12.35 pm after uproar on #DDCA issue
11:15 AM
Did not attend BJP parliamentary party meet due to prior commitment,not boycotting it.Will be present in Parliament: Kirti Azad
10:48 AM
Arun Jaitley will come through with flying colours in the same manner as L K Advani did in Hawala case: PM tells BJP Parliamentary Party on DDCA issue.
10:47 AM