New Delhi: Union Finance Minister Arun Jaitley is likely to find himself at the centre of a raging controversy with Congress and AAP targeting him and demanding his resignation over alleged "gross financial irregularities" in Delhi's cricket body DDCA when he headed it from 1999 to 2013.
Taking animosity to next level, main Opposition Congress has demanded constitution of a joint parliamentary committee (JPC) to look into irregularities in Delhi District Cricket Association (DDCA) and resignation of Jaitley, who happens to be a former president of the cricket body. Jaitley, however, dismissed the allegations, saying they are without any basis.
Meanwhile, the Congress Party is holding a strategy meet to discuss issues like the Goods and Services Tax (GST) Bill, the National Herald case, law and order situation in Punjab, the CBI raid at the Delhi Secretariat and many other issues.
The Winter Session of the Parliament has been witnessing repeated disruptions over several issues raised by the Opposition parties.
12:09 PM
Bharatiya Janata Party (BJP) leader Subramanian Swamy said cricket is Jaitley's private not public duty.
"It is contempt of LS/RS for Opposition to raise AJ's DDCA alleged corruption in the two Houses since cricket is his private not public duty"
11:47 AM
JDU, CPIM & AAP protest in Parliament premises demanding Chandigarh international airport be named after Bhagat Singh.
11:44 AM
Ravi Shankar Prasad on allegations against Arun Jaitley
All allegations are completely baseless. Entire World knows about the honesty & integrity of Arun Jaitley ji.
A government (AAP) came from anti-corruption crusade is trying to shelter an officer (Rajendra) under cloud.
11:39 AM
Congress wants to divert attention of people from National Herald: Union Minister Kalraj Mishra.
11:13 AM
YSR Congress protest at Gandhi Statue in Parliament premises demanding special category status for Andhra Pradesh.
10:52 AM
They (Cong) think that by not letting the Parl function, they would succeed in bringing bad name to government: RP Rudy, BJP
10:51 AM
No all party meeting scheduled over GST, but government willing to talk with all parties to stop Parliament disruption, reports ANI quoting sources.
10:39 AM
No question of resignation of Arun Jaitley ji, he is an honest person: Parliamentary Affairs Minister M Venkaiah Naidu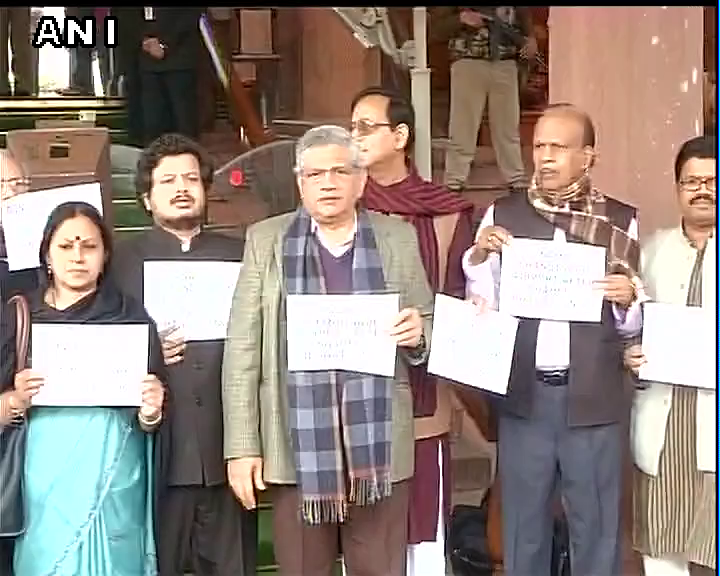 10:38 AM
Congress leader Veerappa Moily gives adjournment motion notice in Lok Sabha on Petroleum price/excise duty.
10:38 AM
There will be no resignation, no JPC will be formed says Naqvi on Congress' demand of JPC probe in DDCA irregularities.