NEW DELHI,VARGHESE K GEORGE: India and the U.S. have identified 17 new areas for potential cooperation under Defence Technology and Trade Initiative (DTTI), a flagship scheme launched in 2012 that aims to enhance bilateral strategic partnership, particularly in high technology.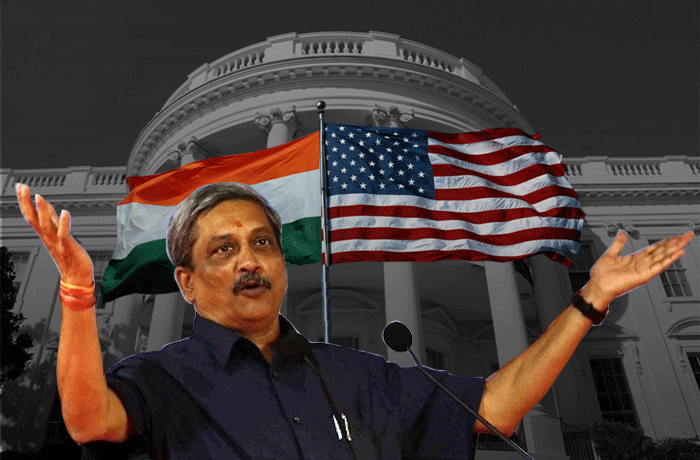 Concluding his four-day tour of the United States, Defence Minister Manohar Parrikar said he and his counterpart Ash Carter had agreed to closely monitor the progress of the DTTI. Mr. Parrikar did not divulge details of the new areas identified for cooperation, but said these covered radar systems and UAVs among other things.
The Minister said some private companies have expressed interest in manufacturing fighter aircraft in India, and India has sought the U.S. government position on the issue before proceeding further. "Mr. Carter said in such cases, they could consider in-principle approvals before getting into technical details," Mr. Parrikar told reporters at the end of his visit. The Minister said, of the six items that were earlier considered under DTTI, two were found unsuitable but the other four were making good progress.
The Ministers expressed satisfaction over progress made by two joint working groups – one on aircraft carrier technology cooperation and the other on jet engine technology. "Secretary Carter informed Minister Parrikar that in light of the strengthening relationship between the United States and India, the DoD has updated its policy on gas turbine engine technology transfer to India," a joint statement said. The change in policy is expected to allow U.S. companies working with their Indian counterparts to submit transfer requests for technology.
Mr. Parrikar's visit demonstrated the growing trust between the two countries in the sensitive area of defence, according to Mukesh Aghi, president of the U.S. India Business Council (USIBC) that is spearheading wide range of bilateral cooperation. Mr. Parrikar interacted with Indian and U.S defence companies at the USIBC. His itinerary also included a visit to U.S. Pacific Command (PACOM), the Pentagon, and a visit with Secretary Carter to observe flight operations aboard the aircraft carrier USS Dwight D. Eisenhower.
"Minister Parrikar's first trip was a success on form, symbol and generated enough hope on substance," said Aparna Pande, Director, Initiative on the Future of India and South Asia at Hudson Institute, Washington. "We know the political leadership in both countries wants the relationship to move ahead. But for that to happen the bureaucracies need to come closer together. It also needs closer ties not only between governments but also between the private sectors of both countries. America's closest ties are with those countries where the defence relationship is strongest and India would benefit by developing this aspect of the relationship as well."