New Delhi(PTI): Government on Thursday launched a scathing attack on Congress on the issue of secularism saying it was the "most misused" term in the country which has led to tension in the society.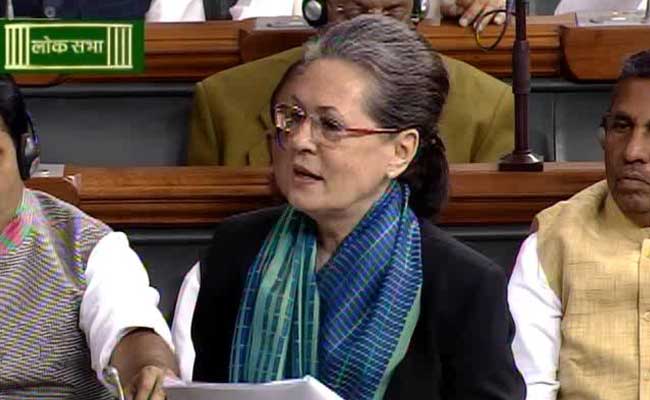 Initiating discussion on 'Commitment to India's Constitution as part of 125th birth anniversary of B R Ambedkar, Home Minister Rajnath Singh said in Lok Sabha that the architect of the Constitution had never thought of putting the term secularism in the Preamble but it was incorporated through an amendment in 1976.
"The words 'socialist' and 'secular' were incorporated in the Preamble through the 42nd amendment of the Constitution. We have no objection. Let bygone be bygone. B R Ambedkar had never thought the necessity to incorporate it in the Preamble as these two words were part of the Constitution.
It is inbuilt in the Indian system," he said amidst protests from Congress.
Amidst raging debate on intolerance, Lok Sabha Speaker Sumitra Mahajan said individual rights and freedom are sacrosanct and criticism and dissent are part and parcel of the country's democracy.
13:02 PM
Sonia Gandhi speaking
Constitution Committee was guided by four eminent personalities at all levels- Jawaharlal Nehru, Sardar Vallabhbhai Patel, Rajendra Prasad and Maulana Azad.
What we have been witnessing from past few months is completely against the values that have been ensured by our Constitution.
Indian Constitution is a result of decades of struggle. Mahatma Gandhiji made a huge contribution in this struggle.
Sonia Gandhi targets government on issue of intolerance alleging that ideals and principles of the Constitution are under threat.
People who never had faith in the Constitution, nor had they participated in its drafting, are now swearing by it.
12:31 PM
Our government completely committed to Constitution. I feel all MPs must abide by the Constitutional morality: HM Rajnath Singh
12:31 PM
If there's is any word which is being misused in Indian politics, that is 'Secular': Rajnath Singh
12:30 PM
Uproar in Lok Sabha by opposition after HM Rajnath Singh's remark on amendments brought in 'Preamble'.
11:41 AM
We will express our commitment towards the Indian Constitution today: Home Minister Rajnath Singh speaking in Lok Sabha
11:41 AM
HM Rajnath Singh says
Ambedkarji ne kabhi nahi socha ki mujhe apmaan jhelne ko mila hai toh main desh chhod ke kahin aur chala jaoonga.
Ambedkarji had to face a lot of criticism, but he kept on presenting an objective point of view for a unified India.

Sardar Vallabhbhai Patel ji played the role of unifying force and Dr. Ambedkar worked as a binding force for India.

People try to present Dr. Ambedkar ji as a dalit leader, but I don't think he should be restricted to such a narrow purview.

Nehru ji played an essential role in establishing democracy in the country.

Our founding fathers believed that Preamble is soul of the Constitution and no changes should be made to that.

Secular and Socialist are two words that I believe that has been inserted in the Preamble.

Wielding broom is considered as a menial job in our country, we all know how people who do this job are looked down upon. Our Govt under leadership of PM Modi introduced Swachhata abhiyaan sending across a message that there are no menial jobs.
11:40 AM
Your opening remark was perfect, I congratulate you for that: HM Rajnath Singh to Lok Sabha Speaker Sumitra Mahajan
11:36 AM
Lok Sabha observes 2-minute silence in honour of 26/11 brave-hearts. LS marks anniversary of the adoption of Indian Constitution.
10:06 AM
PM Modi said
The Parliament session will have good debates, discussions, innovative ideas and the Parliament will shine.

There is no bigger centre for Samvad than the Parliament. Debate, Discussion and Conversation is the soul of our Parliament.

Our Constitution is a ray of hope. H for Harmony, O for opportunity, P for people's participation, E for equality.

I am confident we all MPs will leave no stone unturned to match upto expectations of people of nation.