Bhopal,Prabhati Nayak Mishra: CBI's 55 officers, investigating the Vyapam scam and deaths-related cases in Madhya Pradesh, don't have space to sit. The shortage of infrastructure has "seriously" impeded the pace of probe, the agency told the Supreme Court on Thursday.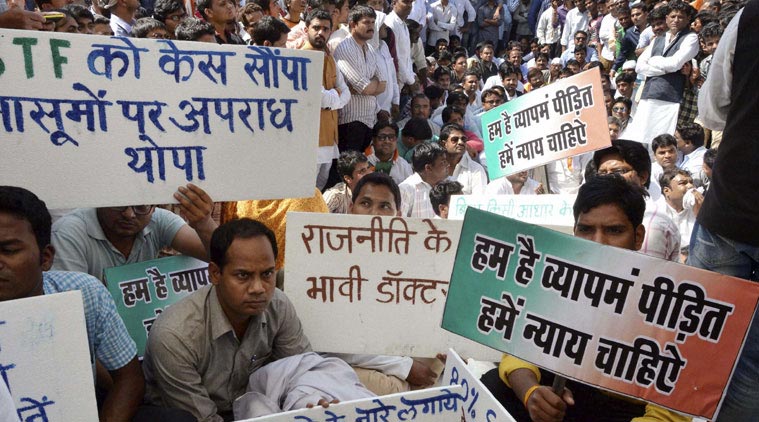 It also said the shortage of investigating officers (IO) and supporting staff is delaying the probe.
Filing a compliance report pursuant to the apex court's September 11 order, the CBI said, "IOs have been squeezed in the existing ACB branch of CBI in Bhopal, which severely lacks space and infrastructure to cater the functional requirements of the CBI Vyapam scam investigation team. There is not enough space for the IOs to sit, much less to examine the witnesses and to keep safe custody of the documents."
As per the report "though, around 30 investigating officers assisted by 25 sub-inspectors are presently investigating the Vyapam scam and deaths-related cases with full dedication and are working hard to investigate them thoroughly in the shortest possible time but shortage of IOs and support staff like stenographers/typists/constables retard the pace of investigation. Much energy and effort of IOs is going diverted away from investigation…"
Pointing out that MP government has allotted two premises in Bhopal, which were under construction/repair till October 4, CBI said there is no "suitable" office premises and infrastructure at Gwalior, where CBI is investigating more than 50 cases, till date.
One of the premises at Bhopal would be handed over to CBI in the next few days.
Regarding the appointment of special public prosecutors for the cases pending in 24 courts, the agency said CBI has interviewed and selected the names and after giving approval to the names, the department of personnel and training (DoPT) has sent it to the law ministry for notification.
It also informed the court that 107 cases were reported by special task force (STF) for further investigation. As many as 112 FIRs were registered by CBI and the documennts relating to cases were also taken over.
In 72 cases charge sheets have been filed by STF before the trial court and the agency has taken over all the documents.
The apex court, which had ordered to transfer the Vyapam cases from STF to CBI on July 9, is to hear the matter on Friday.