Prime Minister Narendra Modi, President Pranab Mukherjee and Congress chief Sonia Gandhi on Friday paid tribute to Mahatma Gandhi on his 146th birth anniversary at his Rajghat memorial in Delhi.
PM Modi was accompanied by senior BJP leader LK Advani, Union Urban Development Minister M. Venkaiah Naidu and other ministers.
'PM Modi also used the occasion to re-emphasize Mahatma Gandhi's dream of having a Swachh Bharat' in a tweet.
पूज्य बापू को शत् शत् नमन ।
"Cleanliness was very close to Mahatma Gandhi's heart. Let us reaffirm our commitment for Swachh Bharat and fulfill our beloved Bapu's dream. A clean India will enhance our development journey and benefit the poor," Modi said in a tweet.
PM @narendramodi attending the Sarva Dharma Prarthana Sabha at Rajghat on Mahatma Gandhi's146th birth anniversary
Congress chief Sonia Gandhi paid floral tribute. She was accompanied by former Delhi chief minister Sheila Dikshit and senior Congress leader Ghulam Nabi Azad.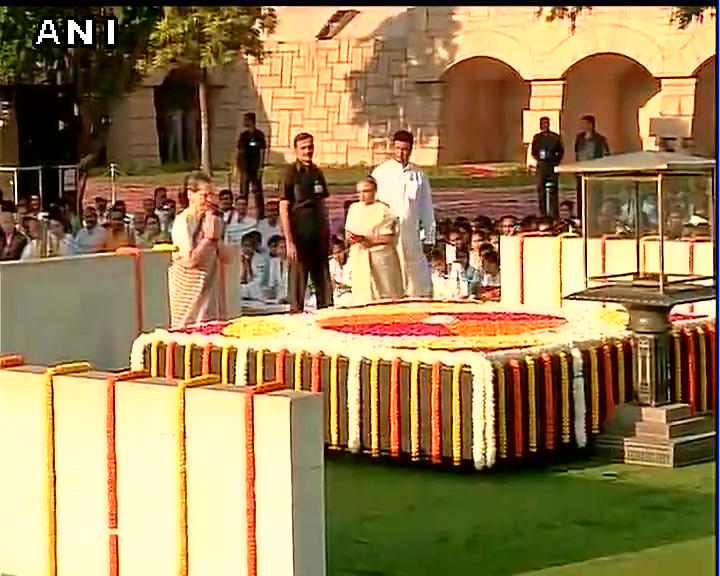 Delhi Chief Minister Arvind Kejriwal was also present to pay his respects to the Father of the Nation.
Indians all over the world are celebrating Gandhi's 146th birth anniversary today. October 2 is also observed as the International Day of Non-Violence.