New York City: Prime Minister Narendra Modi, who is on a two-day trip to Silicon Valley met "green" car maker Tesla Motors Inc Apple Inc's CEO, Tim Cook and several other tech leaders.
Among the people he met were Microsoft CEO Satya Nadella, Google CEO Sundar Pichai, Adobe CEO Shantanu Narayen, CISCO CEO John T Chambers, Executive Chairman of Qualcomm Paul E Jacob and The Indus entrepreneurs president Venkatesh Shukla.
Modi, 65, is the first Indian leader to visit the US West Coast in more than 30 years. His trip follows a US visit by China's president, Xi Jinping, who met with several tech leaders in Seattle earlier this week.
A better world, one byte at a time. PM explains how technology that is made in California is revolutionising India
Modi hopes to attract funds and skills from US innovators to help India's burgeoning startup scene grow, and he will seek to encourage some Indians who have thrived around San Jose, California, to bring their knowledge back home.
Latest Updates:
Watch live: Digital India and Digital Technology Dinner​
08:52 AM
PM Modi speaking at Digital india event
Digital India is an enterprise for India's transformation on a scale that is, perhaps, unmatched in human history.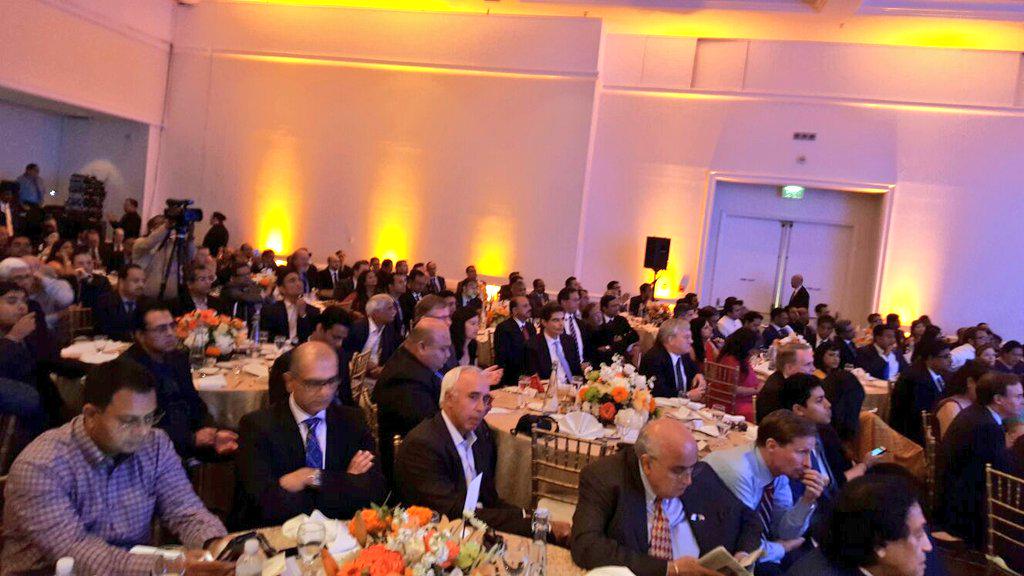 I now speak of M-Governance. That is the way to go in a country with one billion cell phones, growing at high double digit rates.
After MyGov.in, we have just launched the Narendra Modi Mobile App. They are helping me stay in close touch with people.
We must ensure that technology is accessible, affordable, and adds value.
M-Governance is the way to go in a country with one billion cell phones, growing at high double digit rates.
We will connect all schools and colleges with broadband, expanding our public Wi-Fi hotspots.
Access also means content in local languages.
Like Airports, we will also have WiFi on 500 railway stations, we are working with Google on that.
08:43 AM
PM Modi at Digital India event​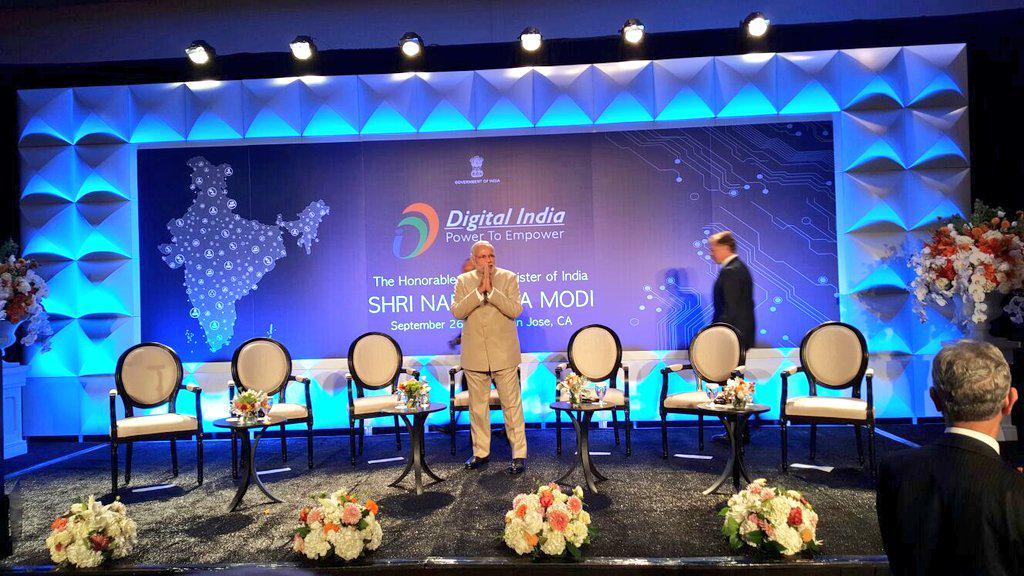 By using internet we have been able to identify applications that would make governance faster and better.
Since my government came to office we attacked poverty by using power of networks & mobile phones to launch a new era of empowerment.
Farmers in Maharashtra have made a Whatsapp group to share farming tips and techniques.
The pace at which people are taking to digital technology defies our stereotypes of age, education, language and income.
In this digital age, we have an opportunity to transform lives of people in ways that was hard to imagine just a couple of decades ago.
I see technology as a means to empower and as a tool that bridges the distance between hope and opportunity.
Social media is reducing social barriers. It connects people on the strength of human values, not identities.
08:40 AM
PM Narendra Modi addresses the Digital India and Digital Technology Dinner.
Here on stage you see a perfect picture of India-US partnership in the digital economy.
California is one of the last places in the world to see the sun set. But, it is here that new ideas see the first light of the day.
Facebook, Twitter, Instagram, they are the new neighbourhoods of our new world.
Twitter has turned everyone into a reporter.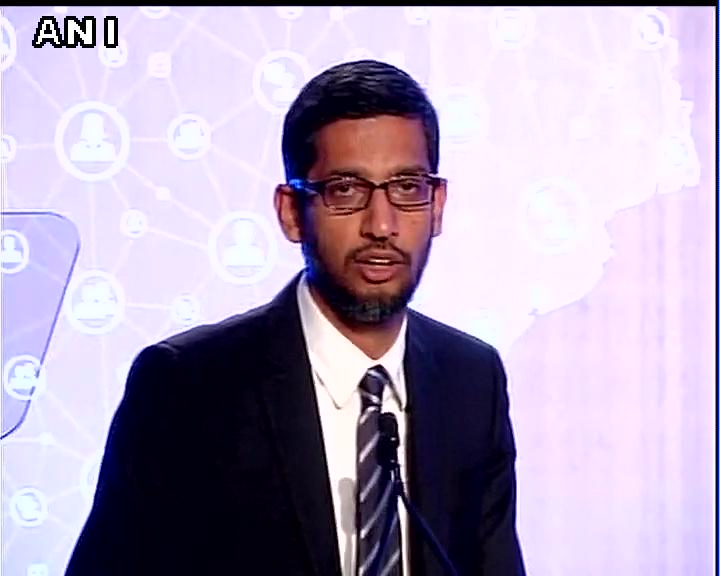 The most fundamental debate amongst our youth is to choose between Android, iOS and Windows.
Status now, is not whether you are awake or asleep, it is whether you are online or offline.
08:37 AM
Google CEO Sundar Pichia is speaking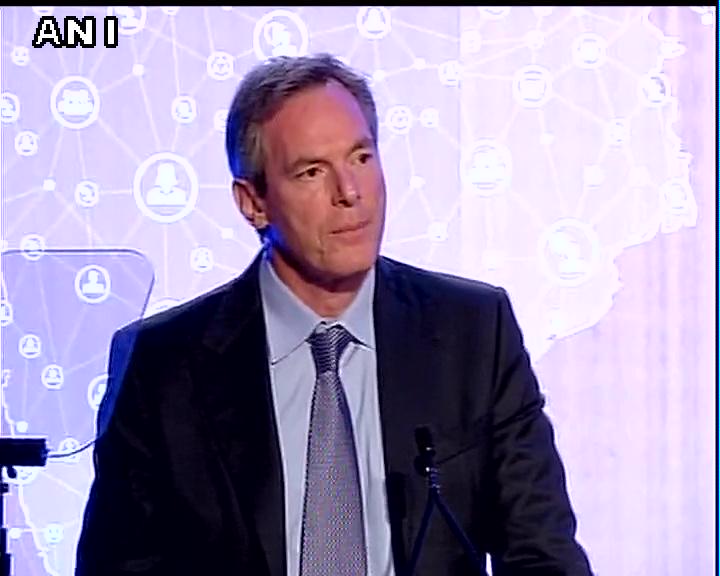 Driving technology forward will improve people's lives.
He(PM Modi)has accelerated India's efforts in becoming the hotbed of innovation.
I was in India last year, I could feel the change. I met hungry entrepreneurs, similar to the ones I meet in Silicon Valley.
Google shares PM Modi's vision of Digital India. Android powers 9 out of 10 smartphones in India and is driving India's mobile revolution.
08:19 AM
Qualcomm Executive Chairman Paul E Jacobs speaking
Mobile technology is transforming every facet of our lives.
We are extremely excited and motivated with PM Modi's digital India vision.
India already has more internet traffic on mobile devices than any other country.
We are keen and focused on setting up a number of design houses to design products in India.
India under the leadership of PM Modi is moving in the right direction.
08:16 AM
Microsoft CEO Satya Nadella speaking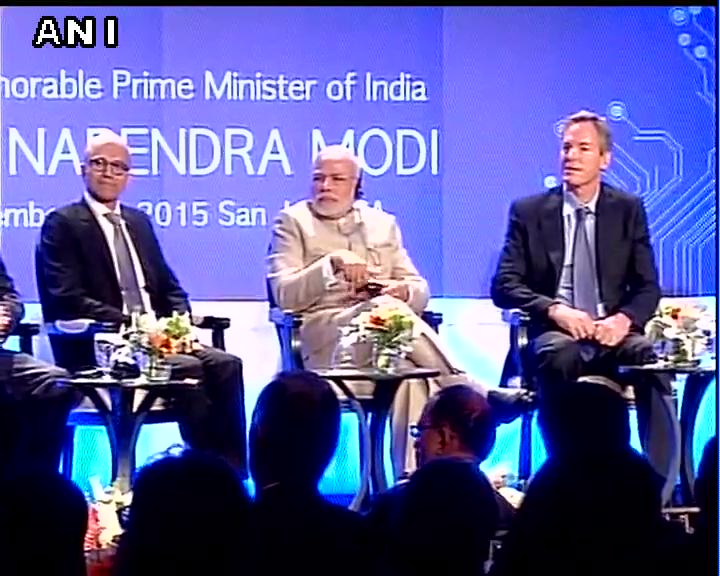 We want to help people make things and make things happen. Bringing world class infrastructure to India and respecting India's digital securities is a key milestone for us.
In Surat, we are working with municipalities and citizens of Surat on data analytic systems.
Our plan is to take technology to 5,000 villages in India.
Bringing world class infrastructure to India and respecting India's digital securities is a key milestone for us.
Our plan is to partner with the government of India and to take low cost broadband connectivity across India.
08:16 AM
You (PM Modi) are an amazing ambassador of your country: John Chambers, Executive Chairman of Cisco Systems
08:14 AM
PM Modi with Microsoft CEO Satya Nadella and Qualcomm Executive Chairman Paul E Jacobs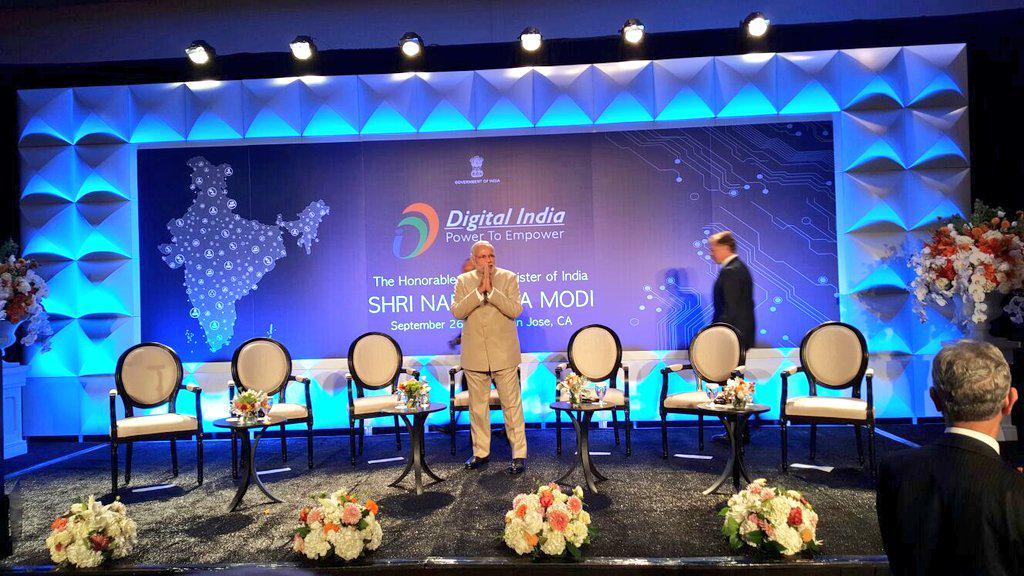 08:13 AM
And a Digital Technology dinner to end the day, serving to take Digital India to greater heights
PM Narendra Modi and top Tech CEOs at the Digital India dinner
07:50 AM
Nadella and Pichai are expected to lead a panel at the dinner, along with Adobe Systems Inc CEO Shantanu Narayen, to discuss the economy and Modi's "Digital India" initiative, which aims to connect thousands more Indian villages to the Internet and create more tech jobs. Modi is also scheduled to deliver a speech.
07:48 AM
Narendra Modi met top leaders of tech giants including Microsoft, Google, CIsco, Adobe and Qualcomm.
Modi was also set to meet with Indian-born CEOs Satya Nadella and Sundar Pichai of Microsoft Corp and Google Inc, respectively, before a dinner with 350 business leaders on Saturday evening.​
07:47 AM
PM Modi takes a tour of the Tesla Motors in Palo Alto, California
07:45 AM
Representatives of the Sikh and Gujarati communities called on Prime Minister Narendra Modi in San Jos. The Prime Minister exchanged pleasantries and shook hands with the members of the two communities.